Remember when the Colorado Avalanche would make a huge splash at the trade deadline every year?  Household names like Theo Fleury, Ray Bourque, and Rob Blake all found themselves in Avs sweaters near the trade deadline.  Nowdays…not so much.
If you expected the Avs to make a big move before today's 1:00pm MDT deadline, you'd be thoroughly disappointed.  Greg Sherman has pulled the trigger on a blockbuster deal before acquiring No. 1 overall pick Erik Johnson, Jay McClement, and a first-round pick (which would become Duncan Siemens) in exchange for Chris Stewart, Kevin Shattenkirk, and a second-round pick.  Last year, Sherman and the Avs acquired the services of Steve Downie for Kyle Quincey (in what essentially turned into a three-way deal with Tampa Bay and Detroit) and a separate deal for Jamie McGinn (along with prospects Mike Connolly and Michael Sgarbossa) for TJ Galiardi and Daniel Winnik.
This year, Sherman made two, very underwhelming deals:
Gaunce out, Vincour in
Yesterday, the Avs traded defensive prospect Cameron Gaunce to the Dallas Stars for RW Tomas Vincour.  Gaunce, a once pretty highly touted prospect, drafted by the Avs in the second round, 50th overall, played 11 games with the Avs during the 2010-11 season, but wasn't able to stick and spent the rest of his career with the organization in Lake Erie, the Avs' AHL affiliate.  Word is that Gaunce had been struggling in Lake Erie of late, so perhaps a change of scenery will revive his career.
Tomas Vincour was drafted 129th overall in 2009 by Dallas.  He has appeared in 86 career NHL games, recording 7 goals and 8 assists.  Since the 2010-11 season, Vincour has bounced around from the Dallas Start to their affiliate, the Texas Stars and vice versa.  Vincour will in all likelihood, report to Lake Erie and hope to play himself into a position where he'd get the call from Colorado to come up.  The Avs are without forwards Paul Stastny and Milan Hejduk at the moment and recently brought up Lake Erie Monsters Brad Malone and David Van Der Gulik.
O'Byrne out for 2014 Fourth-Round Pick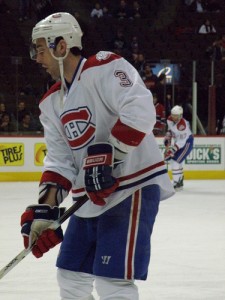 The Colorado Avalanche acquired defenseman Ryan O'Byrne for prospect Michael Bournival in November of 2010.  He has been a stay-at-home member of the Avs blueline since then and with the Avs currently in last place in the entire league, their very poor defensive play overall, and O'Byrne's upcoming unrestricted free agent status come July, it was no surprise that he was moved today.  He will join former Avs John-Michael Liles and Jay McClement in Toronto, where he will add depth to their defensive core for their current playoff run.  The 2014 fourth-round pick the Avs got in return for him was simply a move to just not lose him for nothing in three months.  Best of luck up north, Burner!
Joey is a Colorado native and has been an avid fan of the Colorado Avalanche since their move here in 1995 when they brought the state of Colorado its very first major sports championship in their inaugural season. He's played hockey for the past decade, both roller and ice. He began playing as the goalie for the Colorado State University Roller Hockey team. Currently, he plays on a couple ice hockey rec league teams in the Denver area, both as a goalie and as a position player.