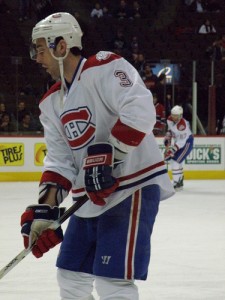 While much of the focus on trade deadline day was on whether or not the Toronto Maple Leafs would land goaltenders Miika Kiprusoff from the Calgary Flames or Roberto Luongo from the Vancouver Canucks, in the end Maple Leafs general manager Dave Nonis made only one minor move.
Outside of attempting to land a veteran goaltender, like many NHL general managers, Nonis was looking to add an element of depth to his already deep blueline. Nonis accomplished his goal by acquiring veteran defenseman Ryan O'Byrne from the Colorado Avalanche in return for Toronto's fourth round draft choice in 2014.
Known as a tough, hard-nosed, stay-at-home defender, O'Byrne registered 76 hits (second on the Avalanche), 49 block shots (fourth on the Avalanche), one goal, four points and a minus-8 rating through 34 games played this season. O'Byrne also averaged just under 19 minutes per game with the Avalanche.
Originally drafted in the third round (79th overall) by the Montreal Canadiens in the 2003 NHL Entry Draft, O'Byrne stands 6'5" and weighs in at 234 pounds. O'Byrne averages 2:32 per game on the penalty kill and is known to drop the gloves, albeit sparingly.
An Unrestricted Free Agent at the end of this season, O'Byrne is the definition of "rental player" and that of a "Randy Carlyle-type player". Of course, O'Byrne is hardly a game changer. That said, for a team that is banking on making the playoffs for the first time in what feels like a decade, the Maple Leafs have made a great acquisition who is capable of playing top-four minutes, blocking shots, making hits and clearing traffic from in front of goaltender James Reimer.
When you consider Nonis only gave up a fourth-round draft choice in order to land O'Byrne one can easily say that he made a good deal, and a deal that will not hurt the team in the long-term.