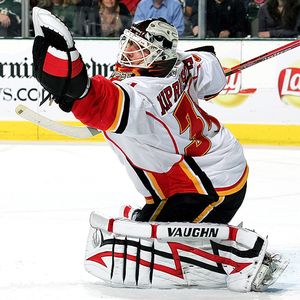 With the NHL trade deadline just a few days away, many NHL teams have already made key additions to their rosters. The Pittsburgh Penguins have added a trio of players that should help their Stanley Cup aspirations, the St. Louis Blues added defenseman Jay Bouwmeester last night, the Vancouver Canucks added forward Derek Roy this afternoon and there are sure to be a number of other trades before the deadline expires.
Last night TSN reported that the Calgary Flames had granted the Toronto Maple Leafs permission to speak to netminder Miika Kiprusoff's agent. With a new child arriving just last week, one year remaining on his contract (with rumors suggesting he would not honor it) and Kiprusoff uncertain about his future in the NHL, Maple Leafs general manager Dave Nonis would have to be very convincing if he wanted to bring Kiprusoff East to Toronto.
Kiprusoff's seemingly unwillingness to be moved aside, there are also concerns about his health and then there are the glaring numbers (6-10-2, 3.64 goals against average, 0.868 save percentage) which are hardly complimentary.
Then there are the salary cap concerns. While Kiprusoff only has one-year left on his contract it carries a cap hit of $5,833,333. With the cap expected to go down from this years $70,200,000 level to $64,300,000, Kiprusoff's cap hit represents nearly ten percent of the Maple Leafs salary cap next season.
This summer Nonis will have to replace or re-sign Clarke MacArthur (UFA), Tyler Bozak (UFA), Colton Orr (RFA), Leo Komarov (RFA), Nazem Kadri (RFA), Fraser McLaren (RFA), Ryan Hamilton (UFA), Carl Gunnarsson (RFA), Cody Franson (RFA), Mike Kostka (UFA), Mark Fraser (RFA), not to mention having to re-sign Phil Kessel after next season.
Kadri, Bozak, Komarov, Franson, Fraser, Gunnarsson, Kostka and McLaren will all be in line for a raise, while MacArthur, Orr and Hamilton will also get consideration.
With $45,104,167 already committed to 12 players next season, Nonis will be hard-pressed to re-sign all of those players and keep his team under the $64.3 million cap ceiling, never mind adding a player that makes nearly $6 million per season.
When you consider Kiprusoff's numbers against the duo of James Reimer and Ben Scrivens, who currently man the pipes for the Maple Leafs, the decision to pass on adding Kiprusoff to Toronto's roster becomes even clearer.
Through 22 games played, Reimer has recorded a solid 13-4-4 record with two shutouts, a 0.920 save percentage and a 2.52 goals against average. Comparatively, Scrivens has put up very decent numbers, posting a 7-8-0 record, two shutouts, a 0.918 save percentage and a 2.59 goals against average.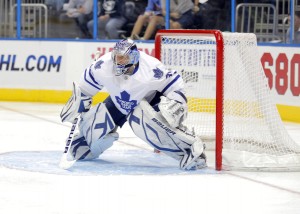 Combined, Reimer and Scrivens have helped the Maple Leafs to a respectable 2.67 goals against per game, ranking them 17th overall.
Of course, good defense (when is the last time we mentioned the Maple Leafs and good defense in the same sentence) and a commitment by the forwards to back check, have also contributed to the Leafs' good defensive numbers, but the majority of the credit must go to Reimer and Scrivens, who face 31.8 shots per night— the fourth most in the NHL.
With Reimer between the pipes the Maple Leafs appear to be a confident bunch. Without question, Reimer is hardly a "money" goalie, but he gets the job done and without the benefit of some playoff games under his belt, Nonis will never know what he really has in Reimer.
Could Kipper be a difference maker in Toronto?
Perhaps. But, when you consider Kipper's numbers this season, the fact he was unwilling to be moved just a week ago and what the Maple Leafs would have to give up in order to land Kiprusoff (likely a prospect and/or a draft pick), it would appear as if Nonis would be foolish to add him to Toronto's roster.