The 2014-15 NCAA division I college hockey season is over. College hockey's offseason is upon us. Each spring, I refer to the offseason as the silly season because it's full of surprises. You never know what's going to happen next.
Across the nation, college hockey teams are waiting for their prized players to make their final decisions regarding their future.
This is where things get dicey, players you thought were going to sign professional contracts decide to return for another season. Players you thought were staying decide to bolt. This is a very chaotic time for college hockey fans.
Free agent players consider offers from various professional teams and wonder if this is the right time to make the jump to the next level.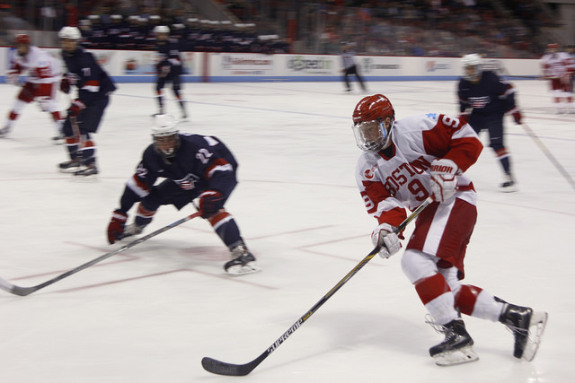 Some college hockey fans spend every waking minute on the internet looking for breaking news and rumors regarding their favorite players.  Some college hockey fans take to social media to try and persuade their favorite players to stay for one more year.
'Tis the season for early departures. We hope @ZanoInsano_29 @troystecher @JSchmaltz24 @pDue54 @drakecaggiula decide to #StayASioux

— Stay A Sioux (@StayaSioux) April 16, 2015
Jack Eichel's decision
The pressing question this offseason, will BU freshman phenom Jack Eichel return to Boston University Terriers for his sophomore season? If I was a betting man, and I am, I would have to say probably not. There's nothing left for Eichel to accomplish in college.
First, Eichel is probably one of the most NHL-ready prospects to come through the college hockey ranks in a very long time. Eichel's freshman season was nothing short of amazing. Eichel won the Hobey Baker Memorial Award in a landslide. Yes, I would refer to this as an overwhelming victory.
Second, Eichel scored (26g-46a—71pts) in 40 games and won college hockey's scoring title by 13 points. That's no easy task, especially as a true freshman. Actually, that's pretty much unheard of, especially for freshmen players. The only other freshman that made this much of an impact on college hockey in his freshman season was former Maine Black Bears All-American forward Paul Karyia.
All season long, we have seen the comparisons between Eichel and Connor McDavid. Here's what Hockey's Futures had to say on the Eichel.
While Eichel may not be quite the high-end talent that Connor McDavid is, he is very close. Eichel has the ability to control the game with a high hockey IQ, a good, powerful skating stride, and offensive skills that are second to none among American prospects for the 2015 draft. Eichel has good strength, allowing him to win battles for the puck and control it in space. He may be guilty of trying to do too much at times, but there is little doubt that he will be a top player once he arrives in the NHL.
Finally, we get to see the head-to-head battle between Eichel and McDavid come to fruition. Or do we? Stay tuned.
Eric is a 1996, 1999 graduate of the University of North Dakota. Eric covers the University of North Dakota Hockey and Division I college hockey. Eric is the Contributing Editor for Inside Hockey.