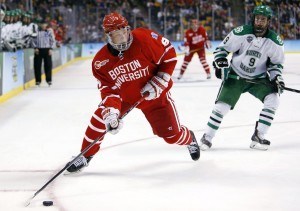 With just two seniors graduating in Evan Rodrigues and Cason Hohmann, the BU Terriers will retain most of their forward corps in terms of bodies. However, with Jack Eichel's status still up in the air, the team could potentially lose 58 goals and 163 points of production with just three departures.
With all six regular defensemen from last year returning, the Terriers are set on defense. They were a strength of the team already, and will be even better next season when they add Charlie McAvoy, who is considered an early round pick for 2016 and possibly the best defenseman entering college next year.
Despite his well-discussed mistakes and mishaps with the puck on the big stage, Matt O'Connor will still get a contract from an NHL team this summer. Thankfully, the Terriers will have Sean Maguire back in the pipes after missing all of 2014-15 with an injury. When he and O'Connor shared net duties the two years prior, Maguire actually had better numbers.
Lots of Talent in the Pipeline
Despite the losses at forward, the team should be fine because reinforcements are en route in a big way. Of the top 20 scorers in the USHL this year, three are BU recruits that will be arriving in the fall. To put that in perspective, the University of Miami is the only other team that has more than one.
These guys will be the future of the BU offense:
F Maxim Letunov: A second round pick of the St. Louis Blues last year (he's now Coyotes property), Letunov has shown a desire to play in the NHL by coming to play in college instead of staying in Russia. Letunov's 64 points were good for 4th in the league in scoring. He possesses electric hands and skill, and a big frame at 6'3″.
Regarding Letunov, talked to someone that sees a lot of #USHL gms. They said of Maxim, "Legit. Skill with puck & good in traffic." #Coyotes

— Matthew McConnell (@mattycoyotestv) March 2, 2015
The problem with Letunov is that he weighs just 168 pounds, extremely thin for a 6'3″ hockey player. He will need to add strength and muscle to continue to be effective in the physical college game. Once he adapts to the physical style, his offensive talents will shine through.
C Bob Carpenter: The son of a 19 year NHL veteran of the same name, Carpenter went undrafted in 2014 but could be taken as an overager this year. His 63 points put him 7th in the league in  scoring last year, and his 35 goals tied him for the league lead.
Carpenter's best asset is his shot, which he uses very effectively in the dangerous areas of the ice. He's not a huge player at 5'10" 183, but knows how to get in the scoring areas. He won't dazzle you with skill and skating, but is very good at being in the right place at the right time.
C Jakob Forsbacka-Karlsson: Eligible to be picked in the 2015 draft, Forsbacka-Karlsson was ranked 31st among NA skaters in CSS's final rankings, and is a consensus second round pick. His 53 points were tied for 16th in the league in scoring despite missing the last ten games of the season.
USHL @CCMHockey Forward of the Week: Jakob Forsbacka-Karlsson scored 9 points in 3 games #USHL http://t.co/16cp5pb3sg pic.twitter.com/IacE7cCaMg

— USHL (@USHL) December 1, 2014
Nicknamed JFK by his teammates, his best asset is his passing ability and vision. He can score (as seen by the GIF below), but prefers to dish the puck and set up his linemates instead.
GIF: Jakob Forsbacka-Karlsson (@OmahaLancers) with an incredible deke to score #USHL pic.twitter.com/OQlQ0UtWxM

— USHL (@USHL) December 1, 2014
He did not spend this season primarily in the USHL, but Jordan Greenway of the USNTDP is another impressive forward arriving for BU in the fall. He scored 59 points across 71 contests this season, which may not be eye popping, but there's more to Greenway's game.
He's a massive forward that already stands at 6'5″, 223 who uses his size to open up space for himself in front of the net and win board battles. Scouts love the combination of size and skill he brings to the table.
2016 and Beyond
LW Kieffer Bellows: The son of longtime NHLer Brian Bellows, Kieffer is expected to be a 1st round pick in the 2016 Draft, possibly in the top 15. Bellows is a power forward that possesses a booming shot and a pro style game.
98 F Kieffer Bellows (Edina) commits to BU. Massive get for the Terriers. A premiere power forward option for 2016, size, skill and speed.

— Over the Boards (@overtheboards) June 20, 2014
This season, his 33 goals were the most ever scored in the USHL by a 16 year old. He comes from Edina High School, a powerhouse in Minnesota that has produced multiple NHL players including Islanders power forward Anders Lee.
F Clayton Keller: He may stand at just 5'9″ 165, Keller is an extremely shifty and talented offensive player. Ranked #8 in Craig Button's initial 2016 Draft Rankings, Keller possesses the offensive ability to be a gamebreaking player at the college level.
Keller's lack of size means he won't be a physical force at the higher levels, but he uses it to his advantage. He's extremely evasive, and very difficult to check. Playing for the USNTDP this year, he has put up 127 points in 95 games across all leagues and competitions.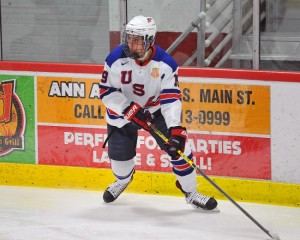 What About Auston Matthews?
If that somehow isn't enough offensive talent, there is still a chance the Terriers could land C Auston Matthews, the favorite to go #1 overall in the 2016 draft. He broke Patrick Kane's record for most points in a U18 USNTDP season this year with 107, and has more points than Jack Eichel did as a 17 year old.
Matthews has not decided where he will play next year, and has two possible routes. His WHL rights are owned by the Everett Silvertips, and has narrowed down his possible NCAA destinations to BU, BC, Michigan, North Dakota, and Denver.
Bill Schoeninger is a Philadelphia Flyers writer and current Boston University student studying business. Coming to THW from Hometown Hockey, Bill follows and writes about the Flyers, Boston University Terriers, and NHL Draft prospects. Follow him on twitter @BSchoeninger17