All in all, the Colorado Avalanche have been a pretty healthy team. The only issue is the few injuries that the Avalanche have had to deal with have been to key players. Alex Tanguay was the first to go down, and the news doesn't look good for Tanguay at all. Other than a couple of short stints of injuries, the only other two injuries of note have been to Ryan Wilson and Jan Hejda.
Big setback for Alex Tanguay. Has new hip problem related to knee, surgery possible, out indefinitely

— Adrian Dater (@adater) December 10, 2013
Wilson's entire career has been about him playing for a little while and then getting hurt. Sometimes he comes back strong, sometimes not so much. Then he'll play for another stretch of games and end up being hurt somehow. It's been an unfortunate path for Wilson, but an injury to him never seems to come as a shock. With this go around, it was almost better that it happened when it did, because Wilson had not been playing well. The injury that really hurt the team was to Jan Hejda. Hejda has been the lynchpin for the Avalanche defense all season. He and Erik Johnson had been playing together in a fantastic shutdown pair, with both players playing fantastically. Johnson and Hejda lead the Avalanche in plus/minus and it isn't even close. Now, with both players coming healthy and apparently ready to return to the lineup Saturday night against the Minnesota Wild, Patrick Roy has to make the big choice of who to sit. If you break it down, the choice comes between these players: Nick Holden, Nate Guenin and Tyson Barrie.
Nate Guenin
Nate Guenin is a guy who is easy to cheer for because he's one of those players that had to take the hard route into the NHL. He's been an NHL journeyman, and not even one that has managed to stay in the NHL for long periods of time, so people want to root for him. Not to mention, he started out the year playing pretty well. So well, in fact, that Patrick Roy abandoned his plan to rotate Guenin in and out of the lineup with Nick Holden during Ryan Wilson's first injury this season. It took moving Holden up to a forward spot for a couple of games early in the year to finally get him on the ice.
With the injury to Jan Hejda, Guenin has been moved up to the top pair with Erik Johnson and hasn't had nearly the same success. He hasn't been outright brutal by any stretch, but he clearly looks out of place going up against the best competition that an opponent has to offer. He fits much better on a second pair, where he started the season playing along side Ryan Wilson. In fact, for many stretches before Wilson's second injury, Guenin looked like the better player in that pair.
The attractive part about keeping Guenin would be that you could easily reunite him with his partner from at the start of the season. Guenin also brings a nastier, more physical nature to his game than almost any other defender on the team. Of all the Avalanche defensemen to suit up this year, Guenin is the one that you can count on to actually give out some punishment in the corners and in front of the net, and that is an attractive quality. He is also a fantastic shot-blocker, and curerntly leads the Avalanche in blocked shots. At the same time, his passes aren't always very good, he isn't very fast and has gotten into a bad habit of turning the puck over. The turnovers, especially of late, I attribute to him playing against much higher quality opponents and I believe that will improve when he takes his rightful place on a lower pairing. It could be Guenin's turn to sit, but it's hard to tell, especially with coach Roy reportedly "gushing" over his play after practices.
Nick Holden
Nick Holden is the other defenseman that the Avalanche took a long shot on this season. As I mentioned above, it took Holden a little while to get into the lineup, but since he has he has really been making the most of it. Aside from having some of the best signs that I have ever seen present at an NHL game, his play has been steadily improving as he gets more and more comfortable. He is a good skater, makes good passes, is solid in his own zone and has a cannon of a shot. He's starting to show a physical side to his game as well and is showing very solid offensive flair. The type of offensive play where you're not expecting to see a defenseman flashing in to take a shot, much like the above video of his first NHL goal, is something the Avalanche haven't had from a defenseman in a long time.
Holden might be the one that has the hardest time staying in the lineup through absolutely no fault of his own. His play has been improving, but he has the fewest games played of the defenders on the roster right now, other than Ryan Wilson. At the same time, his rise is coming at the same time other players are struggling a bit more. Guenin hasn't been nearly as good as he started out the year, so perhaps Holden's continued improvement will win the favor of the coach when other players come back. Still, when a guy is showing the improvement Holden has, it's really hard to sit him down.
Tyson Barrie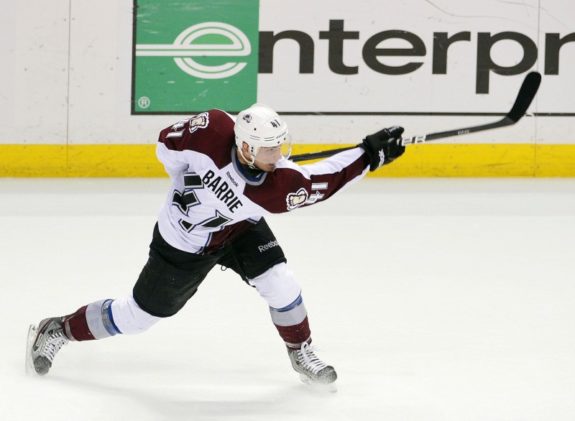 Tyson Barrie may be one of the players to be scratched again, as Barrie was sent down to Lake Erie at the start of November after some struggles early in the year. Barrie is an interesting player whose most consistent attribute seems to be his own inconsistency. There are plenty of times that he is very impressive. He is a shifty player that can make nifty moves in his own zone and break out by himself. He can make crisp, and accurate, passes and can jump into the rush to make a seemingly benign situation suddenly dangerous. He can also use his speed to recover and avert odd-man situations. He can also make some pretty bone-headed passes in his own zone, be dominated 1-on-1 against bigger players, and can get a little too focused on joining the offensive rush at times. (See my full Tyson Barrie critique here)
Lately, Barrie has been okay. Nothing special, just pretty much okay. His mistakes have gone down a little bit, which is encouraging, but he does turn the puck over more than I would like. He still has only three points on the season, all assists, and has been incredibly underwhelming with his offensive output, which is supposed to be one of the more attractive parts about having him in the lineup. There is a lot of debate around Barrie amongst the fan base, largely due to the fact that there are a lot of expectations surrounding Barrie. He isn't playing terrible hockey by any stretch of the imagination; as I said, he's basically been okay. Will okay be enough to keep him in the lineup? That's hard to say.
Who Will Stay?
Whether or not both Jan Hejda and Ryan Wilson both come back at the same time on Saturday is still uncertain, so there may be a staggered release to this. When Hejda returns, there should be no doubt that he will return to his pairing with Erik Johnson, as those two have been the best pairing on the Avalanche this season, with second place nowhere in sight. Andre Benoit and Cory Sarich have also been a solid pair throughout the season, and I wouldn't anticipate seem either of them chanced around either. So that leaves the current pairing of Barrie and Holden, which will definitely change.
Simply based off of history, I think it is a very good possibility that Tyson Barrie will be a scratch coming up. I don't think he'll be sent down to Lake Erie again, at least not initially, and may be kept around as a seventh defenseman. I can also see Roy going a few games and rotating Barrie and Holden for a little bit to see which one he wants to hitch his cart to, so to speak. In the end, I think the guy that stays longest term will be Nate Guenin. Though he hasn't been as good of late, he hasn't done anything that should make anybody scream to get him off the ice. Holden will probably be the next one up, and I do see Barrie eventually being sent back to Lake Erie, mostly so he can be in a situation where he will play a ton of minutes. It does Barrie absolutely no good to be a healthy scratch night in and night out. Though, he shouldn't be down for too long. If history is any indicator, Ryan Wilson will get injured again before too long.
I'm a Denver native who has been a fan of the Avalanche since they came to town and a fan of the game before that. I started writing my own blog a couple years ago before moving to Bleacher Report and becoming a Featured Columnist there. You can also find me the Burgundy Brigade Podcast