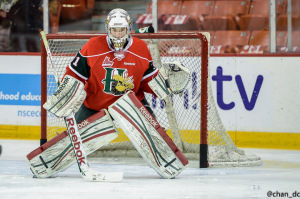 Montreal Canadiens prospect Zach Fucale will be the backbone of the Canadian entry at the upcoming World Junior Championships, a team that will be in search of their first Gold Medal since 2009.
In most countries, two silver medals, a bronze and a fourth place finish would not be a bad resume for the past four World Jr. Tournaments. In Canada however, it is a national calamity that screams for an immediate improvement.
Remember when Canada was relevant at World Jr tourneys? Those were the days. #drought #cantwinthemall

— Trevor Cox (@Trevordovsky) January 3, 2013
Most of the blame for Canada failing to win gold in several years has been heaped on the slew of goaltenders that have suited up for the team, and failed to carry the team to victory.
Canadian hockey fans were spoiled by exceptional goaltending that helped lead the nation to five straight first place finishes from 2005-09, including Tournament MVP performances from Steve Mason and current Montreal Canadien puck stopper Carey Price, in 2007.
Canada Outscored Opponents In 2009 In Spite Of Poor Goaltending
Dustin Tokarski was criticized heavily throughout the 2009 tournament. Many would say Canada won in spite of their goaltenders effort, but they ultimately took home gold, so the doubters voices were drowned out by the time the tournament came to a close.
It was however, the beginning of a downward trend for Canadian goaltending, one that has held the proud hockey nation without a gold medal for four consecutive holiday seasons.
Jake Allen Began Four Year Run Of Underwhelming Goaltending
The 2010 Tournament saw the Canadians breeze through the round robin with easy wins over Latvia, Switzerland and Slovakia before facing off against the USA with a quarterfinal bye on the line. Canada squeaked out a 5-4 victory in overtime thanks to a Brandon Kozun shootout winner, but most Canadians were unimpressed with Jake Allen allowing 4 goals on just 28 shots.
Team Canada received a favorable semi-final matchup, when Switzerland, a team they defeated 6-0 in round robin play, ousted the powerhouse Russian team with a quarterfinal upset. Canada once again handled the Swiss with ease, and headed to the Gold Medal Game after a 6-1 trouncing of Switzerland.
Allen was given the nod in the biggest game of the tournament, and was eventually pulled in the third period, after allowing five goals on 28 shots to the Americans. Martin Jones replaced Allen in goal, and thanks to some Jordan Eberle World Junior magic, Canada forced overtime. Canada would go home without a gold for this first time in six tries when John Carlson sniped on a 2 on 1 in the extra frame. The two games against the United States were the only two games that Canada faced a challenge at all in the 2010 World Jr Tournament, and both times they would receive a shaky performance from their netminder.
The story was very similar in 2011, as Canada would not find steady goaltending when they needed it most. In a New Year's Eve showdown with Sweden for first place in their pool and a bye to the semi-finals, Olivier Roy would allow five goals, and Canada fell 6-5 in a shootout.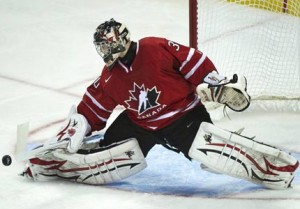 Head Coach Dave Cameron was unsatisfied with Roy's performance, so he gave 18 year old Mark Visentin the ball in the medal round. Visentin would be solid in wins against Switzerland and the USA, but then came the third period debacle in the Gold Medal Finale.
Canada led 3-0 heading into the final frame, but an astounding five goal outburst from the Russians in the final 20 minutes led them to victory. Once again, Canada was let down when it needed goaltending the most.
Not much would change in the 2012 tournament, when Canada marched on through the round robin portion, but once the game's mattered most, goaltending was nowhere to be found.
Canada faced off against Russia with the winner promised a chance to play for gold. Early in the second period, Canada found themselves down 4-1 and starter Scott Wedgewood was yanked in favor of Visentin. Mark would let in a pair to give the Russians an insurmountable 6-1 lead. Canada's skaters began to find their rhythm and pulled within one, but could not overcome the cavernous deficit they found themselves in, thanks to their goaltenders allowing 6 goals on a combined 24 shots.
Visentin would lead Canada past Finland in the Bronze Medal Game, but he had not yet lived down his performance in the Gold Medal Game from a year earlier.
Canada wins bronze medal 4-0. This 3-0 3rd period lead worked out much better than last year for Mark Visentin, who was terrific.

— James Duthie (@tsnjamesduthie) January 5, 2012
The 2013  tournament came and went with no change in Canada's crease. Once again they stormed through the round robin with ease, knocking off a tough American team, and a highly skilled group from Russia. Then the Medal Round began, and by the end of the semi-final Canada's starter would be in a familiar position – sitting on the end of Canada's bench – and staring up at a clock that read a lopsided score in favor of the opponent.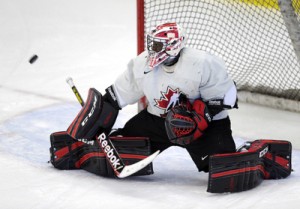 Malcolm Subban was that starter for Canada last year, and allowed USA to score four times on 16 shots, a deficit that Canada could not overcome. Jordan Binnington was given the call in goal for the Bronze Medal Game, and allowed three goals on the first five Russian shots. Russia would go on to win the bronze, with Canada falling in the same way for the fourth consecutive year – furiously trying to overcome a huge deficit, due to some shabby goaltending to start the game that mattered most.
Canada handled the American and Russian in the round robin portion, allowing just one goal in each contest. But when it came to the win-or-go-home (or to the bronze medal) games in the medal round, Canada's goalkeepers allowed 11 goals to the same two teams in the same number of games.
Fucale Will Not Be Fazed By World Jr Pressure
For five years now, Canada has been searching for someone who can come up with a big performance in net when the team needs it most. A goaltender with big game experience who can come up with huge saves in the brightest of spotlights that a teenager will ever skate under. Well, Canada may have just found that goaltender in Canadiens second rounder Zach Fucale.
Fucale was drafted by the Halifax Mooseheads in the first round of the 2011 QMJHL Entry Draft, and made his mark immediately on a team that had struggled mightily the three seasons prior. With some help from fellow 16 year olds Nathan MacKinnon and Jonathan Drouin, Fucale helped lead the Mooseheads on a surprising run to the semi-finals of the QMJHL Playoffs, before they were eventually ousted by a much more veteran laden Rimouski Oceanic team.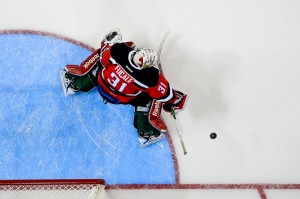 Fucale posted solid numbers throughout the regular season for a 16 year old goaltender in a high scoring league, with a 3.16 goals against average and a .892 save percentage which resulted in 32 wins. He stepped up his game in the postseason, dropping his goals against to 2.88 and bringing up his save percentage to .904.
The following season Fucale would hardly lose at all, and it all started at the U18 Ivan Hlinka Memorial Tournament. Fucale led the Canadian entry to a Gold Medal, and played best when it was needed most by posting a shutout in the final game.
Zach then went an incredible 45-8-2 in the QMJHL regular season with a great Mooseheads team, and was one of the league's best netminders with a 2.35 GAA and .909 SV%.
Though he set the bar high in the regular season, he somehow found another level when the postseason got underway. Fucale led the Halifax squad to a nearly perfect 16-1 postseason, en route to bringing the first ever President's Cup to Halifax. Zach improved his numbers yet again, with a sparkling 2.02 GAA and .918 SV% in the Q playoffs. These numbers are exceptional, and though they are not unheard of, they had been previously unheard of by any 17 year old goaltender in the QMJHL.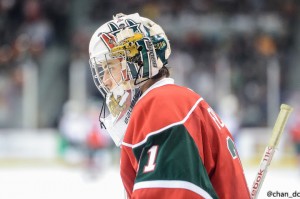 The World Junior Tournament is the biggest stage for a teenage goaltender to compete on, but the Memorial Cup Tournament in May is a close second. Fucale helped lead the Halifax Mooseheads to a Memorial Cup title last season after dominating the QMJHL. Staring down the likes of Seth Jones, Ty Rattie, Nic Petan, Max Domi, and Bo Horvat, Zach once again stepped up when the Mooseheads needed a win. Zach held the London Knights vaunted attack to two goals, which sent Halifax to the final where he stopped 40 Portland Winterhawks shots to clinch the Memorial Cup title.
The native of Rosemere, Quebec would then be selected 36th overall by the Canadiens in the 2013 NHL Draft. The selection was met with much delight from the family of Fucale, as the picture tweeted by Halifax area reporter Willy Palov shortly after Fucale was picked would suggest.
Check out the awesome reaction from Zach Fucale's dad @FucaleGi after the Habs made the pick. pic.twitter.com/pblLQXlggw

— Willy Palov (@WillyPalov) July 1, 2013
Fucale was named one of only two goaltenders that will compete at the Canadian World Jr. Camp that is now underway. It was the opinion of Team Canada brass that bringing anyone other than Fucale and Jake Paterson of the Saginaw Spirit was unnecessary, as the aforementioned pair have shown enough to be included on the final roster already.
According to many analysts, Fucale has the inside track on the starter's job, and his history suggests he will not give up that role once he gets it.
As selection camp opens, @jamiemclennan29 says Fucale has edge in battle to be starter http://t.co/sQTuAkyMzk (vid)

— Mark Masters (@markhmasters) December 13, 2013
Fucale is a very quick and agile goaltender who has posted a nearly unimaginable regular season record of 96-49-5 since he arrived in Halifax as a 16 year old rookie. However, it is his ability to play his best when the pressure is turned up a notch that is so enticing to Team Canada's management.
Fucale's QMJHL playoff, International competition and Memorial Cup winning experience, along with his cool and calm composure while in those high pressure situations, make him a perfect fit to carry Canada to its first World Junior Gold Medal in five years.
Kenneth is a recent graduate from Saint Mary's University, and is currently studying at Mount Saint Vincent University to be a High School Teacher. Kenneth is a huge hockey fan who enjoys the game as a player, fan, writer, coach and referee. Follow me on twitter @MacMillanKen88