As the holiday season approaches, Paul Holmgren has a number of issues that the team has to address.  There are a couple of big ticket items on his shopping list that the organization needs to address.  Never one to allow money to burn a hole in his pocket, Paul Holmgren was no doubt elated with the news that the salary cap will rise to around 71 million for 2013-14.
For possibly the first time in the salary cap era, the Flyers will not be significantly confined by the salary cap.  Right now, they have around $54.3 million committed to five defensemen and nine forwards.  That number includes Chris Pronger's $4.94M cap hit, so when that comes off the books they will have around $21.5 million in cap dollars to play with.  The following players are without contracts next season:
RFAs: Brayden Schenn, Michael Raffl, Erik Gustafsson, Steve Mason
UFAs: Steve Downie, Adam Hall, Kimmo Timonen, Andrej Meszaros, Hal Gill, Ray Emery
With those in mind, and considering the other needs of the team, here is what Paul Holmgren's wish list should look like
A Team-Friendly Bridge Contract for Steve Mason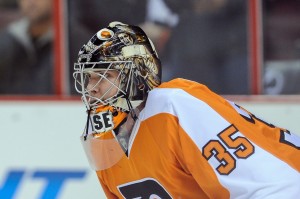 Since coming to Philadelphia at the end of the 2012-13 season, Mason has been the Flyers' best player.  He has consistently kept them in games that they had no business being in.  In the offseason, he took a one year offer significantly below his qualifying offer, and has earned a raise with his recent play.  Recently, Steve Mason's agent Anton Thun suggested that the 6-year, $39M contract recently signed by Carey Price would be a good comparable for Mason's next contract.  It is an agent's job to get the most money for his client, so it's no surprise Thun threw out such a large number.  But if the Flyers were to sign Mason to that contract, it would be a huge mistake.
At this point in his career, Mason does not have the consistent track record or leverage to demand that type of money or term.  Thun can demand whatever he wants, but it doesn't mean he'll get it.  The Flyers would be wise to give Mason a 2-3 year bridge contract for around $4-4.5M a year.  It would be a nice pay raise for Mason, and it prevents the Flyers from investing significant dollars and years in another goalie.  If Mason continues his current performance over those years, then the Flyers can open up the bank vault and pay Mason top dollar.
A Young, Two-Way #1 Defenseman
More than any other asset in the league, top young defensemen are coveted and hoarded by the teams that have them.  The Flyers thought they had one when they signed Shea Weber to the largest offer sheet in league history, but the Predators matched.  Since Chris Pronger's career-ending injury and Kimmo Timonen's decline, the team's lack of a true #1 defenseman has been evident.  They do not have a minute-munching, reliable #1 defenseman that can be trusted with 25+ minutes a night.  Every Stanley Cup winner since the 2005-2006 Hurricanes has had one.  Chris Pronger, Scott Niedermayer, Nicklas Lidstrom, Duncan Keith, Zdeno Chara, Drew Doughty, and Sergei Gonchar were all among the best defensemen in the league when their teams won the cup.
Over the past 15 years, the Flyers' have been shockingly bad at drafting and developing defensemen.  They did not draft any of the current defensemen on their roster.  The only defensemen they have drafted that have become quality NHL defensemen have done it in other cities; namely Joni Pitkanen and Dennis Seidenberg.
Samuel Morin, Robert Hagg, and Shayne Gostisbehere are all very good prospects with NHL futures, but none project to be an elite #1 defenseman.  Coupled with the Flyers' inability to develop defensemen in Philadelphia, a trade seems like the only route to acquire one.  Unfortunately, the price tag will be sky high.  To acquire one, the only real untouchables would be Claude Giroux, Steve Mason, and maybe Sean Couturier.
There are some quality defensemen possibly available via free agency this summer like Dan Boyle, Dion Phaneuf, Dan Girardi, and Andrei Markov.  But, they are either too old (Boyle, Markov) or not true #1 defensemen (Phaneuf, Girardi).  Holmgren would be better off letting another team pay them like the #1 defensemen that they aren't.
An Elite Winger for Claude Giroux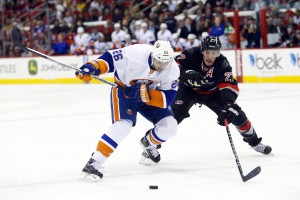 In the 2012-13 season, it appeared that the Flyers had found their long-term solution for Claude Giroux's wing.  Jakub Voracek displayed the puck skills, vision, hockey IQ, and confidence needed to fully utilize Giroux's abilities.  But, that was one lockout abbreviated season, and the rest of Voracek's resume suggests he cannot consistently be that player.
What makes Claude Giroux an elite player is his incredible vision and hockey sense.  He sees the play develop 3-4 steps ahead of where the puck really is, and needs another player who has that uncanny ability.  Jaromir Jagr had the vision and passing abilities, but his legs were not up to speed.  Jari Kurri had exceptional anticipation skills and vision, which allowed him to capitalize on Wayne Gretzky's incredible passes.   Two upcoming unrestricted free agents could fill this role, Thomas Vanek and Patrick Marleau.  Vanek is likely going to be the highest paid free agent this offseason considering his relative youth, and it's hard to envision Marleau leaving San Jose after 16 years there.  It is possible the Flyers could land one of them, but the odds are against them.  Similar to elite defensemen, scoring wingers are hard to come by, and the price will be significant if a trade is made.
Mobile Depth Defensemen
Under Craig Berube, the Flyers' even-strength play has improved compared to the last half of the Laviolette era, but it is still poor.  They are currently 23rd in ES GF/GA, and much of it has to do with the team's inability to break out the puck effectively.  Offense is created in transition at even strength, and often times the Flyers' breakout is choppy and ineffective.  This puts the forwards behind the 8 ball in transitioning to offense, and as a result the opponent can catch up and eliminate quick-strike opportunities.
The main cause of this is the immobility of the defense.  None of the Flyers' starting six defensemen are considered fast defensemen.  Meszaros, Streit, and Timonen are considered offensive defensemen, but are old or just not that fast.  The elite #1 defensemen mentioned earlier are all incredibly good skaters, with the exception of Chara who uses his size and reach to break the puck out.  It is also not a coincidence that those cup winning teams had strong supplementary puck movers behind their #1s like Brian Campbell, Brent Seabrook, Slava Voynov, Niklas Kronwall, Kris Letang, and Brian Rafalski.
If the Flyers let Timonen and Meszaros walk, it would open up a spot for a puck-moving, mobile #3/4 defenseman to provide much-needed speed on the back end.
Re-Signing Current Flyers Brayden Schenn and Steve Downie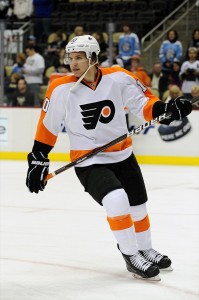 Although these are two important players to the Flyers' future, they are down the list for Holmgren because it shouldn't be much of a problem to retain them.  Schenn is a restricted free agent who has been solid, but not great in his time in Philadelphia.  A two or three year bridge deal similar to the one Sean Couturier signed in the offseason for around $2M a year would be beneficial for both parties.
Downie is a little more complicated because he is set to be an unrestricted free agent.  Despite his high penalty minute totals, Downie has been extremely effective in his second stint in Philadelphia, providing stability to the forward corps.  It would behoove the Flyers to retain him as a versatile, tough player that can be deployed throughout the top 9.  Something around 3-4 years and $3.5M/year would keep Downie in Philadelphia.
Organizational Depth at Wing
Just as the team is lacking in dynamite wingers at the NHL level, there is a similar void among prospects.  None of their current prospects project as surefire top 6 players, with the closest being projects Jason Akeson, Petr Straka, and center-turned-wing Nick Cousins.
The team replenished their stock of defensemen at the 2013 draft, and the 2014 draft should be devoted to acquiring talented wingers.  There is strong depth on the wings in the 2014 draft, so it is entirely possible a wing will be the best player available when the Flyers pick in the first round, whenever that may be.  Some names to keep in mind looking forward are Nikolaj Ehlers, Anton Karlsson, Kasperi Kapanen (son of former Flyer Sami Kapanen), and Nick Ritchie.  All project to be taken near the middle of the first round, where the Flyers will likely be selecting.
Bill Schoeninger is a Philadelphia Flyers writer and current Boston University student studying business. Coming to THW from Hometown Hockey, Bill follows and writes about the Flyers, Boston University Terriers, and NHL Draft prospects. Follow him on twitter @BSchoeninger17