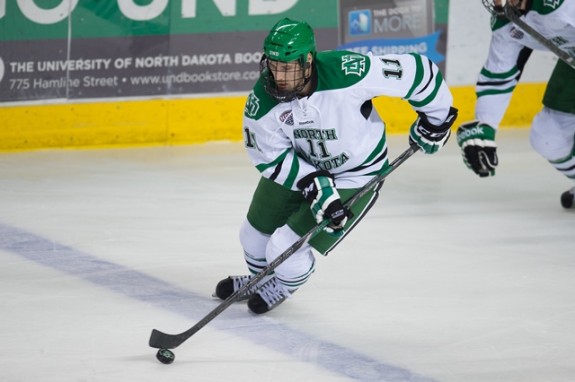 The University of North Dakota hockey team's third line has been making an impact on the score sheet and in the physicality department.
While UND's third line might not score a lot of goals and put a lot of big numbers on the score sheet, they're doing a lot of things that the average fan doesn't always notice. The third line is chipping in with secondary scoring and adding energy to the UND lineup. 
They're filling a needed role.
They're relentless. They get to the dirty areas. They play on their toes and keep the opposition on their heels. They can swing the momentum of a game with the way they play. They give their all, every shift they're on the ice. They're fun to watch!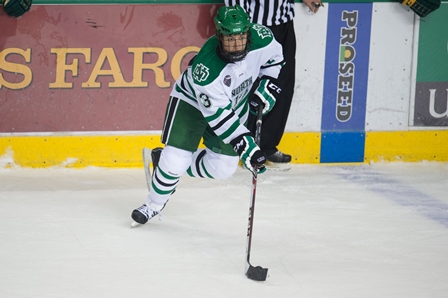 Let's meet the third line
UND's third line is comprised of senior forward Derek Rodwell (Taber, Alberta), junior assistant captain Stephane "General" Pattyn (Ste. Anne, Manitoba) and walk-on junior forward Connor Gaarder (Edina, Minnesota).
All three players are tough, hardworking, and relentless. The trio has bought into their roll and they embrace it. Some might say that they wear it as a badge of honor.
During their career at UND, all three players have never scored more than 12 points during a season.  Also, Rodwell and Gaarder
have had to fight to remain in the lineup, during that time at UND.
The Rodwell File
Due to an undisclosed injury, senior forward Derek Rodwell didn't make his season debut until November 9, 2013. In his second game back, the senior forward scored a big-time goal against Nebraska-Omaha to give UND a lead and the momentum. UND would go on to win the game and stop a three-game losing streak.
Rodwell would play two more games before suffering another undisclosed injury. Because of the injury, the senior forward would miss another three-games. Upon his return to the lineup, he would score a big goal against the Western Michigan Broncos and help UND sweep the Western Michigan Broncos.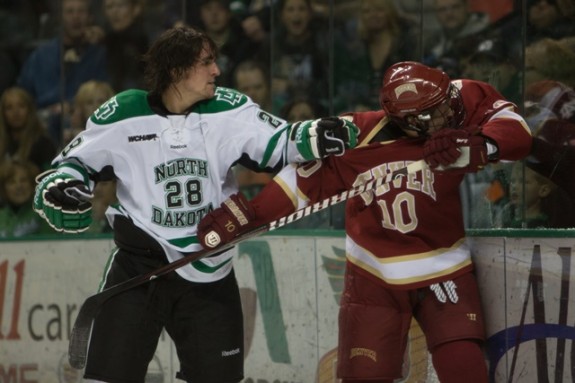 General Pattyn's march to the sea
When Stephane Pattyn came to the University of North Dakota, he was known for being a hockey pugilist and not known for his offensive prowess. Since fighting isn't allowed in college hockey, he had to adjust his game and take on a new role.
In his first two seasons at UND, Pattyn scored (5g-6a—11pts) in 83 games. This season, the burly center has upped his offensive production. Through 17 games, the junior forward has scored (3g-3a—6pts) and is on pace to surpass his career totals. Coming into the weekend, he's scored at least a point in four straight weekends. A couple of his goals have been highlight variety.
Gaarder the quite, relentless forward
Connor Gaarder came to the UND as a walk-on forward after J.T. Miller de-committed to UND. The Minnesota native is the grandson of former Minnesota Vikings head coach Jerry Burns.
Gaarder is not the most talkative of the UND hockey players and prefers to do his talking on the ice, with his play. This season the junior forward has scored (2g-4a—6tps).
After being held pointless in the first 11 games, the junior forward has gotten hot and scored all of his points, in five of the last six games.
On Friday night against Northern Michigan, Gaarder won a faceoff clean, the puck went straight back to freshman defenseman Paul LaDue, who shot the puck past NMU goalie Mathias Dalstrom into the net. That goal would give UND a 4-1 lead and kill any momentum that the Wildcats had.
In conclusion, secondary scoring by roll players can go a long way in opening up the ice for a teams' top line players. Also, roll players help bring momentum to a game when the team needs a lift. So far, UND's third line has helped lift the team during the four game winning streak.