June is upon us, and we are now only three weeks away from the 2016 NHL Entry Draft. The draft is a time where teams can make sweeping changes to their roster while stocking the cupboards for the future. Very rarely are two teams ever trying to accomplish the same thing at the draft, but one thing they all have in common is that they all have a game plan. Here is what Joe Sakic and Patrick Roy should do for the Colorado Avalanche at the NHL Draft.
Draft Several Forwards
Yes, I hear you out there yelling at me, "But the Avalanche need defense! Why in the world should you draft more forwards?" You're not wrong, by any stretch of the imagination, but the NHL Draft is so rarely about adding players that will make an impact on the roster next season. Only seven players from the top 100 picks of last year's draft saw any time at all in the NHL last season. The draft is about addressing your organizational needs for the future and, right now, the Avalanche are very thin on forward prospects; especially after the departures of Joey Hishon, Dennis Everberg, and Borna Rendulic.
Within the system, the only forwards signed for next system are Julien Nantel, Mikko Rantanen (who will likely be on the big team next season), and J.T. Compher. With it seemingly unlikely that the Avalanche will sign prospects Nick Magyar and Alexis Pepin (both 2014 draft picks), the Avalanche system is very limited on forwards. A.J. Greer and J.C. Beaudin are both promising, but are not signed, and Gustav Olhaver (7th round selection in 2015) had a season to forget in the WHL and was a long shot anyways. Forwards are a definite organizational need for the Avalanche and they have to spend some picks on them.
Don't Trade Matt Duchene or Tyson Barrie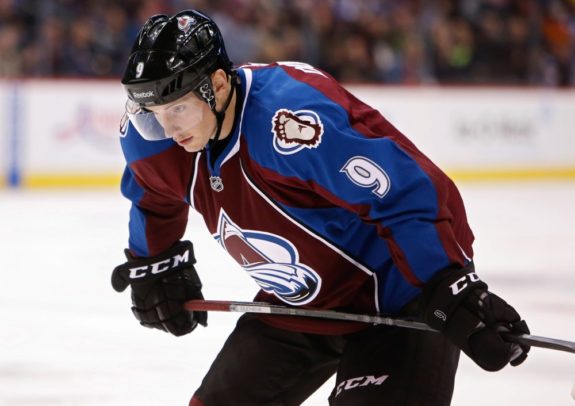 I have touched on what a mistake it would be for the Avalanche to trade either Matt Duchene or Tyson Barrie, but it bears repeating. If the Avalanche want one way to seemingly guarantee that they will struggle again, trading another core piece would do it. Duchene had the best goal scoring year of any Avalanche player in a decade and Barrie is quickly putting himself next to the likes of Ozolinsh and Blake in terms of defensive scoring. Both of these guys are game-changers and trading them is not helpful, period.
Work the Phones
"Wait a minute, Kevin. You just said not to trade Duchene or Barrie." Indeed, I did, I love perceptive readers! While I did say this, it doesn't mean there aren't players or pieces you could look to move. Neither piece that I would hope the Avalanche would move would be an easy sell, but it would be worth trying. First, Jarome Iginla. Yes, I'm well aware of his no-movement clause, and that back in November he said he wasn't going to leave Denver. The situation is different now, however, and with this season likely being Iginla's last chance ever to win a cup, that could be the selling point needed to get him to agree to waive. Obviously, he doesn't have to, and if he feels the same way he did in November then the point is moot. At the same time, his feelings could have easily changed since November, and it would be wise for the Avalanche to explore this option.
The other player the Avalanche could look to move is Reto Berra. Berra played well for the Avalanche last season before his random soccer injury that kept him out for several months, which could make this a bit easier; but his contract is not one that is really attractive. At $1.45 million AAV in a one-way contract, the Avalanche may have to retain a chunk of this to make moving him realistic. Neither player will likely get you a ton in return, but the absence of their contract numbers is the main benefit.
Draft A Goalie
The Avalanche pipeline of goaltenders definitely needs to be rejuvenated. At the start of this past season, prospect Sami Aittokallio returned to Finland over continuing his development within the Avalanche organization. After this season ended, Roman Will also parted ways with the Avalanche. With Calvin Pickard moving up the ranks, the Avalanche are left with Reto Berra and Spencer Martin under contract in the Avalanche system. There is also Max Pajpach (2014 draft pick), but he is unsigned. This shortage of system goalies could make it hard to trade Berra. A stout pipeline of goaltenders is very important to any team and the Avalanche need to make certain to address this at the draft.
Make the First Pick a Good One
The first round selection is the ones that has to be a great one for the Avalanche. There are any number of directions that they could go, depending on who falls where. These are the players that you really expect to be contributors to your team in just a few years and you've got to get a player that can do this. At 10th overall, the Avalanche could have one of the top three defensemen to choose from, or could end up with a highly skilled forward. Whatever they end up with, they must make the most out of their first selection.
I'm a Denver native who has been a fan of the Avalanche since they came to town and a fan of the game before that. I started writing my own blog a couple years ago before moving to Bleacher Report and becoming a Featured Columnist there. You can also find me the Burgundy Brigade Podcast