The Bruins were well represented during the 2016 IIHF World Championships in Russia this off season. Brad Marchand, David Pastrnak and Frank Vatrano played prominent roles for their respective countries.
The tournament wrapped up May 22nd when Canada shut out Finland 2-0 to capture the gold medal for the second straight year. Brad Marchand added to his strong performance by recording an assist on Canada's empty net goal late in the game.
The U.S. team suffered a tough 7-2 loss at the hands of host nation Russia in the bronze medal game. Frank Vatrano scored both goals for the Americans while recording 7 shots and being one of two players to have a positive plus/minus rating.
The Czech Republic squad was eliminated by the U.S. in the quarterfinals by a final of 2-1. David Pastrnak was held off the score sheet but recorded 6 points in 8 games.
These three forwards had pretty solid seasons and continued their success into the tournament. Let's look at the impact they had this year.
Marchand's Impact
Brad Marchand put up career highs this season for the Boston Bruins with 37 goals and 61 points. He also recorded career best numbers in game winning goals (6), powerplay goals (6), powerplay points (8) and shots (250). Marchand's influence and production helped the Bruins make a push towards the playoffs during the final 2 months. He improved upon his already renowned work ethic by providing more consistent offense and becoming a force on the team's penalty killing unit.
Many speculated that Marchand's improvement has to do with only having one more year remaining on his $4.5 million annual contract. Some players manage to peak around or during their contract year but it looks like Marchand is on the right path.
His level of play continued with Team Canada where he recorded 4 goals and 3 assists for 7 points in 10 games. The 5'9, 183 lbs left wing logged most of his minutes of the team's top line. During the playoffs, he posted 2 goals and an assist in 3 games, including a highlight reel goal against the Americans in the semifinal.
His toughness and scoring ability were a major component for Canada's run to victory. His contributions were recognized by Canada as he will now represent them once again in the upcoming World Cup of Hockey tournament in Toronto. The Halifax native also managed to make a friend out of rival Montreal Canadiens forward Brendan Gallagher.
Vatrano's Impact
Frank Vatrano is an interesting story. The undrafted free agent out of Massachusetts scored at a goal per game pace in the AHL with 36. His 55 points in 36 games were good enough for 4th on the Providence Bruins roster. Vatrano led the team with 36 goals, +21 rating, 12 power play goals and 1.53 points per game ratio. He also became the 3rd player in AHL history to score an unassisted hat trick during a game against the Portland Pirates on March 6th.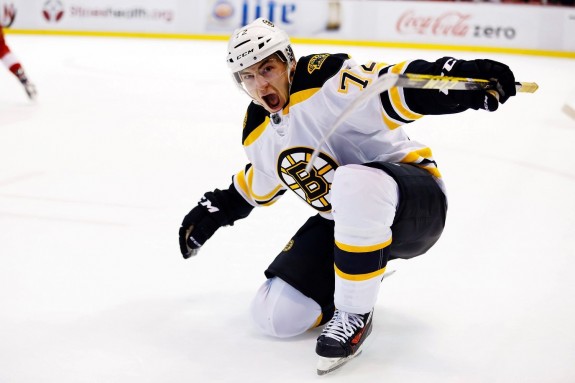 Once the Bruins called him up to the big club, Vatrano continued to produce. While mostly playing on the team's third and fourth line, the East Longmeadow, Massachusetts native scored 8 goals and 11 points in 39 games. His speed and aggressiveness helped win over teammates and the coaching staff, allowing Vatrano to see time on the power play and penalty killing units late in the season.
As a member of the United States hockey team, he scored 3 goals and posted 5 assists for 8 points in 10 games. He bounced around the lineup for a little while but managed to lead the team in plus/minus (+6) and shots (34). He was one point shy of team lead in points which was shared by Auston Matthews and Dylan Larkin.
Vatrano's two goal performance in the bronze medal game showed that he can put together a strong effort in a pressure filled atmosphere. One of the team's secret weapons, he excelled at both ends of the ice and especially in the hitting department. Once he gets an opportunity to thrive with Boston, he could end up on future Olympic or World Cup teams.
Pastrnak's Impact
In his second professional season, highly touted winger David Pastrnak picked up 15 goals (career high) and 26 points in 51 games. Pastrnak played the majority of the season on the team's second line and provided offense sporadically.
Although he struggled at times, the 25th overall pick in 2014 showed flashes of brillance and recorded two game winning goals. His speed and shiftiness play a huge part of his overall game but his size and strength have been called into question.
Nevertheless, Pastrnak has a strong future career path with the Boston Bruins. The native of Havirov, Czech Republic has potential as a 20-30 goal scorer.
Pastrnak's influence on the Czech Republic team was solid, recording a goal and 5 assists for 6 points (2nd on team), +4 rating and 28 shots (2nd) in 8 games. He factored heavily in a 3-1 victory over Kazakhstan during the preliminary round, recording 2 assists. He consistently scored in the first five games of the tournament but went without a point for the final three, two of those being losses to Denmark and the United States.
He represented his country for the fourth time in his hockey career and was selected along with fellow Bruin David Krejci to suit up for the Czech Republic in the World Cup of Hockey in September. They will be joining Marchand, Patrice Bergeron, Zdeno Chara, Tuukka Rask, Loui Eriksson and Dennis Seidenberg at the two week event.
This tournament was huge for these three forwards and can only be a stepping stone to greater things for the Bruins next season.