The Colorado Avalanche are currently occupying last place in the NHL. Not many would have predicted such a massive stumble out of the gates for the Avs, but such is the case. The team is struggling, and when that is becoming a trend, it is inevitable that the trade winds start blowing all over the place.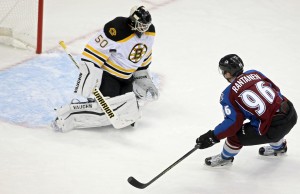 Joe Sakic has said he is currently listening to offers for star forwards Matt Duchene and Gabe Landeskog. The only untouchables are Nathan MacKinnon, Mikko Rantanen and last year's first round pick, Tyson Jost.
This has Avalanche fans quite upset, and rightfully so. Why would you blow up a core with so much talent and potential? Sakic should be in no rush to trade any of them, as they are not the problem. The players who have been brought in to surround them and help mentor them have been the issue. However, that's not to say he shouldn't be listening at all; because then Sakic wouldn't be doing his job very well, and this team does need improving, there's no denying that.
However, it's not anything that can be quickly fixed by trading a core player, unless Colorado gets lucky with an extremely desperate team that proposes an offer which cannot be passed over. I wouldn't bet on that, however.
#Avs are closer to being competitive than people think. Need some help on defense, and yes, in goal. Don't need to blow up the core.

— Daniel Friedman (@DanJFriedman) January 10, 2017

Nathan MacKinnon, Matt Duchene, Gabe Landeskog, Mikko Rantanen, Tyson Barrie, Erik Johnson, along with Semyon Varlamov/Calvin Pickard in net, is a great core to build upon, and all of them are signed long-term to more than decent contracts.
Fill a Hole, Create Another
Okay so let's imagine Duchene is traded. Obviously, the Avalanche are looking for defensive help, so let's say they acquire a decent defenseman in return. Done deal. What do you do now about your best center? What do you do about your power play, important face-offs, offensive depth, etc? While you may have helped your defense out a bit, everything Duchene brought is now missing.
The same thing can be said with dealing Landeskog. It's filling one hole while creating another, it's just not smart business. Especially when you are talking about two fan favorites.
Colorado seems to have bought into size the last couple of seasons, but if that size doesn't possess speed and skill, in today's NHL, it's virtually a useless asset. They need to focus on the depth surrounding the core, not get rid of a great player just for the sake of shaking things up.
Depth Concentration
http://gty.im/512766316
If I am Sakic and the Avalanche, I realize that 1) the core players are not the issue, and 2) I'm in no rush whatsoever to trade one of them even if I really wanted to. The reason this team is losing, besides the obvious sluggish defense, is because they lack offensive depth and speed, something that was almost synonymous with Avalanche hockey since they moved from Quebec. They can still get back to that exciting style, because their core is exactly that. But overpaying older guys who are losing gas as each day goes by needs to end.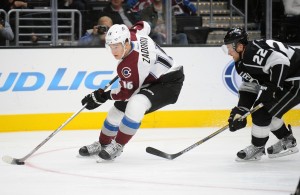 A number of players are holding this team back, and none of them are named Duchene or Landeskog. It seems they still haven't learned from Brad Stuart's haunting contract. Carl Soderberg, signed for four years, looked amazing last year, but where is he now? Rene Bourque — yes he's played well, but do you really believe a playoff team would have him in their top-six? Add in players such as Jarome Iginla, John Mitchell, Cody McLeod, Fedor Tyutin and Francois Beauchemin, who are all passed their prime, and you have yourself a big mess, but again, that mess is not within the core of this team.
They must concentrate on the overall depth, from offense to defense when it comes to any potential trades in the near future. The Avalanche have a great core, surround them with other young talented players who fit the Avalanche style of hockey. For example, Matt Nieto was a great grab for free, 24-years-old, can skate and adds excitement to the lineup immediately. More of these types of moves while pushing the older guys out, who are literally slowing the team down, will go a long way towards a relatively fast turnaround for Colorado.
Their current position in the standings is on management with the players they brought in during the summer and prior who are surrounding this young, promising core. They need to have smarter offseason acquisitions, and better drafting in the deeper rounds, end of story. Don't throw Duchene or Landeskog under the bus and perhaps set the franchise back even further than it already is.