The University of North Dakota has had their share of first-round draft choices play for their storied program. The distinguished list has included prominent NHL players like Jonathan Toews, Zach Parise, T.J. Oshie, Drew Stafford, Travis Zajac and Brock Nelson.
The aforementioned players, except Oshie, all played two seasons for UND. Oshie returned for his junior season. Historically, UND hasn't had a lot of one and one players. All of the players listed above were first-round draft choices and all of them stayed at least two seasons.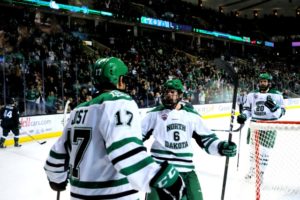 Right now, the Fighting Hawks have two first-round draft choices on their roster, Brock Boeser (Vancouver Canucks) and Tyson Jost (Colorado Avalanche). Both players have played major roles for the Hawks this season. Jost has scored 10 goals and 23 points in 19 games. Boeser, a sophomore, has missed six games due to a minor wrist injury and still managed to score 10 goals and 21 points. How long both players stay at UND will be up to the players and their families.
Jost a Flight Risk after the Season?
During the summer, the Vancouver Canucks were interested in signing Brock Boeser, yet he returned for a second season. Many believe that Boeser will sign with the Canucks after the season is over. I would agree with this assessment.
Jost's play on the ice is turning a lot of heads. This has some members of the print media wondering aloud if Jost is signing after the season is over? Jost's stock continues to rise every time he hits the ice. With the Avalanche struggling in the standings, I would expect the Avalanche to make a push to sign Jost after the Fighting Hawks' season is over. Why wouldn't they? He's having a great season.
Last week, Mike Chambers of the Denver Post sent this shock wave through the UND Twitterverse when he penned this article. This obviously fueled speculation from Avalanche and UND hockey fans.
Colorado is the NHL's worst team and in need of young talent. Because of that, North Dakota's investment in Jost won't pay long-term dividends. The decision to leave college early by signing an NHL entry-level contract is always up to the player. But this player — raised by a single mother in Canada — likely won't turn down Avalanche general manager Joe Sakic and the chance to begin his NHL career next season — or possibly at the end of this season depending on how far the defending NCAA champions go in the postseason.
Awfully presumptuous article by @MikeChambers. Just like when he said Auston Matthews would play for DU….. https://t.co/hB4tr5NXWR

— University of Hockey (@UofHockeyBlog) January 2, 2017
Seriously, college hockey fans don't want to know that one of their top players might sign with their professional team after their season is over. Especially, during the middle of a current season. Let's be honest, there's a possibility that UND could lose both Boeser and Jost in the offseason. Some will point to Jonathan Toews, Jost's boyhood idol who played two seasons of hockey at UND. This past week, Greg Harder also gave UND hockey fans something to talk about on a UND fan message board. Harder wrote in the Regina Leader-Post. Jost Not Coming to Regina – Yet.
That said, Paddock fully expects to see Jost wearing Colorado's colours next season. There's already speculation that he could sign this spring at the conclusion of the NCAA playoffs and immediately join the struggling Avalanche.

"He's going to be given every chance to play in Colorado next year as long as they sign him," said Paddock. "If they don't sign him, then he's going to be in North Dakota. None of this has anything to do with us, really. It's all in other peoples' control."
Put Me in Coach
This past week, University of North Dakota freshman forward Tyson Jost played four games in four nights. Jost played two games in the World Junior Hockey Championship for Team Canada and then traveled on Friday morning to Omaha, Nebraska, to meet up with his UND teammates. When he arrived in Omaha, he was chomping at the bit to get back on the ice. Jost still had to convince his head coach Brad Berry he could play.
"I wanted to look him in the eye and see how he looked," coach Berry told the media. "He had a sparkle in his eye and he had a jump in his step. He said to me, 'Manage my minutes and I'll be good to go.' When I heard it from him, that's when he was put in the lineup."
It would appear, that Berry made the right decision, Jost scored three goals and four points in the Hawks important two-game series sweep against the Omaha Mavericks. Jost was instrumental in helping the Hawks beat the Mavericks (9-1 W, 7-3 W). Stories like this only promote more interest in Jost from the fans of the Avalanche, who hope to see him playing in Denver soon. Based on his play and the state of the Avalanche, I also think there's a high possibility that Jost could sign after the season is over. UND need to enjoy him while he's here. His length of stay at UND is TBD. It's possible that both of UND's first-rounder could be gone after the season is over.