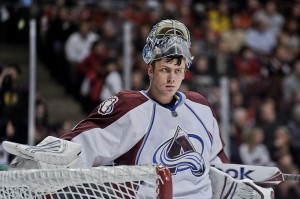 The NHL playoffs are coming and few weeks ago, the Colorado Avalanche and Buffalo Sabres were both pretty close to being dead in the water when it came to the upcoming playoff push. Buffalo in particular was stuck at last place in the Eastern Conference, and the Avs just seemed unable to put anything together through a couple of injuries and overall bad play on the ice.
Times have happily changed for both clubs going into their game against each other last night. The Avalanche haven't had much help from the teams around them, but Semyon Varlamov has decided that it's the perfect time to become an absolute beast, leading the team to five wins in their last six games. Both Buffalo and Colorado had great trade deadline moves as well with playoffs in mind, with the Avs picking up Jamie McGinn and Steve Downie and the Sabres ditching the uninspiring Paul Gaustad in favor of Cody Hodgson. It's been good times since then for the two teams as they went into their game on Wednesday in Buffalo.
The game was a thriller, with McGinn scoring with 1.9 seconds left to tie the game 4-4 for the Avalanche, who then won their eighth shootout of the season to get the two points. The more important part was that it ended up being a three point game, since both teams need as many as they can grab to get into the playoffs discussion.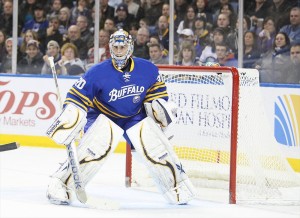 The Avalanche right now are in the eighth seed in the West with that win, though several teams have games in hand and as I pointed out earlier they aren't getting much help from the teams around them that they need to lose. Their form is superior to a lot of teams around them though and they have a hot goalkeeper, always a plus going into playoff races. The Sabres are in ninth in the East right now but are the first team out with a fairly soft schedule ahead of them including teams like Florida and Minnesota.
The teams are pretty similar, all things considered. Buffalo have a better goalkeeper (when Varly isn't on a tear like he has been, anyway) and defense and Colorado have a slightly more spread out offense but they are pretty easily comparable. Both teams have no true superstars right now – no Stamkos or Crosby types, anyway – but young talented players gluing the teams together like Nathan Gerbe and Tyler Myers for Buffalo, Gabriel Landeskog and Matt Duchene for Colorado et al. Neither will be anywhere near favorites to win the cup if they both make the playoffs, but for two teams that weren't even supposed to make it a month ago they would have to be happy just to be in.
I'm sure the fans wouldn't be complaining for either side.