"We need to improve our minor league team, this is the next step for us. Our farm team is in the bottom of the AHL.. the farm system needs to improve, we need to be better." Patrick Roy told Denver radio show 104.3 thefan following the NHL's Trade Deadline. "Joe and I want something solid from the bottom to the top."
Before the draft or July 1st with the acquisitions of Iginla, Stuart and Briere, the "Joe Sakic & Patrick Roy – Part 2" franchise face lift began with a few signings that flew under the radar. The Avs inked undrafted forwards Samuel Henley, Borna Rendulic, & Dennis Everberg, defenseman Cody Corbett and goaltender Roman Will to entry level deals. Combine these with the additions of Connor Bleakley, Kyle Wood , Nick Magyar and Alexis Pepin through the draft and there is a distinct stamp Sakic and Roy are pasting throughout organization. It reads: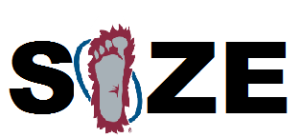 Growing Potential
In recent years, Rick Pracey (Director of Amateur Scouting) & Co. have targeted several undersized, skilled forwards to fill out the prospect pool such as Joey Hishon, Troy Bourke and Colin Smith. This actually goes against the trend of many NHL franchises as the dogma "Size Matters" still reigns supreme in this league. There is nothing wrong with drafting small players; in fact I believe size continues to be over valued when it comes to the draft. If a kid can play, he can play; says Martin St. Louis, Zach Parise, Patrick Kane, Mats Zuccarello, the list goes on. But like many things in life, too much of one thing can be debilitating. It is clear that Roy & Sakic saw the lack of size in the system as a weakness and felt the need to address it immediately.
In the NHL's wild West, the Avalanche need these type of players in the system to compete with the big bodies in Los Angeles, San Jose and St Louis come playoff time. It remains to be seen how many of these prospects will actually have an impact at the NHL level, but larger players traditionally have a higher graduation rate due to their ability to play in the bottom of a lineup. On the contrary, undersized prospects that rely on their skill are usually in the top 6 or playing top minutes in the minors – not in between(see Joey Hishon, Michael Sgarbossa, Mark Olver). If they are unable to stick in a top 6 role or become a defensive specialist, few have long NHL careers.
With very few spots available in the Avalanche top 6 in the foreseeable future, it is prudent for management to start adding an element of size and physicality in the minor leagues to fill the bottom of the lineup. We have all seen the importance of having cheap & heavy home grown players like Bryan Bickell , Dwight King, and Kyle Clifford impose their will on a playoff run in limited minutes.
European Flavor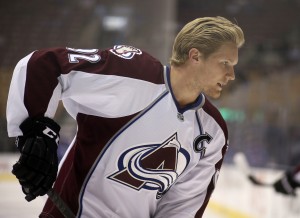 Another new trend in the Avalanche prospect pool is the infusion of European talent. In the last 6 years, Colorado has drafted a total of 3 players from European leagues, and 4 European players in total . That is plain negligent as far as overseas scouting is concerned. Of course you always want to go with best player available, but many times the best late round steals in the draft come from Europe. Besides the often cited Zetterberg and Datsyuk, Hjarmalsson (4th round), Grabovski (5th round), Hornqvist (7th round) and Hagelin (6th round) are all examples of savvy drafting. With the signings of Rendulic, Everberg, Will and the selections of Lindholm and Pajpach in June's draft, management has added more European talent in the last 4 months than they've had in the last 4 years.
The Tampa Model
The signing of young, undrafted players also speaks to a new organizational philosophy that mimics what Steve Yzerman has done in Tampa Bay. The Lightning dressed 4 undrafted rookies for most of last season, and two of them (Ondrej Palat & Tyler Johnson) were nominated alongside Nathan MacKinnon for the Calder Trophy. Maybe Stevey Y is onto something; Patrick Roy sure thinks so: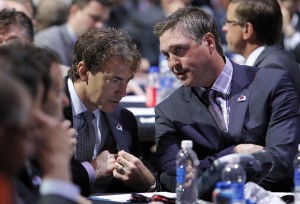 "It's important to build our minors.. we're building our basement right now because we want a solid house. Look at Tampa Bay. Tampa Bay is there because their young guys won the Calder Cup now they're playing at the NHL level and they're helping this team. They play without Stamkos, they still find a way to win hockey games. Because these guys have learned how to win. These guys have played, developed, and are ready to play, and are good hockey players. Now we need to do the same thing."
This underlines how important AHL success can be to an NHL franchise. Regardless of how these moves affect the Avalanche in the future, they are all about making the Lake Erie Monsters a better team now. The Monsters have made the playoffs only once in their 7 year history and that ended in the first round exit. Sakic & Roy want to change that so that players in the system can "learn how to win" before making the jump to the NHL. What's more, pro-ready prospects have given management the flexibility to trade late draft picks to acquire targeted players like Stuart, Briere and Berra. Time will tell if the new approach pays off, but it is hard to doubt the philosophy of these two perennial winners.