Ukraine's Ice Hockey Federation promoted Alexander Godynyuk to Head Coach on 5 August 2014. The decision of the Federation came after the resignation of Andrey Nazarov, who had asked for prior termination of his contract with Ukraine's Ice Hockey Federation.
Alexander Godynyuk is one of the best players in Ukraine's hockey history, who played in the Soviet premier league "vysshaya liga", spent 9 years in the NHL and positively contributed to the Soviet junior and Ukraine' men national teams.
Prior to his appointment as Head Coach Alexander Godynyuk assisted Andrey Nazarov in Ukraine's national team and was the Head Coach of "Molodaya Gvardiya", farm club of KHL's "Donbass" Donetsk.
Nazarov filed his resignation amidst ongoing military, political and humanitarian crisis that severely hit Ukraine and especially its Donbas region. There Nazarov was also employed as the Head Coach of "Donbass" Donetsk hockey club. Due to the severe crisis "Donbass" was forced to take a year-long pause from the game due to inability to sustain its franchise in the dramatic situation.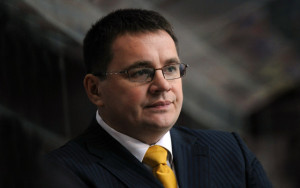 Godynyuk takes over the national team's helm in very difficult times. Just a few months ago Team Ukraine was hopeful of successful participation in the 2015 IIHF Ice Hockey World Championship Division I Group A in Donetsk. Winning the tournament would bring the team into the elite of world hockey. But now the country is struggling to barely organize its national championship in 2014/15 and keeps losing players to foreign clubs. So, the goal of playing against the hockey great nations in the near future might prove to be too ambitious to accomplish.
Nevertheless Godynyuk is not losing his spirit. He plans to concentrate on the national team work in the next season. He is also eager to do a lot of travelling in order to see how his players progress in foreign clubs, Godynyuk said in an interview to the Ukrainian XSPORT channel.