The Dallas Stars seemed to turn a corner last season after Jamie Benn and Tyler Seguin went on a tear and secured a spot in the playoffs. Over the last half decade, the Stars have not been as prominent as they once were in the late 90s. Their defense has always been a sore spot and there was never much help in the pipeline to choose from. Not only have they regained their winning ways, but they've also been able to boost their prospects. Here is a look at their top five.
Criteria:
Skaters can not have played more than 42 games.
Goalies can not have played more than 25 games.
5. Jason Dickinson – OHL – Guelph Storm – C
Jason Dickinson had quite the season this year – 78 points in 68 games and helped lead the Guelph Storm to the Memorial Cup. Whether it was him being on a star-studded team or whether he was one of the main reasons his team was so strong might still be a tossup, but fact of the matter is he performed when it counted. Dickinson skates well for his size and shows pronounced competitiveness on the ice. He plays effectively in every zone and addressed his consistency issues this season with his point production.
4. Jamie Oleksiak – AHL – Texas Stars – D
Jamie Oleksiak is a hulk of a defender. His height tops out at 6'7″ and he's very difficult to play against. Oleksiak's size allows him to pokecheck from far away without giving up his positioning. For such a large defenseman, he skates well and lays some devastating hits. His offensive game was evident this past season with the Texas Stars, but he'll mainly be used in a shutdown role with Dallas. Oleksiak also has a bomb from the point. The budding blueliner might split time between the AHL and NHL next season, but he's one of the prospects who is closest to playing full-time for the Dallas Stars.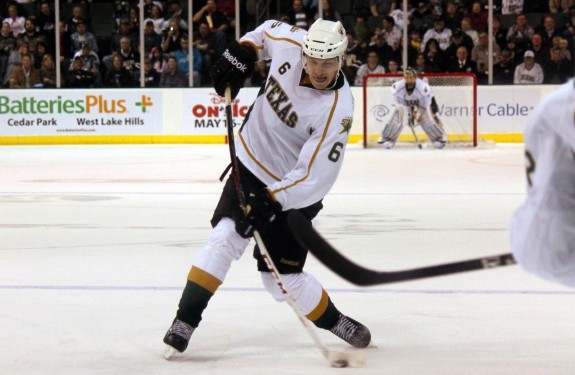 3. Jack Campbell – AHL – Texas Stars – G
It's been a long wait for Jack Campbell, but he's beginning to bear fruit in his early professional career. Campbell has quite the resume having essentially won at just about every level and recently won a Calder Cup Championship with the Texas Stars. He battled through injury this season, but still posted a mind-numbing 1.49 goals against average with a .942 save percentage. With Kari Lehtonen and Anders Lindback up with the Dallas Stars, Campbell can wait a year or two before fully accepting a role as a backup or starter.
2. Julius Honka – WHL – Swift Current Broncos – D
To pry away a young Finn from their native country is tough enough, but Julius Honka came to North America willingly in hopes of getting drafted by an NHL team. He performed extremely well this season for the Swift Current Broncos and was taken 14th overall by the Dallas Stars in 2014. An undersized defenseman, Honka uses his short, quick bursts to speed up the ice and carry the puck. His mobility from the backend was one of the best in this year's draft class and can move the puck up ice with little effort. Honka's speed allows him to get back into the play, but his game revolves around his vision around the ice and playmaking. He'll head back to Swift Current this season to develop his game further.
1. Brett Ritchie – AHL – Texas Stars – RW
With size, speed, and offensive touch, Brett Ritchie is almost ready to make his way into the Dallas Stars' lineup. He has a calm demeanor when he carries the puck and doesn't shy from using his body to his advantage. Whether it's winning board battles or shielding the puck from defenders, Ritchie has been on a steady incline throughout his entire development. He has a powerful wrist shot, which helped him score 41 goals in his final season in the OHL. He was 11th overall in rookie scoring last season with the Texas Stars and will continue his pace this year. I'd assume he might see some NHL action if any winger goes down with a significant injury.