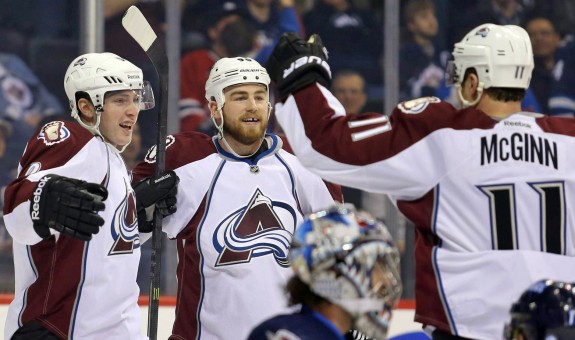 With the Avalanche season ending in game 7 heartbreak, it is time to look towards the off-season to see what the future holds for the 2014/15 roster. The team currently has 11 free agents and the status of a few big names remains up in the air. Will Paul Stastny re-sign? What will Ryan O'Reilly and Tyson Barrie's new contract look like? The analysis below attempts to answer these questions and more based on the 2014/15 salary cap increase from $64.3M to $71.1M , league wide trends, and Colorado's current salary structure.
Restricted Free Agents
Ryan O'Reilly
Current cap hit: $5M      Estimation: $5.875M          Difference: +$875,000
O'Reilly had the well documented contract dispute last year which lead to an offer sheet from the Calgary Flames. This has his qualifying offer set at $6.5M, but only if a long term deal cannot be reached. A new coach and new management seem to have healed old wounds, and Patrick Roy has stated on a local radio show that "I'm very confident Ryan will be an Avalanche for a long time". Though his contract status, 64 point season and defensive acumen could see him earn $6M or more, it will be difficult for his agent to justify him earning the same money as Matt Duchene. Look for him to sign for 5+ years somewhere in between Landeskog's $5.75M and Duchene's $6M for ~$5.875M.
Tyson Barrie
Current cap hit: $900,000        Estimation: $2.75M           Difference: +1.85M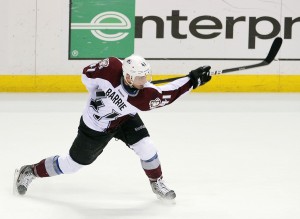 Barrie's injury in the playoffs might have been a blessing in disguise for the Avs' salary structure. After a breakout season saw him pot 38 points in 64 games, he followed that up with 2 points in his first 2.5 playoff games before Matt Cooke took out his knee. Had he stayed healthy, the Avalanche likely advance to round 2 and he would have a better case to negotiate a generous RFA contract. Look for both sides to negotiate for a "prove yourself" deal (à la P.K. Subban and Micheal Del Zotto) for 2-3 years in the range of $2.5-3.5M. This ensures Barrie will still be an RFA at the end of the deal (good for the Avs), and gives him the opportunity to get a payday in his next deal (good for Barrie). Erik Johnson's $3.75M contract gives the Avalanche a strong negotiating position in this case.
Jamie McGinn
Current cap hit: $1.75M        Estimation: $3M           Difference: +1.25M
McGinn tallied a career high with 38 points while notching 19 goals. His size and strength are highly coveted around the league in a top 9 forward position, and his contract will reflect that. With this being his last year of RFA status, look for the Avalanche to notch him up for around 3 years at 3M. He may not have earned a full 3M yet, but buying UFA years will always cost a team more. Troy Brouwer is a good comparison at $3.667M.
Stefan Elliott
Current cap hit: $900,000     Estimation: $900,000          Difference: $0
This will be a make or break year for Elliott in the Avalanche organization. He was drafted before Barrie in the 2009 draft but has yet to establish himself on the Avalanche blue line. With Johnson, Barrie and Guenin all playing the right side, it remains to be seen whether he will be able to crack the roster next season. If not, look for him to be dealt in a package for an upgrade on defense or swapped for a forward prospect of similar potential. A change of scenery could really benefit the young offensive defenseman.
Unrestricted Free Agents
Paul Stastny
Current cap hit: $6.6M              Estimation: $6.5M NTC          Difference: -$100,000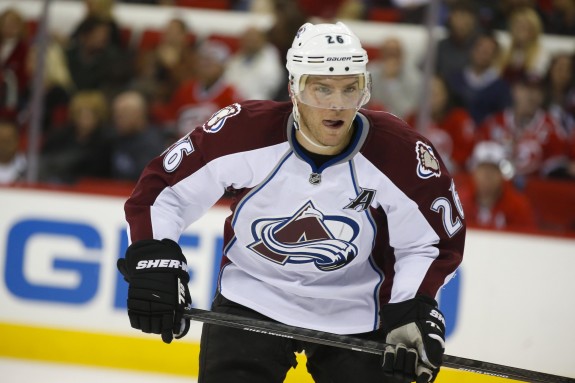 Stastny is the most intriguing story for Colorado heading into the off season. While he could easily earn $7M or more on the open market from a desperate team, he has stated that he is willing to take a home town discount to stay with the Avalanche. This might have changed due to his clutch play in this season's playoffs, but it also does not erase the several years that he was earning 6.6M for play that did not match his pay cheque. At this point of his career, Stastny has an opportunity to cash in one last time for the team of his choice, but all signs point to him remaining with the Avalanche. They did not move him at the deadline because they were confident a deal could get done and he remains an integral part to the team. If he wants to win with the Avalanche, look for his contract to remain fairly constant to allow the Avs to target other free agents and build this team into a contender. His deal will likely be long term (7-8 years) and include a no trade clause. This demonstrates mutual loyalty between player and team to avoid his name popping up in trade rumors once Nathan MacKinnon establishes himself as a top center option.
J.S. Giguere
Current cap hit: $1.5M          Estimation: Retirement              Difference: -$1.5M
Farewell Giggy and congratulations on an amazing career!
Cory Sarich
Current cap hit: $2M              Estimation: Release to free agency          Difference: -$2M
Sarich was included in the Tanguay deal to provide leadership and even out salaries. He has struggled to stay healthy and his time in an Avalanche sweater has likely come to an end, freeing up a nice 2M of cap space.
Andre Benoit
Current Cap hit: $900,000     Estimation: $1.5M       Difference: +$600,000
Benoit poses another interesting scenario for the Avalanche. They have the option of letting him go and filling the spot with a more accomplished (and more expensive) defenseman, or give his spot to a young player like Stefan Elliott or Duncan Siemens. However, he was a targeted player by the Patrick Roy regime and the Avalanche were the first NHL team to give him a real opportunity. Look for that loyalty to remain and for the Avs to sign him as a stop-gap #6-7 defenseman for 2 years while Siemens and Bigras continue their development.
Buy-out Candidates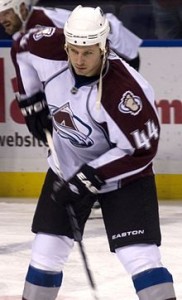 Ryan Wilson
Current cap hit: 2.25M      Estimation: Non-compliance buy out           Difference: -$2.25M
The Avalanche still hold both of their non-compliance buyouts that will expire at the end of this off season. This gives them flexibility to rid themselves of unfavorable contracts. There is only one of these that stands out on the roster, and that is Ryan Wilson's $2.25M. The 27 year old has 1 year left on his deal and is set to become a UFA at the end of next season. He has struggled to stay healthy and with the glut of bottom pairing defenseman on the team, $2.25M is too much to spend on a player that spends most of his minutes in the press box.
The Future
Following this off season, the Avalanche will likely have most of their core pieces signed long term. Factoring in the guess-timations above and the proposed salary cap increase to $71.1M, the Avalanche should be in great shape with approximately $9.2M of cap space with two roster spots to fill. Even if the above numbers are optimistic by a million or two, the Avs have great cap flexibility heading into this season and beyond. Two extensions they have to be wary of are those of Nathan MacKinnon and Erik Johnson two seasons from now. The extensions will see cap increases of up to ~8M for both players combined. The good news is that both Tanguay and Parenteau will both be off the books by that time, or their cap space will be used to fill holes elsewhere on the lineup through trades. With their core locked up and plenty of cap space to spare, look for the Avalanche to be players in any big name free agent defenseman that hit the market in the near future.
Veteran of two Hometown Hockey tours. Have worked for the NHL, London Knights and a sports agency in various capacities. Above all, student of hockey hoping to provide unique, thought provoking analysis of the game and business I love while having a little fun along the way.