Coming off a Calder-Cup winning season, much was expected this year from Florida Panthers phenom Jonathan Huberdeau. The third overall pick in the 2011 NHL Entry Draft,  Huberdeau racked up 31 points in 47 games during the lockout-shortened 2012-2013 campaign. There is no question that the now 20-year-old has talent, as he was ranked the third best North American skating prospect by the NHL Scouting Bureau. Whatever the reason — and there are a great many — Huberdeau severely regressed in his sophomore year. Was it simply a sophomore slump? or was it the result of the Panthers mismanaging a young player?
Skill Set and Surroundings
Huberdeau is a skilled puck-handler, with good vision. He has always been a pass-first guy, as evidenced by his stats up to this point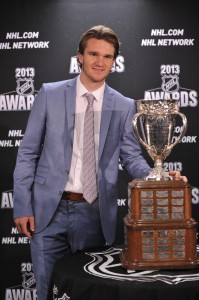 in his young career — 104 goals and 153 assists in 195 games in the QMJHL, 23 goals and 36 assists in the NHL. The problem is that not only are the Florida Panthers devoid of any consistency finishers, Huberdeau isn't a great skater, and thus has issues making big plays happen on his own. The only consistent finishers — that played wing — for the Panthers this year, were Brad Boyes and Sean Bergenheim — both of whom skated with Nick Bjugstad most of the year.
When Huberdeau put up his Calder-winning effort in 2012-2013, he saw continuity with his linemates. He skated with Peter Mueller for 65.8% of his even strength time-on-ice and with Drew Shore 56.7% of the time. So, he skated on a line with Mueller and Shore most of the time — 11 of his 17 points came with those guys, and 81.2% of his shots came with those guys as well. Think about that, despite only playing with Mueller only 65.8% of the time, seven of Huberdeau's  nine even-strength goals, and 81.2% of his shots were with his former linemate, who is now out of hockey and playing in the Swiss League. 
In 2013-2014, Huberdeau was not able to develop any sort of continuity with linemates, as he was frequently jerked around the depth chart. This is in part due to a coaching change in the early part of the season, but also due to the fact that the Panthers just had too many centers — forcing the 20-year-old to play wing.
Huberdeau's 5-on-5 Production Distribution in 2013-2014 (w/ Forwards)

Linemate

Shots
SOG/60
Points
Points/60
% of Total Ice Time

Marcel Goc

18

5.60

6

1.87

21.68%

Nick Bjugstad

35
5.78
5
0.83

40.78%

Jesse Winchester

17
7.59
5
2.23

15.09%

Tomas Kopecky

13
7.35
4
2.26

11.93%

Scott Gomez

10
7.49
3
2.25

9.00%

Jimmy Hayes

6
7.31
3
3.65

5.53%

Tomas Fleischmann

13
3.64
3
0.84

24.09%

Scottie Upshall

32
9.92
2
0.62

21.74%

Drew Shore

10
8.93
2
1.79

7.55%

Brandon Pirri

5
6.08
2
2.84

4.75%

Shawn Matthias

3
4.50
2
2.99

4.52%

Kris Versteeg

5
3.85
2
1.55

8.70%

Aleksander Barkov
7
4.56
1
0.65

10.35%
*Source for Data: Here
Analysis:
Unfortunately, these numbers are all too small to analyze in depth and draw any concrete conclusions from — well, aside from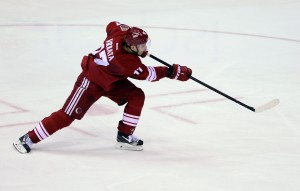 three things. One, it's clear he still has some good chemistry with Drew Shore based on his Shots/60, and second, Huberdeau was simply moved around way too much last year. Chemistry is a real thing and if you are a young player, with a still developing kill set, with only a half season of NHL experience, it's very difficult to be yanked around like that and be able to stay comfortable and consistent.
The third and final conclusion is an extremely important one, and it underscores an issue that coaches around the league continue to miss out on. Playmakers like Huberdeau need to be skating with players that will shoot the puck. Period.
It's no surprise that in Huberdeau's Calder-winning season, his main linemate, Peter Mueller — whom he skated with 65.8% of the time — led the Panthers in shots with 113 shots, and 11.85 shots per/60. Also, Drew Shore in 2012-2013 was fourth on the team in shots/60 with 8.29. The point is that when Huberdeau is on the ice, he needs to be with shooters. The Panthers need to bring in some shooters this off-season if they want production from the former Rookie of the Year.
The Panthers must find a way to get Unrestricted Free Agent Radim Vrbata and his career 10.29 Shots/60 rate to Florida.
.