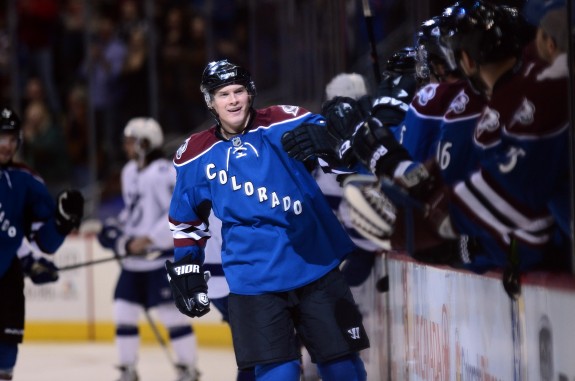 Nothing went right for Colorado last year. They finished 29th in the league, they missed the playoffs for a team record 3rd consecutive year. Statistically they were also one of the worst teams in the NHL with the man advantage. The Avalanche had the 24th ranked power play, coming in at a shocking 15 percent. All things considered it wasn't much of a surprise to see the Colorado front office clean house. Brought it was the massively popular Patrick Roy, and with him came a new attitude that has seen a team viewed as a perennial bottom feeder become a competitive force in the western conference. This season has been an improvement in just about every statistical category for Colorado.
Colorado's power play is now in the top 10 of the league at a 20.2 percent success rate. Considering that Colorado still had some struggles early on in the year while the team learned the new system makes their power play something to look at. Patrick Roy deserves a lot of credit for not only changing the culture in Colorado but also understanding his team's strengths, and adapting their play around that. When it comes to the power play, Roy focuses a lot of his team's energy on it. Most Colorado practices begin with improving the power play. For the most part it's paid dividends for coach Roy. He knows his team has speed and skill, and has adapted their play to reflect that.
In The Zone
Obviously a powerplay can't be successful in the neutral zone, and zone entries for Colorado were an issue last season, and early this year. It's no secret that Colorado has an incredibly skilled forward group, but sometimes they made things a little too complicated. Ill advised drop passes, fancy dekes at the blue line and reckless turnovers kept the Avalanche from getting into a rhythm. One of Patrick Roy's changes to the power play has been to encourage simplifying the way Colorado gets into the zone and sets up. There are two primary ways that Colorado does this now, and both involve speed. First and foremost they are not afraid to dump the puck in. Colorado's speed allows players like Matt Duchene to get in behind the net quickly and start forechecking, or in some cases he'll beat a defender to the puck outright.  This style of forecheck has been used by Roy all season, not just on the power play. It involves sending in two players to pressure the defense and try to force turnovers. While 5 on 5 it's seen mixed results, with the man advantage it's been rather successful.
The other key way Colorado gains the zone is by using their legs. With their speed Colorado can gain the zone simply by carrying the puck in. As a fast team they usually can get defenders to back off a little at the blue line. A defenseman would rather back up a little bit rather than risk getting burned along the outside by a speedy forward. Usually with this attack Colorado sends a forward out wide and tries to work the puck into the middle or back to the point to get things set up. In some cases a quick one timer isn't out of the question.
Setting up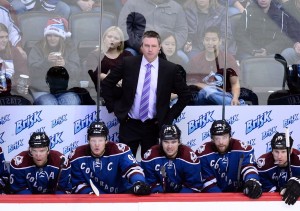 Now that Colorado has the puck in their zone what do they do with it? When the Avalanche struggle on the power play they tend to either force too many passes or hold onto the puck for too long. The coaching staff has since adopted a new scheme that focus on quick passes and defense moving in and out from the point. The Basic setup here on the first unit is usually Matt Duchene centering Ryan O'Reilly and Jamie McGinn. On the point is Nick Holden (more on him later), and P. A. Parenteau when healthy, and Erik Johnson when Parenteau is out. Colorado likes to transition the puck from down low to the point a lot, and switching sides as they go. Looking at their set up they will park forwards on the goal line and one forward in the slot, generally. The man in the slot tends to have the most freedom. When it's Duchene he'll go out wide and play the half boards to act as a sort of play maker, either moving the puck high or low, or moving the puck into the middle himself. All of this is happening while the team moves the puck quickly. Obviously Colorado run the risk of passing themselves out of a good scoring chance, but Roy seems to like to take that risk. When it's successful Colorado's quick passing can open up lanes and get defenseman to move out of position.
If Colorado can isolate teams to one side of the ice then one point man tends to move in and try to take advantage of the extra space on one side of the ice. This is one reason why Colorado has seen such an increase of scoring from their defense this season. On the power play they are much more involved in the play. Specifically on the power play they like to make use of a back door play when Colorado has pulled a defender out of position.
When Colorado brings in their defense from the point they do so understanding that they are vulnerable to counter attacks. But this season surprisingly they have only surrendered one short handed goal. The only team that has allowed fewer short handed goals is Nashville. One possible explanation is their speed. Colorado's speedy forwards get back quickly to keep teams from getting any good scoring chances while shorthanded.
Nick Holden
One of the more interesting signings for the Colorado Avalanche during the offseason has been Nick Holden. Holden wasn't someone expected to be seeing a lot of ice time in the National Hockey League this season. In fact it was assumed he would start the season in Lake Erie, rather than Denver. While his defensing game has had it's shortcomings at times, it has been his play on Colorado's power play that has earned him a regular spot in the lineup.
Holden is even getting regular time on the power play, and he's not afraid to jump high into the zone. That's how he scored his first goal Sunday, camped out in the left crease before tapping in a Ryan O'Reilly pass.

"I've always had that backdoor kind of thing on plays like that," Holden said.
Holden didn't play for the Avalanche until November 1. He had been a healthy scratch for the first month of the season, and didn't even make his first start as a defenseman. He came in as an emergency forward in a game against Dallas. Lately, however, he's been a key aspect of Colorado's power play. He plays the point, but he's frequently that point man discussed earlier that slides in and out from the point. Holden has been incredibly successful at reading the play and knowing exactly when it's an appropriate time to pinch in. He has 2 power play goals and 5 power play assists but his overall contribution has been the way he moves the puck and finds space.
The clip above perfectly demonstrates the way Colorado move the puck on their power play. They utilize the back of the net. as well as getting point shots. The video starts with a point shot that's nearly put in by Holden as he slides in from his point position. Quick passing around the back of the net sees Holden tuck in a cross crease pass from O'Reilly. What is so interesting about this particular example is that Holden doesn't go back to the point after his original pinch. Holden tends to think like a forward in these situations. Whether or not that impacts his defensive responsibilities is a topic for another time. But what it does show is that he recognizes that the play is still developing and he knows where on the ice he needs to be.
Consistency
As Colorado heads for an inevitable playoff birth, they still have a lot of work to do. Despite the team's impressive turn around and their improved power play they still have a habit of falling into old tendencies when they match up with teams that are much more physical. The last two losses at the hands of Winnipeg and Boston show that they still need to be better at crashing the front of the net on the power play. Both teams kept them from scoring on the man advantage. For this reason they have had trouble being consistent.  But going forward, a team this young and with this much speed, it shouldn't be too hard to add a little grit.