For the past few seasons, the player who will captain the Sharks of the future has never been questioned. Logan Couture is the future and everyone and their mother knows it. But what if we have all been giving away the captaincy too easily? What if there is another who is just as deserving to take over the "C" from Joe Thornton? Namely, Joe Pavelski.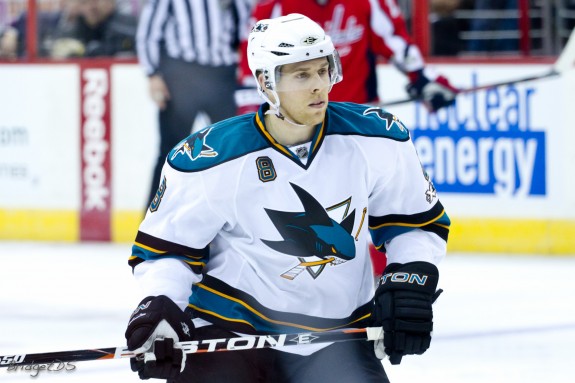 The Case for Joe Pavelski
By the Numbers
That picture is not lying. By every stretch of the imagination, Joe Pavelski is having the campaign of his life. 67 points, including two hat tricks, is a season-high and he has 11 games to go. Pavelski has also been a leader in terms of his stamina and durability. In a sporting world that sees superstars miss large amounts of time, Little Joe has been a crutch the Sharks have been able to rely on. He has played every game for the Sharks in the last three seasons. His faceoff numbers have consistently been among league leaders in the last three seasons. Currently, he sits at ninth in the league with a 56.4% win ratio.
The Intangibles
Joe Pavelski is a proven leader and would be more than capable to captain the Sharks. He has become an automatic member of Team USA in the last two Olympics and centers the best third line in the NHL. Pavelski can produce no matter who is around him. The carousel that revolves around him doesn't affect his performance adversely. And even better, he makes those around him better. Teammates of Pavelski see their Corsi For percentages drop when they are on the ice and Little Joe is not. Only Matt Nieto, Andrew Desjardins, Tyler Kennedy, and Scott Hannan have higher CF% when playing separate from him.
The Case for Logan Couture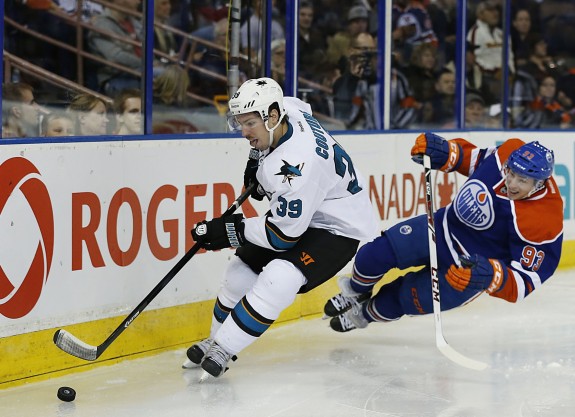 By the Numbers
When healthy, Logan Couture is one dangerous player. He has the subtle and quick release that makes a simple wrist shot near impossible to track. His ability to find teammates for open looks is one of the most underrated parts of his game. While his goal numbers have suffered in this injury-riddled season, the assists have risen. More of his highlights this season have come from feeding teammates with amazing passes for wide-open looks. Overall, however, his most impressive stat is his plus/minus: +18 this year playing against the toughest competition in the NHL. Couture ranks tenth in quality of competition among eligible players. His ability to play against the best proves his capability to captain the Sharks.
The Intangibles
With sixteen less games than Pavelski, Logan has 57 blocked shots (to Pavelski's 58). Couture has a keen sense of defending no matter the situation. He is a favorite of Todd McLellan's when it comes to killing penalties. Couture also is deployed in his own defensive end the most often among Sharks forwards (55.6% of the time at even strength). All of these factors show his coach already treats him as a leader. With every game, he builds his resume as he battles against the league's elite.
The Best Case for the Sharks
The Sharks can't go wrong with either of these forwards as their next captain. But with Joe Thornton under contract for three more years, the letter on the sweater will not be available for a while. In those three years, it is entirely possible that these numbers will all change. But the number that will remain constant is both men's age. Pavelski is already 29 years old, while Logan is 24. At 27, Couture will be experienced and with a few healthy seasons perhaps become one of the most complete forwards in the game.
Couture is still the future of the franchise, but the race for the "C" is much closer than it once was. Maybe Joe Pavelski can have an "A" that's two or three font sizes bigger than normal.