We have reached part five of our Columbus Blue Jackets mini-series on Trading Partners. In case you missed part four, we discussed the Calgary Flames. Today we look at their Northern Alberta neighbors the Edmonton Oilers.
What a disastrous end to the season for the Oilers. They were knocked out of the bubble in four games by the Chicago Blackhawks. Even worse, they lost the series while playing all of their games on home ice. It couldn't have been drawn up any worse.
This meant another lost opportunity for Connor McDavid to attempt a deep playoff run. As good as his season was, even his heroics were not enough to overcome the defensive deficiencies the team still has. Until he, Leon Draisaitl and the rest of the team can find drastic improvement in that area, they seem stuck in quick sand.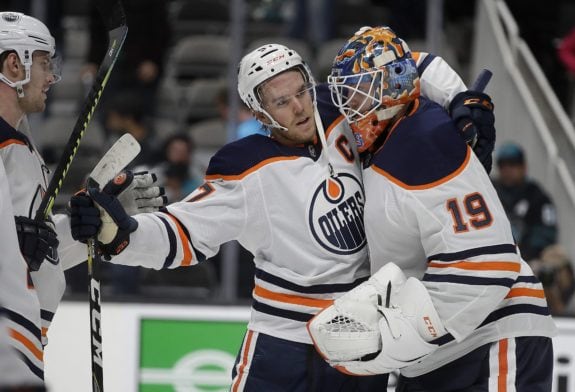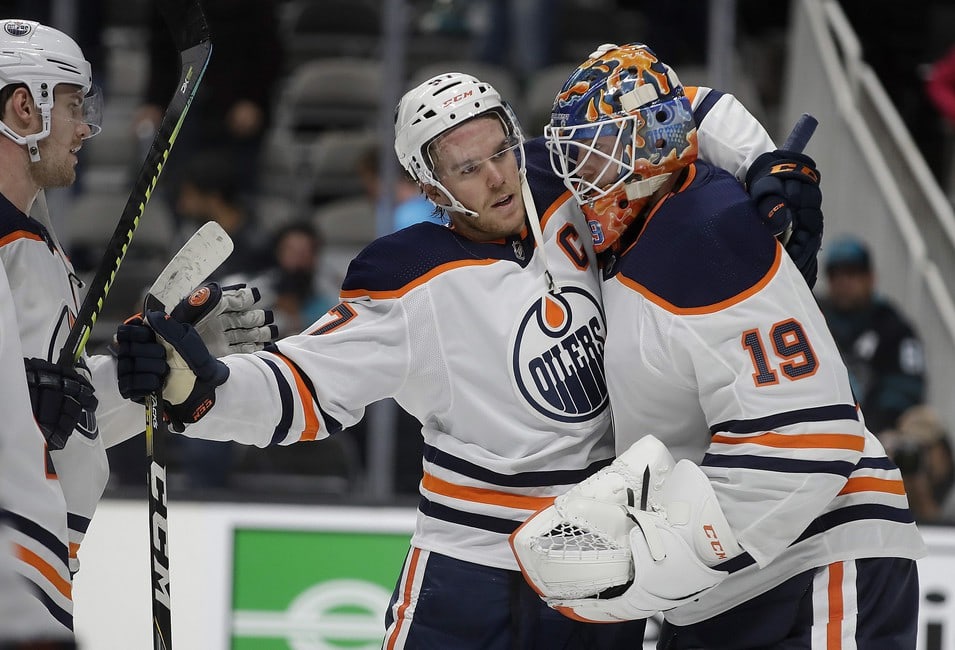 So one would surmise from this that defense is what they would be targeting this offseason in any potential trade. Actually, there are more pressing needs on the Oilers given who is in the pipeline. 19-year old Philip Broberg and 20-year old Evan Bouchard will arrive eventually. We may see them sooner rather than later.
No, the Oilers do need to address much more pressing issues while trying to balance the cap. Here are three of the biggest needs they need to try to address this offseason in no particular order.
A scoring winger for McDavid.
A starting goalie.
A bottom-six center preferably a third-line center.
We now ask do the Columbus Blue Jackets have any pieces that would fit the criteria above? The answer to all three is yes. But could a fair and reasonable trade be found?
A McDavid Scoring Winger
It seems every season the Oilers are looking for that player who can not only play with McDavid, but keep up with him. That said, the Oilers should absolutely keep up with the ongoing Josh Anderson situation.
If Anderson and the Blue Jackets can't agree to a new contract, a trade is the most likely outcome. The Oilers should be all over this if it gets to that point.
Many are going to rightfully point out the awful season Anderson had in 2019-20 with just one goal and missing most of the season with a shoulder injury. But in his three seasons before that, Anderson had 17, 19, and 27 goals. Assuming he has fully recovered from surgery, he could approach and even exceed those numbers. There's not many players in the league who have Anderson's combination of size and speed. To McDavid's right, Anderson could be lethal. He'd also help on an already strong penalty kill.
A Starting Goalie
Rumors are abound that the Oilers have expressed interest in goalies like Arizona's Darcy Kuemper and Pittsburgh's Matt Murray. Mike Smith is 38 and a UFA. Mikko Koskinen has two years left on his deal. The Oilers need someone on the cheap who could come in and start in a 1A/1B situation.
Reports have surfaced the Blue Jackets would entertain trading one of their young netminders for forward help. Would Joonas Korpisalo fit this bill?
Korpisalo signed a two-year deal this offseason at a very reasonable cap hit of $2.8 million. He was a full-time starter for the first time this season and all he did was make the NHL All-Star Game. His play in the Toronto bubble was a major reason the Maple Leafs got bounced in the qualifier round. An All-Star goalie at less than a $3 million cap hit doesn't happen all that often. It would make sense for the Oilers to see if there's a fit here.
A Third-Line Center
You're probably thinking, "Mark, the Oilers already have a bevy of centers." Yes you are correct. McDavid, Draisaitl, Ryan Nugent-Hopkins are three pretty good centers to have at your disposal. But did you notice Nugent-Hopkins played a lot on McDavid's wing?
In fact, in the game the Oilers were eliminated from the bubble, both Riley Sheahan and Gaetan Haas were the centers. A clear upgrade is needed here. Do the Blue Jackets have anyone that fits this part?
While the Blue Jackets need a number two center (we'll come back to this shortly), there could be some candidates that fit here. The name for me in this spot is Alexander Wennberg.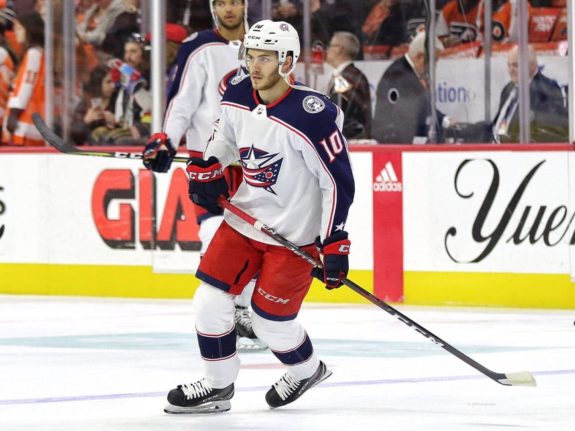 Wennberg has been a source of frustration for the Blue Jackets over the last couple of seasons. Head coach John Tortorella said as much at his recent season-ending press conference when asked about Wennberg's recent play. "It pisses me off and it excites you at the same time," Tortorella said. "That's the one thing about Wenny. Wenny wants to try to get better. But it pisses me off that it isn't there all the time."
I've wondered at different points if Wennberg needs a fresh start. But trading him at near his lowest point was not an ideal outcome. And he's now starting to come on. I don't see him going anywhere although if a reasonable offer came across, I think they'd consider it. Something I've personally thought about: Wennberg for James Neal. Each has three years left on their deal. Neal would bring in offense and power-play help. Wennberg would slot in as a 3C. The Blue Jackets see both Alex Texier and Liam Foudy as centers. I don't think either team would do this deal especially the Blue Jackets. But it's something I've thought about.
Potential Blue Jackets Target
In looking at the Oilers roster, one player stands out as a possible target. That's Nugent-Hopkins. He is UFA after the 2020-21 season and has a cap hit of $6 million. With McDavid and Draisaitl already having a $20.5 million combined cap hit, I'm not sure the Oilers would want to re-sign Nugent-Hopkins at a big number.
Nugent-Hopkins would fit the role of a number-two center on the Blue Jackets. He has consecutive 60-point seasons under his belt and was almost a point per game player in 2019-20 with 61 points in 65 games.
The risk comes with him being a UFA. I'm not sure there's a good trade to be had unless you knew he would re-sign. Perhaps this is more of a trade deadline deal if the Blue Jackets were on a playoff push? Regardless, Nugent-Hopkins would fit in Columbus but I don't see how a deal would work if he could walk next season.
In Conclusion
Each team does have what the other wants. The Oilers would love Anderson and Korpisalo in the right deals. The Blue Jackets would love Nugent-Hopkins. However given the dynamics, it's hard to see how deals for these two teams would come together. There are better fits elsewhere in the league.
Stay tuned for part six as we will stay in Canada and look at the Ottawa Senators.
---
---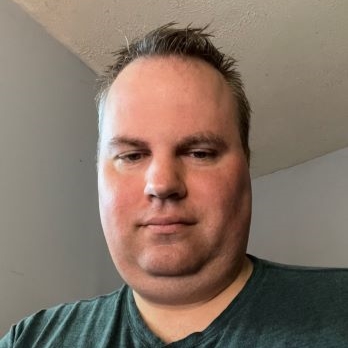 I am a fully credentialed writer who covers the Columbus Blue Jackets, Cleveland Monsters and Erie Otters as well as the Ontario Hockey League and NHL Draft. The 2022-23 season will mark nine seasons with the Hockey Writers. I am also the site's Credentials Manager. Please take note of the updated Twitter handle: @mark_scheig.