The Columbus Blue Jackets announced that President of Hockey Operations John Davidson would be resigning from his role on the team. This decision comes after the Blue Jackets most successful season in franchise history ended in a second-round loss to the Boston Bruins.
Blue Jackets President Mike Priest would make a statement on the departure, explaining Davidson's decision to join the New York Rangers following Glen Sather stepping down from his post in New York.
The New York Rangers recently sought permission from our organization to speak with John Davidson about serving as their team president. That permission was granted and today John has resigned his position as the president of hockey operations and alternate governor with the Columbus Blue Jackets.

Personally, I want to thank J.D. for his friendship and the many contributions that he and his wife, Diana, have made to the Blue Jackets and throughout our community. He helped us forge a winning culture based on preparation, hard work, accountability and honesty. He set the tone and hired talented people that put in place a plan to build the Blue Jackets through the draft and player development with the end goal being a team that could compete and have success at the highest-level on a yearly basis.

The winning culture that now is entrenched in all of us will continue under the direction of Jarmo Kekalainen, who will now serve as an alternate governor in addition to general manager, and the leaders within our hockey operations department. We remain committed to improving on the successes we've had in recent seasons with the goal of bringing a Stanley Cup championship to Columbus.
John P. McConnell, the owner of the Blue Jackets, would also make a statement on Davidson's departure from the franchise:
When we hired John Davidson in October 2012, I said I thought he was the perfect person to lead our hockey operations efforts. Nearly seven years later, I believe I was right. He joined our team at a very difficult time and led a transformation that has resulted in consistent winning and appearances in the Stanley Cup Playoffs.

J.D. is a man of great character and compassion and I completely understand his interest in the unique opportunity before him. I know leaving Columbus is a difficult decision for him as he has a genuine love of our community and organization, but the possibility of returning to his roots in New York, where he spent three decades as a player and broadcaster, is an extraordinary circumstance for him and his family.

On behalf of my family, our ownership group and the entire Blue Jackets organization, I want to thank J.D. and wish him, Diana and their family nothing but the best in the years to come.
This is a significant departure as the Blue Jackets will now enter what could be the most interesting offseason the franchise will ever have to endure.
Blue Jackets Face Difficult Offseason Ahead
Not only does the team have to figure out where they stand with unrestricted free agents Artemi Panarin, Sergei Bobrovsky, Matt Duchene, Ryan Dzingel, Keith Kinkaid and Adam McQuaid, but they'll also have to work out plans for Zach Werenski, Ryan Murray, Scott Harrington, Adam Clendening, Markus Hannikainen, Lukas Sedlak and Joonas Korpisalo.
The team will undoubtedly have to let go of some of these players and rebuild elsewhere. Unfortunately, the Blue Jackets will also be limited in their next two drafts after they traded to acquire Duchene as well as Dzingel, McQuaid and Kinkaid in separate deals.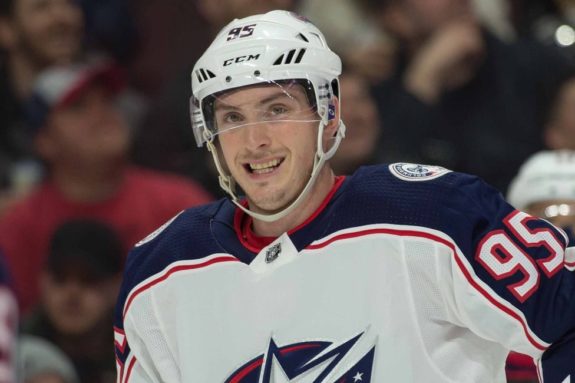 In all, the team would move their first, second, fourth, fifth, sixth and seventh-round picks in 2019 as well as the potential to lose their first-round pick (if Duchene re-signs in Columbus) as well as their second and third-round picks in 2020. The team does have the Calgary Flames seventh-round pick in 2019, though.
In general, this could be a pivotal offseason for general manager Jarmo Kekalainen who will have to do damage control now that the season is over for his squad.
Statement From Davidson on Blue Jackets Departure
Davidson would release a statement of his own on the Blue Jackets website, thanking the fans for his time in Columbus.
It has been my great pleasure and honor to serve as the president of hockey operations for the Columbus Blue Jackets and I offer my sincerest thanks to the ownership group led by John P. McConnell, Mike Priest and all of the great people I have had the pleasure of working with over the past seven years. I also want to thank our fans and the people of this community who have been so kind to my family and me during our time here. Columbus is truly a special place.

I have come to love this organization and the city. There was only one opportunity that I would've considered leaving for, and the one before me now is that opportunity as I spent 30 years with the Rangers as a player and broadcaster and have strong ties to that team and the city of New York.

I am extremely proud of the work we've done over the past seven years and know that one of the challenges before me now will be competing against this group moving forward. On behalf of my wife, Diana, and our family, I offer my sincerest thanks and gratitude to all of you for allowing us to be Blue Jackets and call Columbus home.
Brandon Share-Cohen has covered the NHL and various professional sports for seven years. Working with The Hockey Writers, Brandon works extensively on covering the Boston Bruins in addition to his role as the News Team Lead.