This season, The Hockey Writers will have a recurring "Three Takeaways" feature after every Columbus Blue Jackets matchup, meant to serve as postgame quick hits.
1) Searching for a Spark
In Thursday night's 2-0 loss to the Tampa Bay Lightning, the Blue Jackets put 43 shots on Lightning goaltender Andrei Vasilevskiy. The shots were not the highest quality, but the sheer volume tied the season-high shot total for the team so far this season.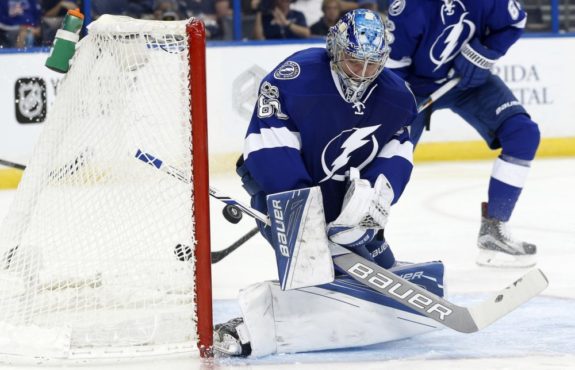 It is a step in the right direction as far as getting pucks to the net is concerned. However, the Blue Jackets are looking for a jumping-off point and something to build upon to get everything rolling.
That all comes back to the Blue Jackets' struggling power play, which is now 0-for-18 in their last six games on the man-advantage.
"Our power play has to give us a goal somewhere along the way to spark us," Blue Jackets head coach John Tortorella said in Thursday's postgame press conference. "We need a power-play goal to give us some juice."
Veteran forward Brandon Dubinsky agreed with his coach.
"We have to find a way to score," Dubinsky said. "If you win the special teams battle, you have a pretty good chance to win the game. And, this game is all about confidence. Everyone is trying to do stuff by themselves but they have to realize there are four other guys who can make great plays, too."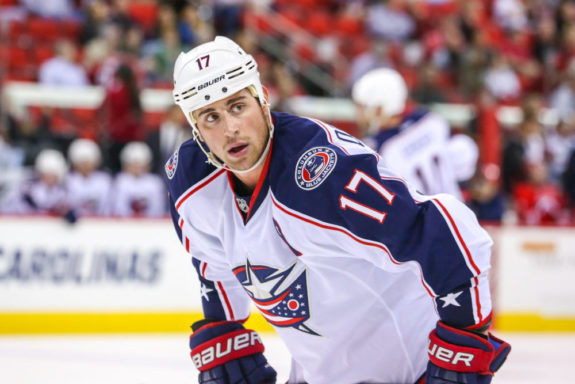 Dubinsky included an innovative answer of his own—one the Blue Jackets will probably not draw up as a set play in their next game.
"Maybe one goes off Nicky [Foligno]'s rear end in front of the net and everyone gets going," Dubinsky added.
Hey, you never know.
2) Rookies Cooling Off
Yes, young forwards Pierre-Luc Dubois and Oliver Bjorkstrand both had their "best game of the season" on Tuesday in the team's 5-2 win over the Winnipeg Jets, according to Blue Jackets head coach John Tortorella. That is a positive sign.
But, Sonny Milano has been noticeably absent after charging out of the gate with four goals in his first three games. He has not recorded a point in his last four games.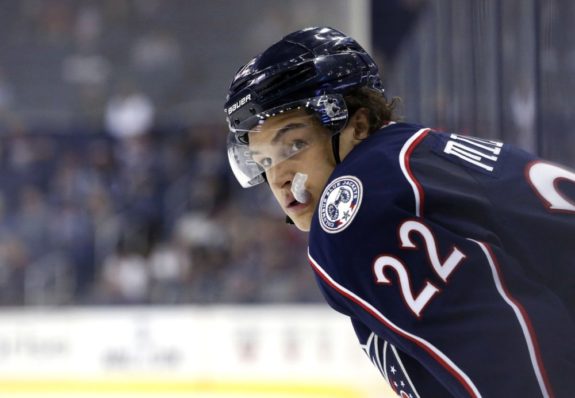 While Twitter is ready to dangle Milano as trade bait again already, cooling off from a hot streak is nothing new for rookies. Offense and solid performances tend to come in spurts, like the Blue Jackets saw with Bjorkstrand last spring. There is a definite learning curve for the overwhelming majority of NHL newbies, and it is never easy when lines are ever-changing and young guys are forced to find chemistry with new partners.
Related – Blue Jackets Three Takeaways: Milano, Face-offs & Ugly Hockey
3) Bringing Boone Back
A performance like the one the Blue Jackets strung together Thursday night makes you wonder how much the Jackets need Boone Jenner back in the lineup.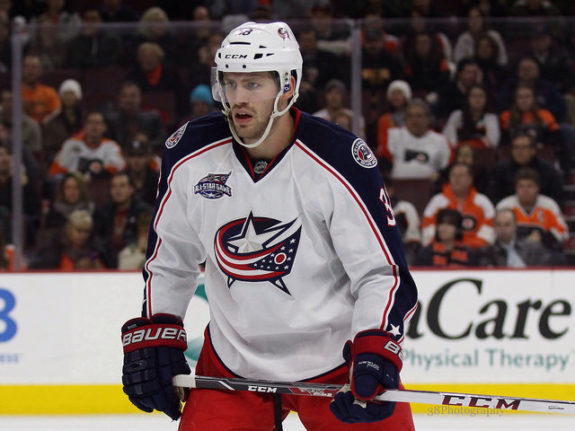 The 24-year-old Jenner missed out on all of training camp and has yet to play in a game this season due to a stress fracture in his back.
Dubinsky has often looked lost without his frequent partner, and the power play needs something different to bring it back to life. The Blue Jackets are missing Jenner's physical edge, as Josh Anderson and Artemi Panarin cannot be the only ones fighting the board battles.
The good news: Jenner is not too far off. He was on the Blue Jackets' road trip earlier this week and has skated a handful of times in the past few weeks.
#CBJ LW Boone Jenner skating gingerly and by himself on one end of the ice while No. 1 power play unit zips puck around pre-practice.

— Aaron Portzline (@Aportzline) October 5, 2017
However, don't expect Jenner to solve all the answers on a team that has only lost two out of seven games to start the season. But as Tortorella will say, it has not been a pretty 5-2-0 record to start the season, and the team is looking for more.
After living in two NHL cities (Orange, CA and Raleigh, NC), Kristyn graduated from Ohio University's E.W. Scripps School of Journalism and worked in the Columbus Blue Jackets' Digital Media department. She currently resides in Columbus and has been an NHL-credentialed reporter since the 2013-14 season.