It didn't take long for Patrice Bergeron to show that his value to the Boston Bruins is still very much alive. In just his first period of action this season, the Bruins' longest-tenured player recorded two assists and returned to his familiar role as the bumper on the top power-play unit.
In the second period, he continued to cement his name among all-time Bruins' greats as he tied Ken Hodge for seventh in Bruins' all-time scoring with 674 points with an assist on Brad Marchand's goal to give the Bruins the 5-1 lead.
In the third period, he scored his first goal of the season and fourth point of the game, officially taking over for seventh place in Bruins' all-time scoring with 675 career points.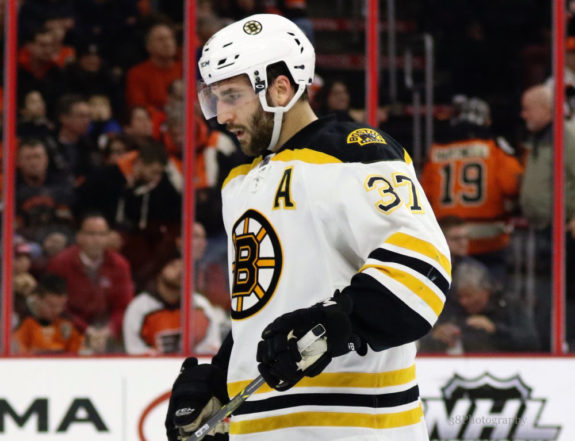 Even more impressive was the fact that Bergeron did all of this despite being a game-time decision heading into Thursday's contest. When asked if his injury was still bothering him following the game, Bergeron didn't pull any punches.
"That's the million dollar question," Bergeron said to Joe Haggerty. "It's something we'll have to manage for a while."
It was a good game for Bergeron. That's nothing new for the 32-year-old, however, as he's been performing at such a high level for his entire career since being drafted in the second-round in 2003. Four points in a game are impressive for any player, but considering how effective Bergeron is on the defensive side of the game, offensive performances like the one he displayed Thursday night are a treat for Bruins' fans. It's just a testament to how good Bergeron truly is.
Related: Inconsistent Bruins Need Schaller's Work Ethic
Impact on Both Sides of the Puck
Proficient on the offensive side of the puck and the defensive side of the puck, Bergeron is still one of the very best in the NHL. Not quite an unsung hero and not quite a superstar by the general criteria of the term, Bergeron has always quietly made his impact in a variety of ways.
It doesn't matter what the fans or media sees. It's his peers who acknowledge him for what he is – a consistent player who's easy to play with and hard to play against. He's simply one of the all-time Bruins' greats who makes an impact every season, every game and in each and every shift he plays.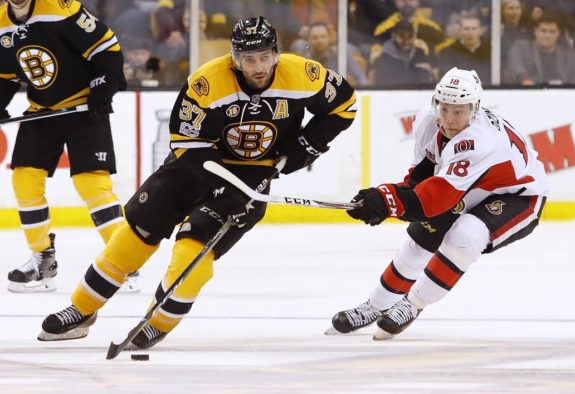 Something that isn't talked about often is the fact that it's very rare to see Bergeron make an error. It's hardly talked about because it's just expected that he'll play a nearly flawless game every time he's out there on the ice. When he does make an error, it's hard to ever hold him too accountable because of all the good he typically does.
Still, to his credit, he's probably the most accountable player in the entire league and that's part of what makes him so valuable. His ability to instill values on young players is also the reason he's found himself skating with the likes of Brad Marchand, Tyler Seguin, Reilly Smith, Brett Connolly, David Pastrnak and Anders Bjork, just to name a few.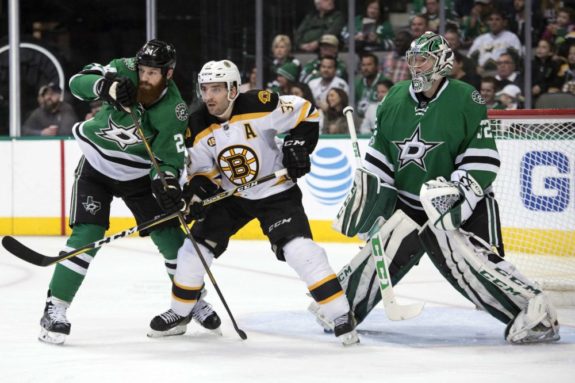 Accountability is so important for all professional athletes and Bergeron undoubtedly leads the way as one of the very best in that department – just one of his many valuable traits. It's been seen time and time again, but anybody can play with Bergeron because he makes the game look so easy. To stick on Bergeron's line, however, players have to make it clear that they're willing to learn and play a responsible two-way game.
Brad Marchand, under the tutelage of Bergeron, is one of the very best two-way players in the entire game. It's no coincidence, either. Bergeron's impact on everybody around him makes him more valuable than anybody could ever give him enough credit for.
Related – Overtime With BSC: Bruins Power Play Comes to Life
Not a One Man Team
What makes Bergeron so important and so talented is the fact that he isn't a one-man-show. Instead, he's the glue, fuel and heart of the Bruins team both on and off the ice. When he's playing well, it's easy to see his effect on his teammates and linemates specifically. While he won't ever score 50 goals or 100 points in a season, his ability to impact the game in so many different ways cannot be overstated.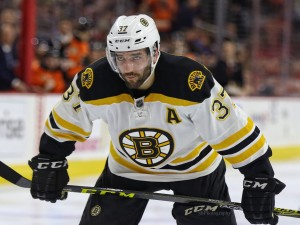 It takes a special player to make his linemates look better with each and every shift, but it's something that No. 37 has mastered over the course of his career. As mentioned, anybody can play with Bergeron. He's a coaches' dream.
If somebody is playing well, they can typically be counted on to join a team's top line in the NHL. In the case of Bergeron, he's often centered lines on the Bruins' that have largely housed projects who need a little boost to really take the next step.
It's been seen many times in the past, most recently with Connolly and even Jimmy Hayes seeing time alongside Bergeron and Marchand as that line doesn't need a legitimate superstar to do well. Still, with a top-six that now features Pastrnak and Bjork on the right side, there's no reason to put a project on that line. Instead, the Bruins are now putting a player in Bjork, who is anything but a project, in a situation to become a star in the NHL lineup.
When talking to anybody outside of the Bruins' fanbase, Brad Marchand is almost always mentioned as the team's best player. While he's definitely an elite talent who has earned his place in that discussion, Bruins' fans all know that Bergeron still holds that distinction. It would be a safe bet that the entire Bruins' roster would probably agree with that sentiment as well, though Bergeron is also the type of player who probably doesn't worry too much about discussions like that. In the end, playing well and winning is all that matters and Bergeron always does his part to help the Bruins win.
Brandon Share-Cohen has covered the NHL and various professional sports for seven years. Working with The Hockey Writers, Brandon works extensively on covering the Boston Bruins in addition to his role as the News Team Lead.