In the world of sports, few families are as synonymous with their particular sport as the Sutters are with the game of ice hockey. For the better part of four decades, the Sutter family has been a prominent part of the National Hockey League (and throughout the rest of the sport's reach). The son of Ron, Riley Sutter is the final member of the second generation of Sutters and he's quietly becoming a very tantalizing prospect for the 2018 NHL Draft.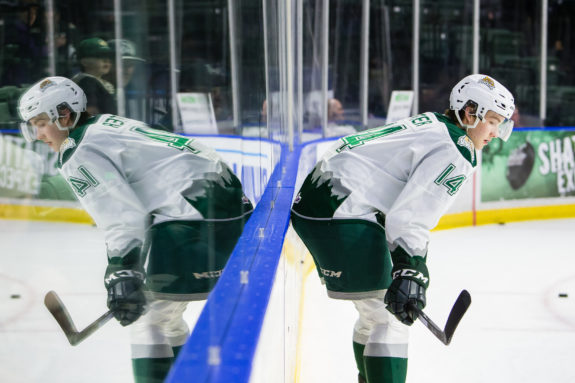 Adjusting to the Dub
Born in 1999 in Calgary while his father played for the San Jose Sharks, Riley has plied his trade with consistent success throughout various levels of Calgary minor hockey while his father briefly played for the Flames and later moved onto a developmental coaching role. Selected in the sixth round of the 2014 WHL Bantam Draft by the Everett Silvertips, the young Sutter played AAA Minor Midget for a season before making the leap to the WHL as a 15-year-old – he turned 16 a month into his rookie season – and spent a year getting acclimated to the rigors of the league, posting four points in 31 games. His sophomore season saw him grow into a complementary role and put up 31 points in 69 games – he was sixth on the Silvertips in scoring, behind five older teammates. Everett's new head coach Dennis Williams noted the keys to Sutter's success in the WHL thus far.
"Obviously he was able to score goals last year because he made a living net-front," said Williams. "That's what we continue to strive from him. He's big, strong, he's got great hands net-front. He's a great leader as well for us. What we want to continue to do is round out his defensive side of the game, being good support down low, and that's going to come as we go. At the end of the day he's so reliable, plays a lot of minutes for us, and we're really going to lean on him to be one of our leaders up front."
A Chip Off the Old Block
Sutter is not a terribly flashy player at the major junior level – a bit of a contrast from some of his cousins who converted high-end WHL skill into NHL success – but he does a lot of the so-called "little things" well. A right-shot winger that has been used frequently as a center, he boasts an interesting mix of size, skill and hockey sense. One of the older players in the 2018 class by virtue of his late October birthday, he's already a physically mature 6'2″ and 205 pounds – and he's got the type of wide frame that can probably withstand the physicality of pro hockey. On the ice, he's rare caught out of position and he plays in all three zones with a calmness that seems to spread to his teammates.
"He's been around the rink his whole life," said Williams. "When you're around guys in the National Hockey League you probably pick up a lot of tidbits about how to not only play like a pro, but how to act like a pro, and that's exactly what he is on and off the ice. Just an A-plus athlete on the ice and off the ice he handles himself so much beyond his years with his maturity. Going forward into next year and whatnot, he's a guy we need to lean on definitely not only this year as a leader but next year to take on a bigger role."
A B-rated prospect on Central Scouting's fall watch list, Sutter is projected as contender to be selected in either the second or third round of the 2018 Draft.