Columbus Blue Jackets' fans have a lot to be thankful for this Thanksgiving. If you consider where this franchise has been in its history, then it's easy to see why there's lots of thanks going around.
Whether you're talking about missed draft picks or players that hated being in Columbus, the stories of turmoil and despair never seemed to end. For a long time, no one thought this team would do anything good ever.
Then finally, after many trying years that felt like decades, good things finally started to happen. It hasn't been a quick rise up but one that's happened over time. At no point in franchise history have these Blue Jackets been in a better position overall.
On this Thanksgiving Day, that's where this story begins. From the dark, dark days of this franchise (not drafting Anze Kopitar, trading for Jeff Carter, Adam Foote's antics and so on) til now, the rise of these Blue Jackets started by ushering in a new regime at the top. From there, the pieces have fallen into place.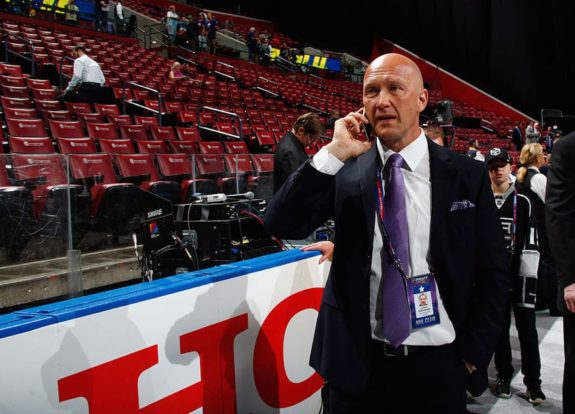 On Nov 22, 2018, the Blue Jackets sit in first place in the Metropolitan Division. This is after two consecutive seasons of making the playoffs. While there is still much to do, such as winning a playoff round and beyond, the level of consistency we have seen these last few years is a complete 180 from where this franchise was.
For lifelong Blue Jackets' fans who have stuck by this team in every moment, it's an early payoff to their patience. The best part is the best is yet to come.
Many things have contributed to the rise of the Blue Jackets to relevancy league-wide. We now celebrate some of the individual things with this team that show why fans have a lot to be thankful for.
Much To Be Thankful For
Let's start with the obvious. As mentioned above, the Blue Jackets are in first place. This is despite them playing a very Jeykll and Hyde-like game at times this season. This includes a pair of regulation losses to the last place team where they were badly outplayed.
Yet they found a way to put the bad stuff behind them and climb up the standings. This is still one of the youngest teams in the league learning winning, consistency and how to overcome adversity. Today, fans are thankful that the window is just starting to open.
I know that Sergei Bobrovsky and Artemi Panarin's situations are uncertain at best. There's no denying losing one or both will hurt this team in the short-term. But there's still a young, talented core of players who want to be here. Not only do they want to be here, they want to make a difference.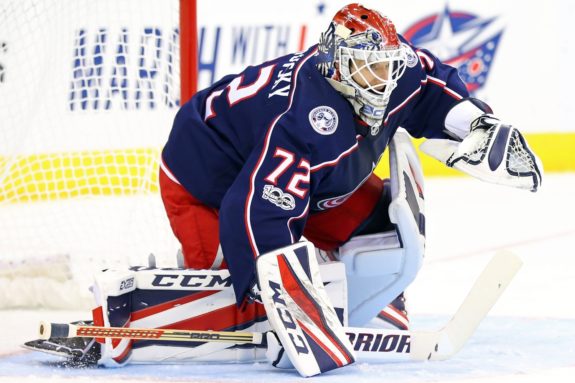 Cam Atkinson
Look no further than Cam Atkinson. He is on pace to shatter career highs in scoring. We are seeing some of his best hockey ever. He doesn't have the weight of impending unrestricted free agency hanging over his head. The result is a player who has taken on more of a leadership role on this team while improving overall.
Even better for fans, he's invested in the community. His new "Battery Hockey" facility is an example of this. For players in the past who didn't want to be in Columbus, Atkinson is one of many current Blue Jackets and other NHLers who not only love Columbus, but make it their permanent home.
They have made Columbus a more desirable destination. Others are noticing this. Fans have to be thankful for the work Atkinson and others are doing not only on the ice, but off it to show just how great Columbus is. It's no accident Columbus is consistently on top-10 lists of places people are moving to.
Nick Foligno
I'm not sure there's been more of a fan favorite in Columbus than what Nick Foligno is now. The captain represents everything that Columbus is. Whether it's his play on the ice or everything he does off the ice, he pours everything he has into what he does. He also demonstrates a level of humility that is refreshing to see.
Fans are proud to have Foligno as their captain. He's fully invested in this market. As Jarmo Kekalainen said when they named Foligno the captain, he checks off all the boxes. That's another reason to be thankful.
So Much More
Atkinson and Foligno are just the beginning. Look at some of the other things fans can be thankful for.
John Tortorella and his no-nonsense attitude. The level of accountability he brings is something fans have longed for many years. He has one Jack Adams as Blue Jackets' coach. Could another come this season if they win the Metro?
Stable management led by Kekalainen and John Davidson patiently built this team over time. The Blue Jackets are thought of in the hockey world as a good team. What a job this staff has done changing the narrative.
Fans have witnessed some of the best (regular season) goaltending in the NHL with Bobrovsky and his two Vezinas. It's easy to take for granted but don't discount just how good you've had it with him. We'll see if the playoff narrative can change in time.
Panarin is on pace for his best season to date. Even if it's only for a small time, fans get to see this phenom play and work hard at his craft.
The young core has given the Blue Jackets a bright future. Seth Jones is a Norris contender. Zach Werenski is in process of rounding into a better overall defenseman. Pierre-Luc Dubois is only going to get better. Speaking of thanks, fans should be thankful management followed their own list and took Dubois in 2016.
Boone Jenner and Josh Anderson's work ethics are contagious. They never leave their efforts on the bench. And if rough stuff happens, both don't back down.
Let's not forget all of the community and charity work the Blue Jackets do. Whether they are visiting kids at Nationwide Children's or helping build another community playground, they are building up their communities to make it better for everyone.
Most importantly, this team cares. They know the work is far from done. The one thing you can't question about them is their desire to win. If you're a fan, that's exciting to see. Whether or not they succeed is to be determined. But it will all be left on the ice in the end.
On this Thanksgiving holiday, fans should be thankful for this team and the work they pour their lives into. There's lots of good things to celebrate on this team now and in the future.
So with that, I think I speak for many fans by saying a heart-felt "Thank You" to the Blue Jackets organization for everything they do everyday in order to succeed and help the community. Their impact will be felt for generations to come.