Since his arrival in Philadelphia in the summer of 2011, Wayne Simmonds has become a Flyers fan favorite. This is not surprising given the fact that Simmonds plays a physical, power forward game while being a model citizen in the community. He scores goals, he works hard, and he never makes excuses.
Over the course of his four seasons with the Flyers, Simmonds has scored 28, 15 (45 games in lockout season), 29, and 28 goals respectively. Last season it looked like Simmonds would finally crack 30 goals, but a late season injury cut his season short at 75 games. Overall, his scoring has been consistent, but most of that consistency has come from the power play.
Simmonds has always been a power play specialist. He has earned double-digit power play goals in every full season in Philadelphia and was tied for 3rd in the NHL in power play goals last season. There is no reason to believe that his power play numbers will take a hit next year as the Flyers have kept their power play coach and personnel the same.
However, over the past few years, his even strength play has been something of a mixed bag. Although his even strength goal/points numbers seem to have remained relatively solid over the past four years, his underlying numbers have shown a different story. After years of being a below-average possession player, Simmonds began to show promise in that regard last season.
The chart below displays this improvement.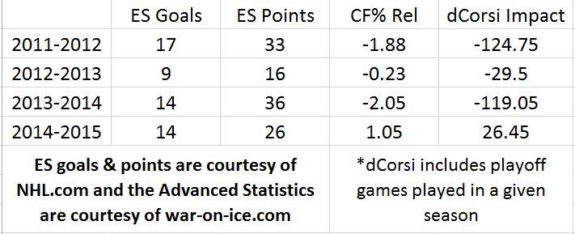 So how can Simmonds continue to improve in 2015-16? Here are a couple of thoughts:
Consistency
Like most goal-scoring, power forwards, Simmonds is prone to hot streaks. Likewise, he goes through many cold streaks at even strength. Again, these cold streaks are usually offset by his power play production.
Take a look at this break down of Simmonds' 2014-15 season by even strength goals.
First 10 games: 3 ES goals (.3 ES goals per game)
Next 40 games: 4 ES goals (.1 ES goals per game)
Final 25 games: 7 ES goals (.28 ES goals per game)
Clearly Simmonds went through a rough patch during the middle of the season. Although he still produced on the power play during that stretch, his even strength production hit a snag. If Simmonds can consistently produce at even strength throughout the season, he will become an even scarier weapon for Dave Hakstol and the Flyers.
Linemates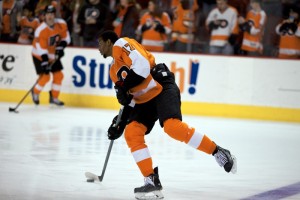 Last season the Flyers started the season with a second line of Matt Read, Sean Couturier, and Wayne Simmonds. It is no coincidence that Simmonds got off to a hot start playing with those two players.
As I have documented here and here,  both Read and Couturier were straddled with incredible difficult minutes last season at even strength. Despite that usage, both players have put up decent possession numbers.
Therefore, it is no coincidence that when that line was together (at the start of the season and again for a little while before Simmonds' season ending injury), Simmonds scored at a high rate during even strength play.
Although there seems to be a vague idea of chemistry between Brayden Schenn and Simmonds, it seems that Simmonds is best suited to be playing with two-way players on his line. Players who excel at even strength play inevitably help Simmonds reach his potential, while he opens up time and space for his linemates in the offensive zone.
A Major Piece
Wayne Simmonds will be one of the top scoring threats for the Philadelphia Flyers this season. He has  improved his 5v5 play over the past few years and will hopefully continue that trajectory next season.
As the Flyers look to build a perennial Stanley Cup contender, Wayne Simmonds will be a major piece to the puzzle. He is one of four Flyers forwards signed through 2018-2019, the others being Claude Giroux, Jakub Voracek, and Sean Couturier.
As the Flyers continue to build, the even strength play of Simmonds must continue to improve. He should continue to be given power play time and will hopefully be on a line with a two-way center like Sean Couturier or Scott Laughton.
Ultimately, Simmonds will be an integral part of the Flyers until his body begins to break down. Even at that point, his leadership and off-ice charity work will keep him involved in the community, even if his on-ice role diminishes. The Flyers have a very good player in Wayne Simmonds. The organization should be thrilled with his contract and excited for what he will bring in the years to come.