Last season was a rough one for Matt Read. Over the course of his first three NHL seasons, the Philadelphia Flyers winger scored at a rate of .291 goals per game, an average of 23-24 goals per 82 games.
Last year, Read only potted eight goals and was barely able to scrape together 30 points through 80 games. What went wrong? And what can we expect from Read in 2015-16?
First, let's look at two reasons why Read's 2014-15 season went south.
One-Legged Winger
In mid-January Matt Read revealed to the media that he had played much of the season with an ankle sprain. By that time, it was clear that something was wrong with Read and fans were wondering why Read was slow and ineffective.
To much of the Flyers fanbase, it was something of a relief to know that he was playing on an ankle sprain, because otherwise there would have been serious questions about his play.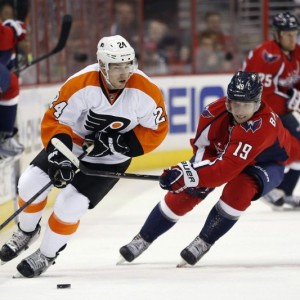 Read's most frequent linemate (both at 5v5 and on the penalty kill), Sean Couturier, knew that this injury was affecting Read's game.  Couturier went so far as to say, "there was a stretch there where he was playing on one leg."
Read stated that the ankle injury was suffered on November 1st, during the teams 11th game of the season. In mid-January, about 35 games later, Read told the media that he was feeling better.
Because we are now aware of the timeline surrounding this injury, it is possible to quantify the effect that it had on his game.
Here is  breakdown of Matt Read's even strength goal production by season segment:
First 10 games – 1 ES goal
Next 35 games – 1 ES goal (injury)
Last 35 games – 4 ES goals
There is little doubt that Read's injury had an effect on his scoring touch. Read was laboring on the ice and unable to make plays in front of the net. As the season progressed, Read finally began to round back into form, but it happened too late to salvage the season.
Rough Usage
Because he is a frequent linemate of Sean Couturier, Matt Read was set up to fail from the beginning of the season.
According to war-on-ice.com, Read started 266 even strength shifts in the offensive zone and 365 even strength shifts in the defensive zone, giving him a 42.16 zone start percentage. Among NHL forwards who played at least 1000 even strength minutes, only Chris Stewart, Sean Couturier, and Derek Engelland had a worse percentage. Although Read has been tasked with difficult assignments in the past, 42.16% is the worst zone start percentage of his career.
On top of his even strength struggles, Read averaged exactly two minutes per game on the penalty kill, while only getting about a minute and a half per game on the power play. Further to that point, most of that power play time was on the second power play unit containing the likes of Vincent Lecavalier, R.J. Umberger, and Andrew MacDonald.
It is hard to nit pick Matt Read's season. He took on tough minutes while battling through an injury. But there is hope for next season. Here are a couple of reasons to be optimistic, while also to keep that optimism in check.
Regression To The Norm
The term regression, especially when referring to an athlete or sports team, is generally viewed in a negative light. This is because, in most cases, regression refers to an overachieving player (or team) who will see his/her stats regress back to his/her career average.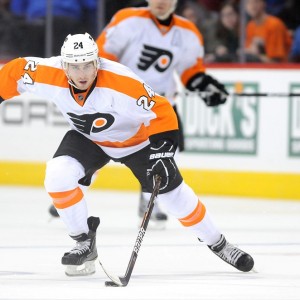 However, Matt Read is set up to be an example of positive regression. His career shooting percentage is 12.5% and he has been reliable for 20 goals in every NHL season prior to 2014-2015. Last year, Read's shooting percentage was a measly 5.6%. He scored just eight goals and his shooting percentage even dropped below 2% during the 35 game stretch of his injury.
Therefore, if Read's stats regress back to his career norms, Read will see his shooting percentage climb back up to the 10-12% range. With this regression, Read should be able to approach 20 goals once again.
Improved Power Play
The Flyers second power play unit has long been a minor issue. There is no denying that it has been ineffective. However, there has been no serious impetus to see it fixed because the first unit has been so incredibly effective.
However, there is reason to believe that the second unit will improve next season. The addition of Sam Gagner and the potential of adding players like Michael Raffl and Michael Del Zotto could give the second unit a whole new look.
Read's speed, skill, and shot should make him a lock to be on the second unit. As long as new coach Dave Hakstol keeps a few of the aging veterans off of the ice, a group with the likes of Read, Raffl, Couturier, Gagner, and/or Del Zotto could finally end the drought of the second unit.
*For a much more in-depth look at how to improve the Flyers second power play unit, check out this fantastic article from my pal Tom Foti at Sons of Penn.*
As long as he stays healthy and is given a better power play group, Matt Read can reasonably be expected that to produce numbers close to his career norms in 2015-16. He will continue to take on tough even strength assignments, but they should ease up slightly from last season.
By my estimation, Read was the Flyers' most disappointing player of the 2014-2015 season. There were not high expectations for Vincent Lecavalier, R.J. Umberger or Ray Emery, all of whom did not perform very well. Read, however, has always been very reliable and was therefore a major disappointment.
But once the 2014-15 season is taken into context, it is clear that Matt Read is one Flyer who is poised to bounce back in 2015-2016.
I am 23 years old and I've been a Flyers fan since I was six years old. I love to break down the game and take a look at prospects. I always appreciate your thoughts and feedback, so feel free to use the comment section or interact with me on Twitter.