by Eldon MacDonald (edited by Chris Ralph)
Hockey Management Rebuild Ignites Team Rebuild
After decades of inept team management, the Leafs added what is considered the crème de la crème of hockey management.
First came the newbies to NHL management:

April 11, 2014: Brendan Shanahan, President, NHL Hall of Famer and the unofficial record holder for Gordie Howe hat tricks (17).
July 22, 2014: Kyle Dubas, Assistant General Manager, former General Manager of the Sault Ste. Marie Greyhounds and analytics aficionado.
October 21, 2014: Mark Hunter, Director of Player Personnel, former General Manager of the London Knights, and 12 year NHLer. He is the prospects guy.
The newbies changed the type of team from the former management philosophy of size and truculence to a much more skill oriented team. The 2015 NHL draft was a prominent example of this philosophy as the Leafs first three were highly skilled but under-sized prospects – Mitch Marner, Travis Dermott and Jeremy Bracco.
Then came the old hands of NHL management and coaching:
May, 20, 2015: Mike Babcock, Head Coach, 13 year NHL coach and the only coach ever to earn his way into the triple gold club as a coach (Stanley Cup, IIHF Words and the Olympics). Mike is considered one of the NHL's premier coaches.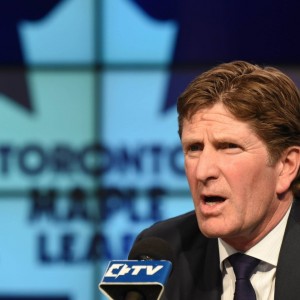 July 23, 2015: Lou Lamoriello, General Manager, who spent the last 29 years as General Manager of the New Jersey Devils after first being named President of the club in the 1986-87 season. Lou has a reputation as setting the tone of an organization players and management wish to be a part of. While Lou's announcement was a big surprise to many, he and Shanahan have a long and close history.
August 14, 2015: Jacques Lemaire, Special Assignment Coach, 17 years in the NHL as a NHL coach with one Stanley Cup, 12 years in the NHL as a player with 8 Stanley Cups and a NHL Hall of Famer. Jacques is known for his ability to develop young players while also working well with veterans. Here is what Lou Lamoriello told Dave Feschuk of TSNDrive about the Lemaire hiring, "First of all, that's an interesting hire because Mike and I were having a conversation. Jacques Lemaire came up, and he said, "what is Jacques doing now that you're not in New Jersey?" I said, "well, there have been several clubs that have been speaking with him." He looked at me — Mike that is — and said, "Why are we letting him speak to other clubs? You know the respect I have for him. I know the respect you have." Mike went in his office and Mike immediately called Jacques and told Jacques that he'd love to have him consider coming here. I called him after that and Jacques' here. That's how that transpired. They worked with each other in the Olympics and the mutual respect they have, certainly it's known the respect that I have for Jacques. So that's how that came [about]."
The old hands have not yet had the time to make an impact but they will.
Then, what comes next?
First, there will be an evaluation period to look at the players on the roster and in the organization, possibly two or three months into the season. Changes to the roster after that, however, will only come as good deals become available.
Second, from day one Lou Lamoriello will attempt to mold the Leafs organization into a Lou Lamoriello type organization, one that will last beyond Lou's period as Leafs General Manager which probably will not last more than two to three years given that he is 72. A Lou Lamoriello organization is one that both players and management will be proud to be part of and will be based on mutual respect.
Third, the change in style of the club initiated by the new newbies to a more skill based team is not likely to substantially change. I do believe that size will be given more prominence than is currently shown on the prospect list and in additions to the big club roster. Of the top ten prospects below, only two are over 6'0.
Fourth, one of Lou's biggest jobs will be to mentor Kyle Dubas as his eventual replacement.
E-Mac's Impact Prospects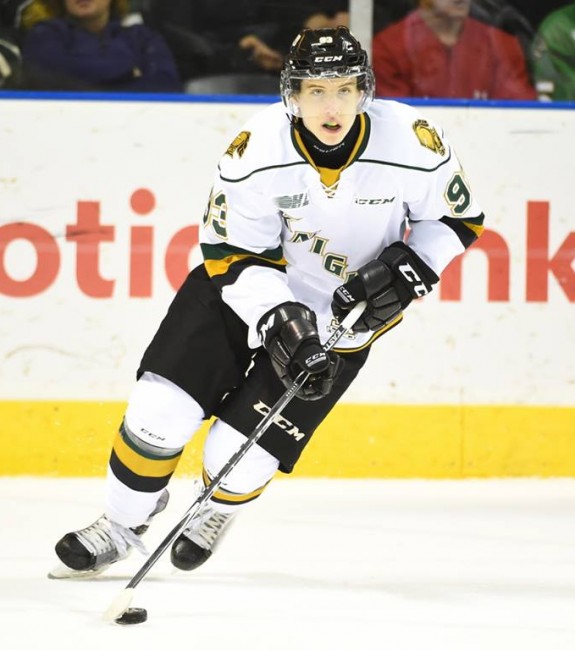 The top six players on the Maple Leaf Prospect List have a strong chance of making the NHL and being impactful when they do. In addition, there will likely be some of the others who make the NHL, but they are either less likely to have an impact or less likely to make the NHL. Possessing six impact prospects is above average amongst NHL teams. Moreover, the fact that Leafs got three impact players in the 2015 draft bodes well for the future.
As for the rest of the league, the team with the most impact players is Winnipeg with 9 followed by Arizona and Detroit with 8 apiece. Los Angeles trails with just 1.
Already Arrived
21 and Under Players as of September 15, 2015 in the NHL
(to give one the big picture of young players in the organization)
Drafted: 2012-5th
2014-15 Team: Toronto, NHL
D, L, 6'1, 205, 81-8-21-29 (-16)
*Link to rankings of all teams
Toronto Maple Leafs Prospect List – Top 10 – Summer of 2015
The Next Ones Summer Prospect List includes the top 10 prospects along with 5 honorable mentions and any other 2015 draft choices not previously listed.
Drafted: 2015-4th
2014-15 Team: London, OHL
RW/C, R, 5'11, 161, 63-44-82-126 (+36)
Let me start by saying that I am a big-time admirer of Mitch Marner. Here is some of what I wrote about Mitch here at THW prior to the draft, "He does the obvious things that all players should do, including:
Scoutingthe enemy formation before he receives a pass so that he can immediately penetrate any weaknesses in their defense.
Huntinghis prey aggressively on the forecheck and using deception, change of path, change of angle, change of speed and an active stick to remove them of their most coveted possession, the puck.
Camouflaginghis shot based on the opposition setup with dekes, dangles, change of angle, change of body position, change of speed – what you see is often not what you get."
Mitch Marner has the skills to play in the bigs right now. He will be better served by sending him back to London until he adds some more heft to his skin and bones.
Mitch Marner puts on a PK clinic https://t.co/OcGSTpLkw7

— Maple Leafs Hotstove (@LeafsNews) August 4, 2015
Drafted: 2014-8th
2014-15 Team: Toronto, AHL
C/RW, R, 5'11' 170, 37-14-18-32 (+8)
I have only lately started to convert to a big time William Nylander fan. William, himself, has been responsible for this conversion because he has:
Added weight and strength – in short, he looks like a man now rather than a kid.
Worked on his shot (strength and frequency of use) – William now realizes that the pass first mentality still prevalent in many European players will not produce the same success in North America.
He become a work horse – Leafs Assistant General Manager, Kyle Dubas, told the Toronto Sun, "It's going to be real interesting to see how his summer comes along, how hard he pushes himself. He is a self-starter. You don't really worry about him getting better. It's just a lot of fun to watch him how better he is going to get. He just works his butt off every day. He does a lot of things we are trying to instill in this group on his own. He does not need constant hand-holding or anything like that."
However, probably the biggest reason that I have converted to be a William Nylander fan is that William has appeared to listen to his coaches and use their advice to make himself a better player and closer to the player that Leafs management and fans wish him to be.
William will be given every chance to make the big club this year. I believe he will.
https://twitter.com/GoLeafsVideos/status/631644072885620736
Drafted: 2015-34th
2014-15 Team: Erie, OHL
D, L, 6'0, 196, 61-8-27-35 (+23)
I was late in showing my love for Travis Dermott. He was a slightly under-sized (described as 5'11 for most of the year) who played a good but not overly spectacular game throughout much of the year. The Vince Dunn's and even Mitch Vande Sompel's of the world seemed to show much more. However, the playoffs showed me an entirely different level of play from Travis Dermott. I don't think it was as much an improvement in his physical skills as an increased confidence and the mental willingness to take charge of a game. He very much reminded me of Andrei Markov with his ability to move the puck out of his own end with skating or passing and his ability to run the power play. Travis Dermott plays like a defenseman who will help lead his team. The Leafs can use him now but he would probably be better off with a couple of more years in junior.
Editor's Note: Dermott really impressed me at Hockey Canada's WJC Summer Showcase in Calgary in August. He displayed tremendous poise, an effective frenetic style of defense, along with undeniable offensive skills.
I don't think I'm being bias in saying that Travis Dermott has been Canada's best defender thus far at this WJC showcase tournament.

— OHL Prospects (@BrockOtten) August 6, 2015
Drafted: 2015-61st
2014-15 Team: USA U18 NTDP, USHL
C/RW, R, 5'10, 165 , 65-30-64-94
Jeremy Bracco is a player I had ranked in the first round. He has an elite skillset and produces elite results. He will need to add some more weight and strength to be effective in the bigs but I have no doubt that will happen. He is scheduled to play for Boston College this year.
Toronto Maple Leafs prospect goals! Jeremy Bracco's is especially awesome. http://t.co/igNrTHcgBm

— 🎃👺☠️Conservative Policies☠️👺🎃 (@mlse) August 7, 2015
Drafted: 2012-156th
2014-15 Team: Toronto, AHL
RW, R, 5'11, 170, 76-21-40-61 (+24)
Connor Brown was drafted in the sixth round and he was lucky to get drafted then given his -72 plus-minus. The next year he improved to -11 but he still was just another small player at a point-a-game pace. However, his last year of junior, the former Mr. -72 exploded to become the top scorer in the CHL with 128 points in 68 games with a +44. He then followed that by being the leading rookie scorer in the AHL with 61 points in 76 games with a +24. So we have a prospect with elite scoring ability playing on a very slight build. The field at right wing is getting crowded with Mitch Marner, William Nylander, Jeremy Bracco and Kasperi Kapanen. While some of these players will end up at centre, it still leaves a narrow field to succeed in. The good news for Connor Brown is that he is likely a year ahead of the others (with the possible exception of William Nylander) so he will likely get a chance to make the Leafs roster this year. Will he succeed? His tremendous successes in the minors and juniors suggest yes but he wouldn't be the first slight build guy to struggle to make it in the NHL. The good news is that we will get a good taste of just how much that success is likely to be when training camp opens in September.
Drafted: 2013-21st
2014-15 Team: Rimouski, QMJHL
C, L, 6'4, 216, 37-16-16-32 (+26)
Frederik Gauthier is a guy that many Leaf fans are down on because he has not shown high-end offensive potential. Most of these fans will be won over when Frederik eventually dons a Maple Leaf uniform for good. No, he will never likely be an offensive star. He will, however, be a large third line centre who wins face-offs, plays excellent defense, kills penalties and plays an important part in team success.Kyle Dubas, the Leafs Assistant General Manager, summed up Frederik best when he told the Toronto Star, "Mike (Babcock) uses the phrase that some guys are scout players and some guys are coach players. Coach wants a player like Frederik on his team . . . The people who are standing on the bench, they get excited about him because he's a guy you can trust to put out there in any circumstance. He's great on faceoffs. He's a big body. He plays extremely well defensively. Great stick. He's going to be able to get more assertive defensively and get the puck out quicker."
#Leafs prospects – @Breeze2Greeze @Marner93 @kaspara1tis – eager to help make @MapleLeafs a winner –http://t.co/30n0fSm2BH

— Kyle Dubas (@kyledubas) September 2, 2015
Drafted: 2014-22nd
2014-15 Team: KalPa, FIN 1 (Liiga)
RW, R, 6'0, 181, 41-11-10-21 (+2)
Kasperi Kapanen is a player that I had neck and neck with William Nylander at mid-term in his draft year. However, William surged ahead and never looked back. Kasperi, on the other hand has not shown the same consistent upward progression as William. He will need to start to put it together plus add some more strength if he wishes to progress in the organization and deliver on that promise shown in his draft year.
My look at Kasperi Kapanen, ranked #6 in the Maple Leafs' Top 25 Under 25 series http://t.co/SoDo2Mb5xP pic.twitter.com/GWwgTpQD8P

— Scott Wheeler (@scottcwheeler) September 4, 2015
Drafted: 2011-54th
2014-15 Team: Wilkes Barre, AHL
D, L, 6'2, 201, 48-2-10-12 (+20)
Scott Harrington did not live up to his hype in his draft year. He was expected to be the London Knights main offensive go to guy from the back-end and that simply is not Scott Harrington. His post draft and the year after that, however, Scott evolved into a very effective defenseman for Team Canada at the IIHF U20s where he was a top 3 player in 2012-13. He also was the key player on the backend for the London Knights where he helped lead them to the Memorial Cup Tournaments in 2011-12 as Assistant Captain and 2012-13 as Captain – being a first-team OHL all-star both years. Then, Scott auditioned for the Penguins in Wilkes-Barre for two years as well as having a cup of tea with the big club last year, playing in 10 games. He has not achieved the same degree of success in the pros that was expected of him after his brilliant junior career. I liked Scott big-time in junior and still think he will eventually be a solid NHler for the Leafs as he continues to develop.
Drafted: 2012-89th
2014-15 Team: Toronto, AHL
C/LW, L, 5'10, 176, 74-14-30-44 (+5)
He's small, he's fast, he has skill but the most important skill Brendan Leipsic has is his relentless tenacity. It is his ability to torture his opponents that is likely to put him in the NHL some time soon. He had a very good year in the AHL last year and can play in the bottom six and contribute.
Drafted: 2011-25th
2014-15 Team: Toronto, AHL
D, L, 6'0, 185, 43-1-10-11 (+1)
Stuart Percy is a slightly below average-sized defenseman at 6'0, 185 (average for a defenseman in the NHL is 6'2). He has already played 13 games in the NHL. He has shown that he can play in the NHL because of his calmness under pressure, his skating ability and the ability to make a strong first pass to get the puck out of the zone.
Five Honorable Mentions
Just outside the top 10, you will find in alphabetical order:
HM – Bibeau, Antoine – (2013-172nd) – '14-15 – Toronto, AHL – G, L, 6'2, 209, 31-2.69-.913
HM – Finn, Matthew – (2012-35th) – '14-15 – Toronto, AHL, D, L, 6'1, 205, 28-1-2-3 (-1)
HM – Johnson, Andreas – (2013-202nd) – '14-15 – Frölunda, SWE 1 (SHL), LW, L, 5'10, 183, 55-22-13-35 (+5)
Editor's Note: The evolution of Andreas since being drafted late in the 2013 has been something to behold. I'd strongly consider him even in the top five amongst Leafs prospects.
HM – Loov, Viktor – (2012-209th) – '14-15 – Toronto, AHL – D, L, 6'3, 209, 74-6-15-21 (+15)
HM – Valiev, Rinat – (2014-88th) – '14-15 – Kootenay, WHL – 6'2, 207, D, R, 52-9-37-46 (+22)
Other 2015 Draft Choices Not Listed Above
The other 2015 draft choices not previously listed:
2015-65th – Nielson, Andrew – '14-15 –  Lethbrisge, WHL, D, L, 6'3, 209, 57-7-17-24 (-9)
2015-68th – Dzierkals, Martins – '14-15 – HK Riga, MHL, LW, L, 5'11, 170, 32-10-18-28 (+3)
2015-95th – Lindgren, Jesper – '14-15 – MODO J20, SWE J20, D, R, 6'0, 161, 39-6-27-33 (+11)
2015-125th – Timashov, Dmytro – '14-15 – Quebec, QMJHL, W, L, 5'10, 187, 66-19-71-90 (+17)
2015-155th – Desrocher, Stephen – '14-15 – Oshawa, OHL, D, L, 6'4, 198, 66-10-13-23 (+33)
2015-185th – Korostelev, Nikita – '14-15 – Sarnia, OHL, RW, R, 6'1, 196, 54-24-29-53 (+4)
Dare to Compare
Buffalo Sabres Top 10 Prospects
Montreal Canadiens Top 10 Prospects
Ottawa Senators Top 10 Prospects
_________________________________________