If you ask Tampa Bay Lightning head coach Jon Cooper, the best is yet to come for Jonathan Drouin.
"Jonathan Drouin always had the talent, he just had to find his way through the mental aspect of the game. When he figured that, the sky became the limit for this kid," Cooper told NHL.com's Dan Rosen. "I think if this was a situation where we were giving up on Jonathan Drouin then Steve (Yzerman) probably would have traded him, but there is too much in that player."
Mental Aspect of Drouin's Game Tested Early
The 2015-16 regular season had a bit of everything for Drouin and the Lightning. After an impressive training camp and preseason, he opened the season skating on a line with Steven Stamkos and scored six points in the team's first five games. From there, however, things took a bit of a turn for Drouin.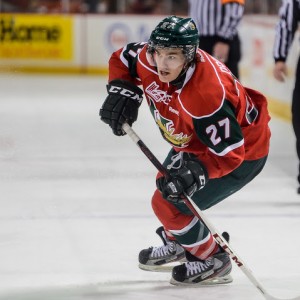 During an Oct. 27 contest with the St. Louis Blues, he suffered a lower-body injury that sidelined him for five games before he returned to the lineup on Nov. 7. After a Dec. 30 game against the New York Rangers, Drouin had played in 19 total games and tallied just two goals and eight points on the season.
With minimal offensive production in limited playing time and the return of other injured players, GM Steve Yzerman opted to send Drouin down to the Syracuse Crunch of the American Hockey League (AHL) on Jan. 2. At the time, Yzerman called it an opportunity for Drouin to receive more playing minutes and said that he would be brought back up at the right time. According to Yzerman, Drouin expressed he understood the reasons for the decision.
The Trade Request
The very next day, Drouin's agent, Allan Walsh, revealed that he had formally requested a trade on behalf of Drouin back in November, calling it an "untenable situation" with the team and saying it was in "everyone's best interests that Jonathan be allowed to move on and play hockey."
On Jan. 20, the Lightning suspended Drouin without pay after he failed to report for a Crunch game scheduled that evening. Walsh issued a statement acknowledging Drouin's suspension and that there was no reason for Drouin to continue with the Lightning in any capacity as he awaited a trade from the club. The statement sent shockwaves throughout the hockey world as a trade before February's deadline appeared imminent. Despite all the speculation about Drouin's future, that trade would never come.
Drouin's Change of Heart
In the first week of March, Drouin reached out to Yzerman and expressed an interest in returning to the organization. While no one outside of Drouin and those closest to him knows exactly what caused his change of heart, those that watched him when he returned saw a player that had noticeably improved. Interviews with those from within the organization, from Yzerman to Cooper to Drouin's teammates, praised his attitude and approach off the ice.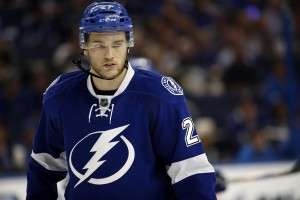 After tallying 10 points in 10 games in his return to the Crunch and with injuries to Stamkos and forward Ryan Callahan, Drouin was recalled by the Lightning on Apr. 4. For those outside of the locker room concerned about how Drouin's return to the Lightning would be received by his teammates, forward Tyler Johnson provided the answer. "He's (Drouin) our family member and he's been with us, and we're glad to have him back," Johnson said.
Passing the Test: Drouin's Return to Lightning
Drouin returned to the Lightning lineup and scored a goal in each of the team's final two regular season games. Playing with a noticeable step in his game, Drouin helped the team secure home-ice advantage for the first round of the playoffs.
If the strength of Drouin's mental game was still unclear, his defining moment came during a second round matchup with the New York Islanders. After being hammered by Islanders defenseman Thomas Hickey and leaving the game, Drouin returned to the lineup and set up the tying goal by Nikita Kucherov late in the third period. The Lightning won the game in overtime and took a 2-1 series lead.
Drouin and Lightning Focused on Future (Together)
In 17 postseason games, Drouin tallied five goals and 14 points and was often the team's best player. After the Lightning were eliminated by the Pittsburgh Penguins in the Eastern Conference Final, Yzerman made it clear where the Lightning stood on Drouin. "He makes us a better team. It's as simple as that," Yzerman said. "What he showed me, I think the best thing for this team right now is Jonathan Drouin on it."
From Drouin's end of things, the two sides appeared to be on the same page, even if it took them months to acknowledge it publicly. "I definitely want to be here (Tampa)," Drouin said.  On Jun. 27, Walsh told ESPN that Drouin's trade request had officially been withdrawn.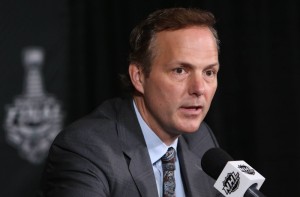 "I have to give him (Drouin) a ton of credit because he looked himself in the mirror and said, 'I'm going to be a hockey player.' He proved during that playoff run last season that he's a heck of a hockey player," Cooper told Rosen this week.
As Drouin enters the last year of his three-year entry-level contract, he will look to improve upon last year's successful postseason for he and the Lightning. Cooper and Co. have no reason to believe Drouin can't. "We think he's just going to get better from here," Cooper said.
While Drouin's growing pains were front and center for the better part of last season, it looks like he and the organization are putting it behind them and focused on their future together- something that bodes well for the Lightning, but not the rest of the league.