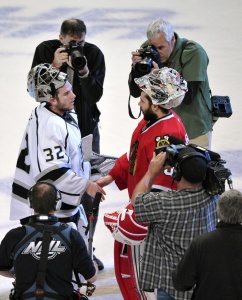 It was the best of times, it was time to curse because you just won the bleeping Stanley Cup.
Both Corey Crawford and Jonathan Quick had good reason to cut loose at their respective Stanley Cup parades.
Both looked, at certain points, like washouts.  Quick was buried in the ECHL in 2008; Crawford suffered a half-decade of AHL and NHL playoff failures.
And both celebrated their titles with massive extensions.  The 2012 Conn Smythe winner earned a 10-year, $58 million dollar extension; the 2013 Jennings winner just inked a six-year, $36 million dollar contract.
But that's where the comparisons stop.  While Quick's pact was greeted with relative indifference, Crawford's has caused some consternation.
The Blackhawks goalie is still dodging digs about his glove hand and being a "system goalie."  It's still being pointed out that Ray Emery posted a 17-1 record with an identical save percentage as his backup last season.  Even I predicted that Emery would take Chicago's starting job last spring.  But speaking of comparing numbers:
Goalie #1: 286 GP, 149-100-29, 2.32, 91.5%
Goalie #2: 62 GP, 29-20-6, 2.36, 91.2%
Granted, 286 games played is far more than 62, and the mental and physical stamina to handle a starting netminder's responsibilities is a skill unto itself.  But the goals against and save percentage are almost identical.  You're looking at the career stats of Quick and his recently-traded backup, Jonathan Bernier.
So do these numbers demonstrate that Quick is also a "system goalie?"  Yes, insofar that every goalie is a "system goalie," hockey being a game of five-on-five and not one-on-one; and no, as the Kings star is still quite deservedly considered a franchise cornerstone and de facto US Olympic starter.  But it's time to give Crawford a lot more credit.  It takes a special mettle to overcome the searing pressure of the playoffs and win a Stanley Cup.  It's not good enough anymore to argue that the Blackhawks starter is held up by a superior team, lest we forget that the 2012 Kings put together one of the most dominating postseasons ever.
The eyeball test still shows that Quick is more athletic than Crawford.  I would still rather build my team around him.
But even as a Kings fan, I recognize that Crawford sorely outplayed Quick in the most recent conference finals.  In fact, the LA keeper surrendered a couple "Crawfordesqe" softies in the series:
Also, let's not forget that Crawford's extension ends three years sooner than Quick's. From there, an argument can be made that in fact, Crawford's deal is less risky than Quick's.
In the end, there's only one number that matters: One.  That's the number of rings both Quick and Crawford have, and this is the key word, earned.
Looking forward, both Chicago and Los Angeles are built to contend for a long time.  Crawford VS Quick may indeed define the next half-decade or so of the Western Conference.