Few players can bring all of the positives to a hockey team like Cody Franson. The 6″5 defender is a strong net-front presence, and can generate offensive at even strength or on the power-play. His 29 points in 45 games was first amongst Leafs defenceman last year, and matched his career points high, albeit in 35 less games. From that standpoint, the Leafs simply can't afford to lose such a valuable asset for an extended amount of time. How long this holdout will last is anyone's guess – GM Dave Nonis stated during yesterday's preseason game against the Flyers that there was absolutely zero progress in terms of contract talks. A trade is still possible, though there has been no talk of any possible offers. Either way, folks holding Maple Leafs tickets will have to wait a while to see him.
Internal Options
There are, of course, a few internal options to replace Franson in the short-term.
Paul Ranger had a fantastic showing in training camp and the first preseason game, and had a decent season in the AHL last year (51 GP, 25 pts, +16). Ranger is also a proven NHL asset with offensive ability. His ability to eat up top minutes is questionable, but he would definitely be an adequate fill-in for Franson at least on the powerplay.
Jake Gardiner found himself in the Randy Carlyle discipline corner last year, and was often in the minors or a healthy scratch. He was given a chance to play near the end of the season and during the playoffs, so this next year should see Gardiner stick with the big club consistently. The 23 year old defenceman turned heads back in '11-'12 with 30 points in 75 games, and his skillset is arguably much stronger than Franson's.
After falling from grace, John-Michael Liles could see a resurrection this year. He put up several consistent seasons with the Colorado Avalanche as a top powerplay option, but has seen his ice-time and production both dip significantly since joining the Leafs. With a full training camp, Liles could dig his way out of the press box and back in management's good books.
Enter Morgan Rielly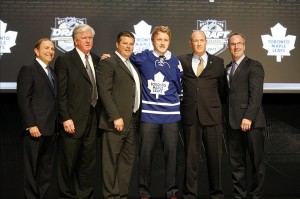 The 5th overall pick from 2012 carries lofty expectations upon his shoulders. After an injury-plagued season in '11-'12 that saw him play only 18 games, Rielly lit it up for the Moose Jaw Warriors in '12-'13 with 54 points in 60 games. He also saw limited time in the AHL at the end of the season with the Marlies, recording one goal and two assists in 14 games and one goal in eight playoff contests.
With a gaping hole due to Franson's holdout, Rielly could finally get  a chance to make the big club. It may not necessarily be for a full season – Rielly can be sent back to his junior team after 9 games without burning a year on his entry-level contract. The Leafs may, however, choose to retain his services for the full year if they feel that he is NHL-ready and that there isn't anything left for Rielly to learn in the WHL. The Marlies are not an option – the defenceman is still 19 and therefore ineligible.
Rielly, listed at 6 ft., does not bring the same size that Franson does. Rielly does, however, have much more offensive upside and could be a huge threat on the powerplay paired with captain Dion Phaneuf.
Rielly has already impressed Leafs brass in training camp, and looked great in Toronto's first preseason contest against the Flyers, logging a hair under 20 minutes and being named the 2nd star of the game. Rielly played primarily with Paul Ranger against the Flyers, and that pairing could stay intact into the regular season.
Phaneuf looked good with defenceman Carl Gunnarsson last season, and that pairing could likely stay intact as the top-2. Without Franson, the 3-4 spots on defence are not set in stone. Rielly, Ranger, Gardiner and Liles could all be in the mix.
Alex is a Lead Writer for the Toronto Maple Leafs. Since joining the Hockey Writers, he has also briefly covered the Carolina Hurricanes. He also currently works as an assistant for the Western Mustangs at the University of Western Ontario. Follow him on Twitter @alexmai11.