Three days of training camp have come and gone in Denver, and there is a buzz around this team. There is a new front office, a new head coach, new goalie coaches, new assistant coaches, a few new players and, most importantly, a brand new attitude. Just one week of seeing rookies and all the veterans has been enough to convince a lot of people that things are finally going to be better for the Avalanche.
Here are my final impressions from Colorado Avalanche training camp.
The New Attitude
I have harped on this several times this week, but the attitude of the coaching staff is completely different. Under Joe Sacco, coaches might make mention of a few things from time to time but they never took the time to really stop and demand exactly what they wanted from players. Already, Patrick Roy has set forth the expectation that you will do exactly what he needs you to do in this drill or else you will do it again. This ranges from making sure you're skating to the right spot in the middle of a drill, to making certain that you come to a full stop in front of the net before skating on and being excused.
The other thing that I have loved about Roy in practices is that he is working just as hard as the players during all of the drills. He's skating alongside them as they go down the ice, he is jumping into the drill moving players into the proper position before skating down to the other end of the ice doing the same thing. As a player, this has to be a refreshing change for the players after a coach who did little more than drift around the ice and occasionally yell at them for doing things wrong. If that's me, that's a coach that I want to play for.
The new attitude can't help but bleed down to the players. The environment is just so different, so much more energetic and so much more fun to be a part of.
How Did Nathan MacKinnon Look?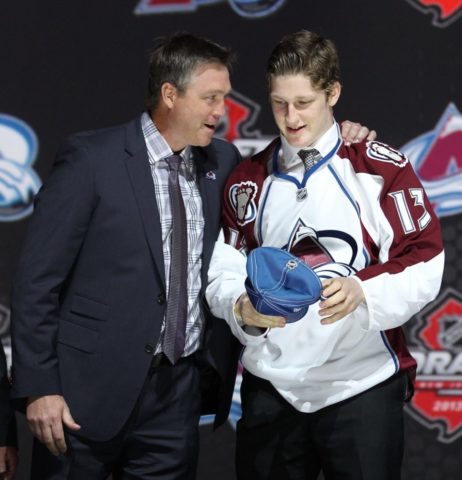 The first overall draft pick looked okay in camp, not much more. As things kept going he did appear to be finding his way and did show improvement, but he is not going to be the type of player that just slides right in without any real adjustment as Gabriel Landeskog did. MacKinnon is going to have to adjust to the NHL and realize that he is going to have to do more than just be a really fast skater. His playing on the third line will allow him to ease his way into the league, but it would be a surprise if Nathan MacKinnon lit the world on fire right away.
Who Looked Good In Camp
I sang Duncan Siemens's praises all last week, and I won't stop now. Siemens looks like, if he were to be brought into the Avalanche roster at the start of the season, he would be able to handle the transition. His skating has improved immensely, his decision making is solid, his positioning is good, his mean streak is as mean as ever and his head is in the right place. He spent about 20 minutes going head to head with Matt Duchene and didn't give him anything. He didn't overpower Duchene, but there really aren't that many people in the league that can, just ask Shea Weber. If there is something for Siemens to work on, perhaps it would be to gain just a little bit more strength so he can be that totally dominant defenseman.
Colin Smith is going to be dynamite. The seventh round pick of the Avalanche from the 2012 NHL Draft has all the tools. He is fast, shifty, creative and has incredible hockey intelligence. Something about him that you don't always see from young kids that come into the league is that Smith plays with his head up nearly almost 100% of the time. Since he is a smaller player, it's good for him to have his head up for self-preservation. Smith had a goal in Colorado's annual Burgundy vs. White intra-squad scrimmage as well. He has a bright future.
Chris Bigras is going to be a steal. What a fantastic young defenseman that has all the NHL skill necessary but really just needs to mature a bit more physically. He was incredibly impressive all throughout camp with his poise, great decision making and great skating. Give Bigras a couple of years and he'll be in the NHL.
Matt Duchene, Ryan O'Reilly and P.A. Parenteau are going to be scary good. All three of these guys have a complete game that ranges the full length of the ice. They work just as hard in the defensive zone as they do in the offensive zone, and their work in the offensive zone is unbelievable. Each of them has an uncanny ability to find the other two and will make life miserable for opponents.
Semyon Varlamov looks very confident coming into camp. This is the first time in his career where Varlamov has a very solid support system. He parted with the Capitals on not such great terms and has dealt without a real goalie coach his whole time in Colorado. The addition of Francois Allaire to the coaching staff should help Varlamov a great deal.
Other players who played well throughout camp was Sami Aittokallio, Markus Lauridsen, Alex Tanguay, Mason Geertsen and Mitchell Heard.
Who Disappointed At Camp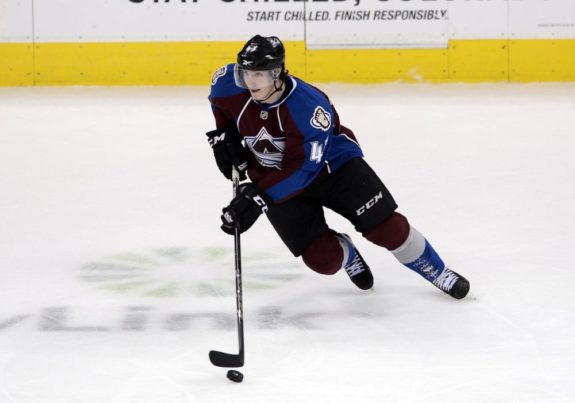 Michael Sgarbossa was the biggest disappointment of training camp. After putting together a great season in the AHL a season ago that saw him become an AHL all star, Sgarbossa seemed to be fighting something at camp this year. Passes were bad, pucks constantly off his stick, he just looked sloppy. Hopefully Sgarbossa will be able to get his game back together in Lake Erie.
Mark Olver was such a pest when he first came into the league and, better than just being a pest, he was also able to put the puck in the net. Now we only occasionally ever see any offensive upside from Olver and the pest is in hibernation. Olver has essentially played himself into irrelevance and will likely be down in Lake Erie at the start of the year again.
Matt Hunwick should not make this team. If there is one thing that this week has shown it is that Hunwick has serious struggles with defensive positioning. Of course, watching him over the past couple of seasons should have shown that to begin with, but now he finally has a coach that can be neutral when it comes to his play. Joe Sacco always had an inexplicable attachment to Hunwick that was impossible to explain.
Other players who had training camps that were less than stellar were: Stefan Elliott, Andrew Agozzino, Gabriel Beaupre and Patrick Bordeleau.