The Toronto Maple Leafs loaned forward Byron Froese and defenseman Frank Corrado to the Toronto Marlies in the American Hockey League, the team announced on Monday.
.@SportChek Player Alert: Leafs loan Byron Froese to @TorontoMarlies and assign Frank Corrado on a conditioning loan. #TMLtalk pic.twitter.com/2Z2UChMDkT

— Toronto Maple Leafs (@MapleLeafs) January 2, 2017
Corrado has been a healthy scratch in all but one of 36 games with the Maple Leafs in 2016-17 — a disappointing start to the season for the 23-year-old blueliner whose only game action came when he saw just over 16 minutes of ice time on Nov. 12.
He is eligible to play up to seven games as part of the conditioning loan — meaning he could be back in the NHL as early as mid-January if he played in all seven contests. The news marks another twist in what has been a frustrating situation for the Toronto native this season.
Corrado spoke about it in an interview with The Athletic's Dave Alter, published on Dec. 15 — less than a week after former teammate Peter Holland was traded to the Arizona Coyotes for a conditional draft pick. Holland had also received limited playing time and did not accompany the team on a road trip before being moved by the Maple Leafs.
"It's frustrating now," Corrado said, according to Alter. "When you don't get to play for a month and a half, and you've played in one game all year, it takes its toll on you mentally … Yeah, you're in the NHL. It's not that the novelty has worn off; it's just that it's time to play. It's time to have a career. I feel like the more I'm not playing, that's food off my table. That's kind of the way I see it right now."
Corrado spoke about the effort he put in on the offseason and the disappointment he had with not receiving the opportunity to play with the Maple Leafs in the early part of the season.
"Everyone on our back end gets a chance to play except me," Corrado said, according to Alter. "I'd love to play. I had a good camp. I put on 10 pounds in the summer. I sacrificed a lot to earn a job here when there might not have been one for me. I'm sure Holly's (Peter Holland) situation was similar in ways, but for me, it's really frustrating right now."
Monday's news means he will have an opportunity to play with the Marlies, which could ultimately earn him the chance to play in a Maple Leafs' uniform sooner than later.
Matthews Named NHL's First Star of the Week
Toronto Maple Leafs rookie Auston Matthews has been named the NHL's first star of the week, while New York Rangers forward Chris Kreider and Pittsburgh Penguins goaltender Marc-Andre Fleury finished second and third, respectively.
Matthews, 19, tallied four goals and two assists in three games, including the game-winning goal in the Centennial Classic on New Year's Day, where he tallied the game-winner to secure a 5-4 overtime victory against the Detroit Red Wings.
His 20 goals leads all rookies and is second in the league to the Pittsburgh Penguins' Sidney Crosby (26) and he is pacing all first-year players with 32 points.
Kreider registered four goals and an assist in three contests — including his second career hat trick in a 6-2 Rangers' win over the Colorado Avalanche on New Year's Eve.
Fleury went 3-0 and posted a .939 save percentage with three games of action after Matt Murray went down with an injury.
Preds' GM Poile Speaks About Subban
Just one day after the Nashville Predators placed P.K. Subban on injured reserve with an upper-body injury, general manager David Poile spoke about the star defenseman's status on Monday.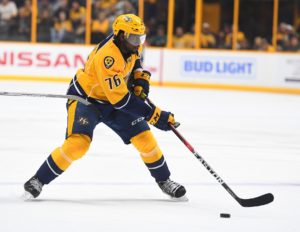 "I think his timeframe is going to be a good one," Poile said, according to The Associated Press. "I've got my fingers crossed on that."
The 37-year-old blueliner has not played in a game since Dec. 15 and has missed seven straight games with the injury. In 29 games this season, he's registered seven goals and 10 assists and averaged more than 25 minutes of playing time per contest.
The Predators originally announced that Subban would be re-evaluated in approximately two-to-three weeks when they originally placed him on the IR on Sunday. Subban was originally considered to be day-to-day when news initially surfaced that he would be out of the Predators' lineup earlier this month.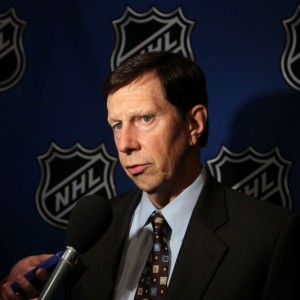 Poile spoke about the uncertainty that comes with putting a timeframe on the status of players, including Subban.
"When you do that, just like when we said it is day-to-day, it is just a little bit of a guesstimate in terms of where he is at," Poile said, according to the AP. "We thought that he would be back sooner, but sometimes this is what happens with injuries."
Despite Subban's IR status, Poile noted that the star defenseman has been working out regularly and has skated some — encouraging news for the Predators, who have gone 3-2-2 without him in the lineup.
Vlasic to Miss at Least Two Games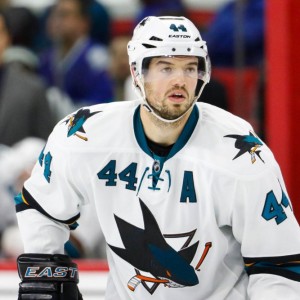 The San Jose Sharks will be without Marc-Edouard Vlasic for at least the next two games after the was placed on injured reserve, retroactive to Dec. 31.
Vlasic took a puck to the face during the Sharks' 2-0 win over the Philadelphia Flyers on Dec. 30.
Being placed on IR means he cannot play for seven days from that time, which includes games against the Los Angeles Kings (Tuesday) and and Minnesota Wild (Thursday).
The 29-year-old blueliner has compiled three goals and six assists in 35 games this season and is second on the Sharks with 21:07 of ice time per contest.
Odds and Ends
— The ceremonial faceoff between the St. Louis Blues and Chicago Blackhawks before the 2017 Winter Classic was briefly delayed while Hall of Famers Bobby Hull and Brett Hull waited to receive a puck! Brett was the first to realize this, before motioning that they needed a puck. They didn't get just one, however, as they each were handed a puck and dropped them simultaneously. It was a special moment that added to the historic nature of the game on Monday.
All the goals scored by Bobby and Brett Hull and neither had a puck for #WinterClassic ceremonial puck drop pic.twitter.com/URasYJvmvu

— Sportsnet (@Sportsnet) January 2, 2017
— It's not every day that you are pulled from an NHL game after giving up three goals by the early part of the second period, take a short break and return to cap a 51-save win in a shootout, but that's exactly what Anaheim Ducks goaltender Josh Gibson did in the team's 4-3 victory over the Philadelphia Flyers on Sunday. He have up three goals on 21 shots before being pulled for Jonathan Bernier in the second period, but was gone for just 3:48 before returning to stop 33 shots en route to the win. His 51 saves tied a Ducks' team record set by Jonas Hiller in December 2008.
.@JohnGibson35 talks about the win! #LetsGoDucks https://t.co/3IPWVvE4oE

— Anaheim Ducks (@AnaheimDucks) January 2, 2017
— The Arizona Coyotes claimed forward Alexander Burmistrov from the Winnipeg Jets, the team announced on Monday. The 25-year-old center has tallied two assists in 25 games with the Jets this season.
OFFICIAL: #Coyotes Claim Burmistrov off Waivers https://t.co/wQAd2k07MI

— Arizona Coyotes (@ArizonaCoyotes) January 2, 2017
— Florida Panthers goaltender Roberto Luongo had some fun with the weather situation which threatened the completion of the 2017 Winter Classic between the Chicago Blackhawks and St. Louis Blues on Monday. Luongo was the starting goaltender with the Vancouver Canucks before he was benched before the 2014 Winter Classic, in place of backup netminder Eddie Lack.
Man it would suck if these guys waited their whole lives to play in an outdoor game and then couldn't to due to unforeseen circumstances 👀

— Strombone (@strombone1) January 2, 2017
Lack, who currently plays with the Carolina Hurricanes and is a good friend of Luongo's off the ice, also had fun with it.
@strombone1 sorry?❤

— Eddie Lack (@eddielack) January 2, 2017