By Mike Miccoli, Boston Bruins Correspondent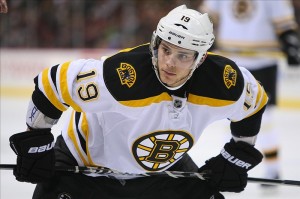 On Thursday, NHL Commissioner Gary Bettman explained that the league and its owners would be prepared to lockout its players if a new Collective Bargaining Agreement wasn't settled upon by September 15. Considering just how far apart the two sides are currently, it seems likely that a lockout—yes, another one—is looming. While it may not have the same implications or length as the last NHL lockout during the 2004-05 season, the effects could still be devastating…at least for the most part.
It's not farfetched to believe that teams will suffer if there is a shortened NHL season, but could there be some teams that would benefit from one? Possibly—and the Boston Bruins might be one of those teams.
Please understand that the prospect of another lockout is pretty awful for anyone involved, interested in or working in the sport of hockey. The lockout of 2004-05 season was one of, if not the darkest year in the sport's history. A potential lockout in 2012-13 shouldn't be too surprising but it doesn't take away the fact that yes, it's going to suck with no hockey. However for the Bruins, there are some advantages that could come from a shortened season, especially after the offseason that the club had.
The big story of the Bruins' offseason was that there was no story, really. Aside from the off-the-ice antics of Tim Thomas, the Bruins remained eerily quiet this offseason, re-signing restricted free agents and keeping intact the same roster from the 2011-12 season, essentially the same club that won the Stanley Cup the year before. This provides them with a key advantage in chemistry over teams that overhauled their rosters by adding or subtracting talent. While other NHL organizations that added big-time players such as the New York Rangers, Carolina Hurricanes and Minnesota Wild adjust their lineup and get used to their new teammates, it's the Bruins who go back to work with a business-as-usual mentality.
With the exception of inserting Dougie Hamilton into the defensive pairings, almost all of the lines will be exactly the same. No need to get used to any of the quirks or preferences a new player may bring to the locker room, either. A shorter season gives teams in similar situations an advantage since there is less time to build up chemistry than there would be in a regular 82-game season.
Bruins' GM Peter Chiarelli has made it clear that his plan was to keep the 'championship core' of the team intact, further cementing the point after re-signing Chris Kelly, Tuukka Rask, Daniel Paille and Gregory Campbell since the team's last played game. If that trend continues, it's likely that Chiarelli will want to negotiate with the whole lot of free agents that the Bruins will have after the 2012-13 season is over.
Think of it this way: Tyler Seguin, Brad Marchand, Milan Lucic, Tuukka Rask and Jordan Caron are all restricted free-agents in 2013, while Nathan Horton and Andrew Ference are unrestricted. The group of restricted free agents are all 26 years old or younger and were part of the 2010-11 Stanley Cup Championship team. They're likely all in line for hefty raises if their 2012-13 campaign is solid. Most notably, Seguin's new deal could look similar to the contract that Jeff Skinner of the Carolina Hurricanes just signed while Lucic will probably a command a new deal north of $5 million annually. We won't even talk about Rask just yet.
Whether the deals are justified or not, isn't the point. Instead, a new CBA may put restrictions on signings and the specific details as to when and how new contracts are given out. A shortened season would also stunt point productions for many players. While Seguin may be projected to be a 40-goal scorer in a full, 82-game season, there's no doubt that a lockout would affect his totals. If point totals are skewed, you have to wonder just how justified new contract lengths and terms would be. It brings up the question of the true worth and value of the players at hand. This could mean smaller deals to begin with, which would essentially help the Bruins squeeze in other re-signings or additions in the future.
This also works to the advantage of these players, many of which will play a key role in the Bruins' goal production this season. The expectation is there to shine in the last year of their respective deal to earn more. It's possible that the Bruins could see role players stepping up in a shortened season, becoming more impact players on the roster.
As far as Rask is concerned, I can't think of any other Bruin who could benefit more from a shortened-season. It's important to be reminded of the implications and stipulations that follow Rask into the season. For one, Rask has never played in more than 45 games in one season. His backup, Anton Khudobin, has played in only seven NHL games in his career, putting even more pressure on Rask. Plus, you can't forget that Rask is playing for a contract next year after signing a one-year, $3.5 million deal earlier in July.
While it wouldn't be an ideal sample size to test whether Rask is ready to be a full-time starting goaltender in the NHL, it would be similar to what he's used to. Both the Bruins and Rask would benefit from a shorter season, if only to get Rask adjusted to life as a number one goalie.
The Bruins certainly are in an interesting position as this season inches near. While the multitude of young talent awaits for Boston, there could be impending doom of a lockout. Any shortage of hockey is brutal, especially after a long offseason for any team who didn't get to lift Lord Stanley's Cup. For now though, it might be best to just sit and wait for the NHL and NHLPA to come to an agreement before the CBA expires on September 15.
Follow Mike on Twitter for more Bruins updates, news and commentary.