Forty-years ago, a Soviet team filled with amateurs travelled to Montreal, Quebec to face-off against the Canadian powerhouse team at the legendary Montreal Forum in an eight-game series. Seconds after Phil Esposito won the opening faceoff in game one, on a Frank Mahovlich rebound Esposito beat Russian goaltender Vladislav Tretiak to open the scoring 30 seconds into the game. The Soviets would respond strongly after trailing 2-0, scoring seven times in the opening game quieting Canadians across the nation as they rallied to win game one 7-3. The Canadian team would eventually win the historic series on a goal from Paul Henderson as this heated competition quickly became one of the most significant events in hockey's history.
Fast forward to 2012 as Canada and Russia look to commemorate the 40th anniversary of the illustrious 1972 Summit Series by icing two competitive teams featuring the best prospects from each nation. The rivalry remains strong between Russia and Canada on the ice and it showed quickly as both teams played with intense passion from the onset of the puck drop. In the opening game of the four-game series, Canada took the ice in Yaroslavl but did not muster up any tallies until the second frame. Evident by the hard-hitting play and five penalties, the first period was highlighted by the physical play of Canada as it was clear that their game plan was to intimidate the younger Russians. Surprisingly, Russia responded well and matched Canada's intensity and held several good scoring chances, despite being outshot 9-to-4, but were unable to beat Boston Bruins' first round selection Malcolm Subban between the pipes. At the other end stood Tampa Bay Lightning's first round selection (19th overall) Andrei Vasilevski as he was equally successfully at turning away all of the Canadian's nine shots in the opening period.
Much like the red and white did forty-years ago, Canada opened the series' scoring on a hot wrister from 2013-draft-elgible Sean Monahan from the point on Canada's expiring powerplay (assisted by Maple Leafs' prospect defenseman Morgan Rielly). Less than two minutes later, Penguins second round selection (2011) Scott Harrington received a pass from Panthers' prospect Jonathan Huberdeau and beat Vasilevski low glove-side to extend the Canadian's lead to 2-0. The Russians did not back down as they continued to battle back and at the 8:01 mark of the second period, Anton Slepyshev (undrafted in 2012…somehow), picked up a deflected shot from Albert Yarullin and fired a quick laser over the stretched out Subban to narrow the Canadian lead to one goal. As the thrilling second period wound down, Dougie Hamilton cashed in on a powerplay throwing a puck on net that caught Vasilevski off-guard sending the red and white into the second intermission with a 3-1 lead.
If history indicates anything, the average hockey fan would understand that no lead is safe between these two nations and Russia came out to start the third period with the fire and passion expected. Outshooting Canada 12-9 in the final frame, Russia amped up their offence led by the Oilers' first overall pick in the 2012 NHL Draft, Nail Yakupov. The young fiery Russian came alive as the team attempted a comeback dancing his way around several Canadian defenders showcasing his rare skill along the way. Two penalties back-to-back late by forwards Charles Hudon and Lukas Sutter put Canada down by two men. As Yakupov set up in his patent position on the right side half-boards, the Russians work the puck around and Lightning defender Artyom Sergeyev fed the dangerous Yakupov as he unleashed his wicked one-timer shot past Malcolm Subban to close the lead to 3-2 for Canada.
As the clock expired in game one, Canada held off Russia's offensive surge on the strong play of Malcolm Subban (named the game's top player) to take the opening game 3-2. Passion and emotions were high throughout the entire game and the level of play among these top prospect exceeded expectations ensuring that the remaining three games in this four-game series is a must watch for any hockey fan.
Notable Performances: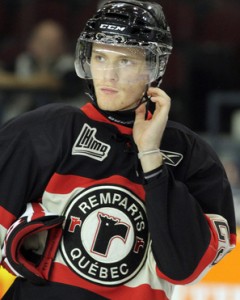 Mikhail Grigorenko, RUSSIA (Buffalo Sabres, 12th in 2012) – At the draft, I was baffled that teams in the sixth to tenth positions did not roll the dice on the offensively talented Mikhail Grigorenko. Besides being a talented centre, Grigorenko possesses the top-six upside and size that is usually coveted by every single NHL franchise. Either way, Grigorenko fell to the Sabres who, guaranteed, will be thrilled by their selection. Grigorenko labours a bit in the skating department but as he gains top speed he is a difficult player to contain given his pro-size. Always in the right position inside the blue line, Grigorenko showed to be an offensive threat alongside Yakupov especially with his ability to contain the puck and dish off creative passes.
Charles Hudon, CANADA (Montreal Canadiens, 122nd in 2012) – Hudon slipped to the fifth round in the past draft because some felt that his skating was "questionable". It's clear that the offensive winger needs to work on his first-step quickness but he remains an intelligent and crafty player with a tremendous work ethic – witnessed first-hand today. Hudon was among Canada's best players today as he buzzed around creating something on every shift. I was surprised to see Hudon fall to the fifth round but I am sure the Montreal staff was thrilled…and should be.
Boone Jenner, CANADA (Columbus Blue Jackets, 37th in 2011) – Criticize the Blue Jackets' organization all you want but there's a change coming in this organization featuring several strong NHL prospects. The package that Oshawa Generals' Boone Jenner competes with is impressing on so many levels. He possesses the skill to produce offensively but his hockey intelligence is especially strong and when combined with his rare elite leadership skills, Canada AND Columbus are blessed to have this ultra-competitive forward skating for them.
Ty Rattie, CANADA (St. Louis Blues, 32nd in 2011) – After expoding for 57 goals and 121 points his third full WHL season, Rattie did not need to prove that he could produce offensively. However, I was pleased to see him add an increased element of grit to his game as he showed an element of net drive that will complement his overall game nicely. The entire line of Huberdeau-Scheifele-Rattie was surprisingly physical and gritty.
Mark Scheifele, CANADA (Winnipeg Jets, 7th in 2011) – The Barrie Colt forward showed tremendous confidence in his game since my last viewing of him. He was excellent in the faceoff circle and showed an improvement in his size and strength in the puck possession game. Scheifele's game reminds me of a younger Ryan Getzlaf in the way that he can control the play and utilize his underrated soft hands to create offense.
Artyom Sergeyev, RUSSIA (Signed by Tampa Bay Lightning in 2013) – Sergeyev was arguably Russia's most noticeable defenseman in game one showcasing his good four-way mobility and puck movement skills. At times, Sergeyev attemped some high risk plays and was picked off as a result but I was impressed with his offensive skills and ability to play big minutes.
Anton Slepyshev, RUSSIA (undrafted in 2012) – Scared off by the KHL and "Russian Factor", Anton Slepyshev amazingly went undrafted in the 2012 draft. How could a team not use a 7th round flyer pick on this uber-talented Russian? Slepyshev owns good size and his offensive touch was on full display when he picked up a loose puck and fired it quickly top shelf. He's certainly a Russian to keep tabs on throughout the remainder of this series.
Malcolm Subban, CANADA (Boston Bruins, 23rd in 2012) – It was not surprising to see Malcolm Subban rated as a top 10 selection by some experts entering the 2012 draft as he was simply fantastic in game one. Neither Russian goal can be faulted to Subban's play but he was the difference maker in the outcome today outplaying fellow first-rounder Andrei Vasilevski of Russia in goal. Subban made 19 saves en route to being named the player of the game.
Lukas Sutter, CANADA (Winnipeg Jets, 39th in 2012) – In much of the same way as teammate Boone Jenner competes, Lukas Sutter fills an important role with his ability to play tough minutes against the opposition's top players. He was excellent on the penalty kill today and his in-your-face style was noticeable as his line shook things up every once in a while. He won't light up the score sheet but his future 2nd /3rd line role will be important in winning close games filled with emotion.
Sean Monahan, CANADA (2013 Draft Eligible) – Talking to scouts about Sean Monahan over the past year, it is clear that he is a player that has experienced remarkable development since his midget days. In my opinion heading into his draft year, Monahan is a top-five player and he showed that when he opened the scoring for Canada with his quick wrister. As the thirteenth forward today, Monahan's play was awesome considering the juggling he had to go through with different line mates throughout the game.
Alexei Vasilevski, RUSSIA (2013 Draft Eligible) – The younger brother of goaltender Andrei Vasilevski, Alexei showed strong poise for the Russians in all situations. He showcased his hard accurate shot that surely will be coveted by NHL teams in the upcoming 2013 draft.
Nail Yakupov, RUSSIA (Edmonton Oilers, 1st in 2012) – Watching Nail Yakupov develop over the past two seasons in Sarnia has been a personal privilege and there is rarely a game he plays in that you aren't left saying "WOW" in. Yakupov has a tendency to be quiet in games but will suddenly and unpredictably make a dazzling play when the opponent least expects it and he rarely misses. In game one, Yakupov showed the same trend as he was relatively quiet but mid-way through the second he ramped up his game ten-fold showcasing the electrifying talent that earned him the first overall selection status. In the third period, Canada could barely contain him and as I've witnessed many times, Yakupov scorched one past Subban on a one-timer slapshot from the right side (ala Stamkos-reversed) to pull the Russians within one. I am hoping that Ralph Krueger and the Oilers give Yakupov the offensive minutes he needs to shine as an NHL rookie – it'll be worth the price of admission.
Players We Want More From:
Jonathan Huberdeau, CANADA (Florida Panthers, 3rd in 2011) – The tremendously skilled Huberdeau had a so-so game today but he was too much an individual at times today. On ensuring powerplays, Huberdeau opted to dangle the opposition at the blue line rather than simply moving the puck to an open teammate and both times it resulted in a Canadian turnover. In every strong game that I have watched Huberdeau play in, he keeps things simple. Huberdeau has the crafty hands to dangle but he should reserve those moves for the right areas of the ice – that's where his success lies. On the other hand, I was pleasantly surprised to see Huberdeau's willingness to drive the net today and engage physically. He will become a dominant player if he adds those elements to his game.
Griffin Reinhart, CANADA (New York Islanders, 4th in 2012) – Mostly due to a lack of playing time, I was left unimpressed by Reinhart in today's game. Reinhart has massive potential and I was looking forward to seeing him in today's game. Hoping he earns more minutes in the following three games.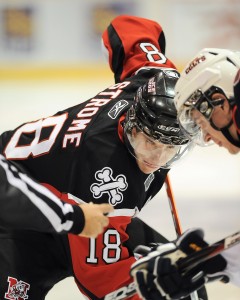 Ryan Strome, CANADA (New York Islanders, 5th in 2011) – At the 2011 NHL Draft, I questioned the Islanders selection of Strome so highly after coming-out-of-nowhere to tally 106 points. Strome is a talented player but (in my opinion only) I don't see his skills translating to the NHL to warrant a top five selection. He could prove me wrong as he develops but in today's game I continued to be frustrated with Ryan Strome and his trying-to-be-too-cute approach. As Strome continues on in his development he needs to add more strength and grit to his offensive skill set to best utilize it at the pro-level. To this point, I have not seen willingness for him to do this.
Andrei Vasilevski, RUSSIA (Tampa Bay Lightning, 19th in 2012) – Outplayed by Malcolm Subban, Vasilevski did not necessarily play poorly but he did let in a few floaters that he has been known to snatch up easily in the past. The Lightning prospect continues to battle consistency as he's shown that he has difficulty putting together sixty strong minutes of action.
Notes Going Forward:
Three games remain in this exciting series and going forward I will personally be watching the following stories unfold:
Morgan Rielly, CANADA (Toronto Maple Leafs, 5th in 2012) – I always get asked about Morgan Rielly from Leafs fans and as a result I will be watching him closely. In game one, Rielly lined up with Mathew Dumba and both players were solid offensively and defensively. Rielly factored in on the opening goal with the lone assist but that goal was all Sean Monahan. Coming off an ACL-injury, Rielly's skating and mobility was solid so that is certainly a bonus for the blue and white.
Mathew Dumba, CANADA (Minnesota Wild, 7th in 2012) – Criticized for his erratic style of play, Mathew Dumba showed none of that play in today's game. The young defender was confident and poised on both sides of the puck showing that he's taking his development and weaknesses seriously. Let's see if he continues to manage his risk-reward style of play successfully in games two through four.
Nikolai Prokhorkin, RUSSIA (Los Angeles Kings, 121st in 2012) – To me, Prokhorkin did not stand out too much in game one so I will be looking to see how this physical two-way Russian responds to a relatively underwhelming opening game.
Healthy Scratches – Forwards Phil Di Giuseppe (Carolina Hurricanes, 38th in 2012), Kevin Roy (Anaheim Ducks, 97th in 2012), Defencemen Adam Pelech (New York Islanders, in 2012), Cody Ceci (Ottawa Senators, 15th in 2012) and Ryan Murphy (Carolina Hurricanes, 12th in 2011) were healthy scratches in game one. It will be interesting to see when these players see action and who comes out of the lineup as a result.
Goaltending Starts – Canadian coach Steve Spott disclosed that each of the three netminders will see a start in the series and the fourth game starter will be determined prior to the final game. Lauren Brossoit (Calgary Flames, 164th in 2011) and Maxime Legace (Dallas Stars, signed as Free agent) are Canada's remaining goaltenders. Russian Coach Mikhail Yarnakov expects to start Andrei Makarov (undrafted) in game two.
Game Two – Friday, August 10th @ 10 am EST
Game Three – Monday, August 13th @ 6:30 pm EST (Halifax)
Game Four – Tuesday, August 14th @ 6:30 pm EST (Halifax)
Feel free to follow @RossyYoungblood for prospect news.