At 20-16-4, the Los Angeles Kings are essentially treading water through 40 games, performing at a level slightly above one might expect with Jonathan Quick out indefinitely with a groin injury.
Inconsistency remains a problem, but the loss of Quick isn't the reason why the team has struggled to catch fire this season. It's a much more familiar lament: the offense.
Kings Rank Poorly in Goals Scored – Again
The reasons behind Los Angeles' ongoing struggles to score goals are partially tied to their conservative style of play. That's not a complaint: Kings fans wouldn't trade the Stanley Cups they celebrated in 2012 and 2014 for a thousand goals. Nevertheless, it's a fact that L.A. not only ranks in the bottom-10 offensively this year (2.38), but (counting this year) has been in the bottom-third of the league four times since 2010-11.
Individually, Jeff Carter (21) is in the midst of a tremendous season, while Tanner Pearson (10) is on the cusp of the breakout campaign many hoped they'd see from him this year. Drew Doughty (6G, 12A) is doing his usual thing and Alec Martinez (6G, 15A) is right there with him.
Otherwise, the majority of players — at least offensively — aren't living up to their potential.
Goaltending & Defense Leading the Way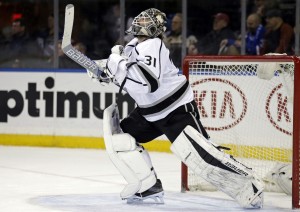 Peter Budaj is performing admirably in Quick's absence. In fact, more than admirably: his goals against of 2.03 places him fifth in the league for starting goalies. His .919 save percentage ranks 10th among goaltenders with at least 20 appearances.
For the most part, the defense remains solid. In addition to Doughty and Martinez, the mix of Jake Muzzin, Derek Forbort, Matt Greene, Brayden McNabb, Kevin Gravel and Tom Gilbert has held opponents to 25.8 shots per game. That's the lowest total in the league.
[irp]
Could Kings Be Interested in Iginla?
I'm not the only one discussing the possibilities. Trade rumors linking Iginla to the Kings are mentioned both here and here.
Do the above links prove anything? Of course not. But for the moment, let's consider general manager Dean Lombardi's penchant for aggressive deadline deals. Over the past five years, he acquired both Jeff Carter (2012) and Marian Gaborik (2014) at the trade deadline. The notion that Lombardi would acquire the durable, battle-tested Iginla isn't far-fetched. It's a virtual certainty that he will be traded by the Feb. 28th deadline.
Would Iginla Make Sense?
Skeptics point to Iginla's numbers this year, and understandably so. Iginla has just five goals and six assists in 39 games after scoring 22 goals and dishing out 25 assists in 2015-16. He's 39 years old and in the last season of a three-year, $16 million deal signed back in 2014.
It's possible he's lost it. It's more likely that playing for a terrible Colorado team (13-25-1) is hampering his production. As with Gaborik, a change of venue could resurrect his offense.
Speaking of Marian Gaborik (2G, 3A in 18 games), some will say that Iginla = Gaborik at this stage, but that's unfounded. Iginla is a much more physical player who scored 22 goals just last year, whereas Gaborik had a poor 2015-16 campaign. The bottom line is this: when Dustin Brown (4G, 11A in 38 games) and Marian Gaborik are flanking struggling center Anze Kopitar (3G, 15A in 35 games), you know the top line needs a spark. Iginla answers more questions than he raises.
What Would Be the Cost?
The cost to acquire Iginla is the $5 million question. With Quick on LTIR, they have roughly $8.6 million in cap space. However, once Quick returns, slotting his $5.8 million cap hit in with Iginla's clearly wouldn't work unless significant salary was sent to Colorado.
In order to create the cap space for both Quick and Iginla, one or more pieces must go the other way. Dustin Brown ($5.875 million cap hit) doesn't start anyone's pulse, nor does Marian Gaborik ($4.875 million). A package of scrubs and miscellany won't work, either.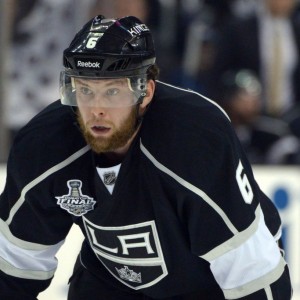 Jake Muzzin makes sense as the centerpiece of a deal. He carries a $4 million cap hit, is one season removed from consecutive 40-point campaigns, and has three more years left on his contract. With the emergence of Forbort and the upward trajectory of Martinez, Muzzin could be expendable. Meanwhile, the Avalanche have three unrestricted free-agent defensemen and could use offense from the point.
Added plus: Los Angeles gains $4 million in much-needed cap space next year. Future assets are on the table, as Muzzin's resume may garner more than just a rental player.
[irp]
Time Will Tell
As mentioned above, there is little doubt that Colorado will shop Iginla over the next two months, as his physicality, playoff savvy and goal-scoring prowess will certainly be worth something at the trade deadline. Could the Kings be in the mix? Ask the Magic 8-Ball.