With all the chatter over the departure of Milan Lucic to Edmonton this summer, pundits have speculated over what the Kings can do to replace his production. Let's face it — never an offensive juggernaut to begin with, the team's addition of Ted Purcell and a few other pieces just doesn't seem like enough.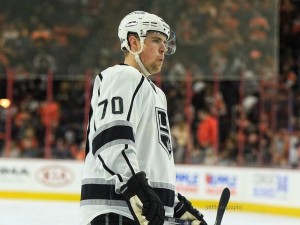 However, to use a slightly awkward turn of phrase: hope springs internal. Following two solid seasons in the minors, 23-year old forward Mike Mersch appears ready to make the jump this year to the big club, as does playmaking center Nic Dowd. Another promising option is reclamation project Devin Setoguchi, who jump-started his return to the NHL with a goal and an assist in a 6-1 exhibition victory over the Anaheim Ducks.
Perhaps the Kings' biggest secret weapon is the least secret one of all: a breakout season by left winger Tanner Pearson.
Tanner Pearson's Credentials
Selected in the first round (#30) of the 2012 draft, Pearson had the size (6'1″, 200 pounds) and two-way abilities general manager Dean Lombardi and head coach Darryl Sutter relish. Pearson ascended quickly through the ranks, putting up 79 points in 105 AHL games over two seasons before being called up to the big club during the latter part of the 2013-14 season. From that point on, his numbers gradually increased, culminating in 15 goals and 21 assists during the 2015-16 campaign.
Sutter had this to say about Pearson almost exactly one year ago:
He's a really reliable guy. He's a guy you can count on. Just want him to take that next step. We need that group of guys to really take a step for us, and he's an important guy (LA Kings Insider).
To a large degree, Pearson did just that, increasing his scoring from 16 to 36 points over the span of a year. But does he have more to give?
A Breakout Season May Be Coming
Jason Lewis of HockeyBuzz thinks so. Discussing how the team can find offense from its second-tier players, he had this to say about Pearson:
Amongst the most regular Kings forwards last year, Tanner Pearson actually scored at a rate just below Lucic, and ahead of both Carter and Kopitar. So what kept him at only 15 goals on the season? An average of 14:28 of ice time. If you bump Pearson up into the Toffoli range of 17-18 minutes you are talking, maybe, a 25 goal scorer. The scary thing here is that Pearson's shooting percentage was actually DOWN. His goals per game was also down. Finally, his expected goals rate was also down from career average. So if everything was down, why are we so bullish on Pearson? Because everything else was up! Pearson is playing better possession hockey, was doing so mostly outside of the Top 6 last year and was hardly averaging any powerplay time. Tanner Pearson stands on the cusp of a potential breakout season, and a lot of numbers point to that (HockeyBuzz).
Pearson is a bit of an under-the-radar guy, even among Kings fans. Most were certain Tyler Toffoli would achieve his potential in the NHL, but outside of an early splash in 2014-15 before he injured his ankle, opinions as to Pearson's potential have been a bit more mixed.
Over a year ago, I wrote that Pearson's ascendance was key for the Kings. The team was aging, left wing was a weakness (even with Lucic in the fold) and first round assets were too valuable to squander. Minus Lucic, all of these factors remain true to this day.
How Does Pearson Project This Season?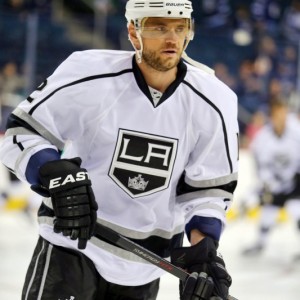 Despite projecting 17 minutes of ice time per game (up from 14:28 last year), ESPN has Pearson putting up nearly identical numbers: 14 goals and 23 assists. CBS Sports has him improving slightly (16 goals, 22 assists), and TSN has him netting 16 goals and 17 assists.
It's a consistent theme: with respect to his production, the three major online sites expect him to level off as a useful third liner, at least for this coming season.
For the Kings to have a successful year, that just cannot happen. Ted Purcell isn't known for goal scoring, and Marian Gaborik is both aging and injured. The left side is looking thinner than ever before. Furthermore, divisional foes were able to improve their rosters while the Kings were forced to mostly stand pat.
Bet on the Over
Jewels From the Crown pointed out how lesser-quality linemates negative impacted him last year:
Aside from Anze Kopitar, Pearson's four most common linemates were Marian Gaborik, Nick Shore, Trevor Lewis, and Dustin Brown. Goals dried up with those four on the ice last year; each had a Goals For/60 of 1.75 or lower. (Pearson's was 2.37.)
All in all, it's a good bet that Pearson will take the next step and exceed the pundits' expectations. Given the circumstances, his ice time is likely to go up substantially. If he can fire 200 shots on net — not a particularly big number considering third-liner Dustin Brown put up 218 last year — he should be able to approach 25 goals scored. Coupled with the expected contributions of Purcell, Mersch, and the other newcomers, that should do the trick.
As bizarre as it may sound, Tanner Pearson could be the difference between success and frustration for the Kings next season.