For a team as low on cap space as the Los Angeles Kings, an infusion of young, cheap rookies onto the roster is not just important — it's an operational imperative.
The numbers don't lie. Los Angeles has $56.1 million of 2016-17's $73 million salary cap tied up in eleven players, including one (Mike Richards) who is currently an unrestricted free agent with a dim future in the league. For this season, that means general manager Dean Lombardi only has $16.9 million for the remaining players needed to round out the 23-man roster. That's a lot of players and not a lot of scratch to go around, making rookies more important than ever before.
Rookies in the Wings
Further hampering efforts is the fact that after multiple seasons of deadline deals and liquidating futures for "now" assets, the farm system is a bit threadbare. Hockey's Future has their prospect pool ranked just 26th overall as of this writing. The Kings just don't have a lot of NHL-ready rookies waiting in the wings.
However, that doesn't mean they don't have any. The following are three rookies that appear to be ready for The Show this season.
Derek Forbort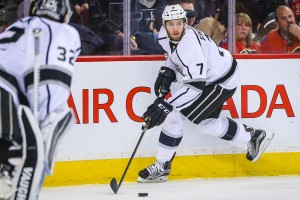 After completing his college career at the University of North Dakota, Forbort has played the better part of three seasons in the AHL, developing his game and waiting for an opportunity to crack the big club. He received a taste of things to come via his cup-of-coffee fourteen games with the Kings last year when Alec Martinez was injured and acquitted himself reasonably well, especially from a possession standpoint (62.4% CF).
Forbort will battle Rob Scuderi, Kevin Gravel and Tom Gilbert for the sixth defenseman role, but even if he's aced out, there's an excellent chance he will remain with the club this season. He's got nothing left to prove in Ontario, and by all accounts, he appears to be ready. Best of all, his cap hit is minuscule:
Forbort had a reputation for exceptional decision-making while playing at the University of North Dakota and has shown steady progress in his (three) seasons with the AHL's Manchester Monarchs. He has the size, skating ability and agility necessary to be an outstanding two-way NHL defenseman. He does not carry the puck the puck much but his passes are laser sharp. Forbert has added a bit of grit to his game as he has progressed and is in the process of continuing to round out a rock solid defensive game (Hockey's Future).
Nic Dowd
At 26-years old, Dowd technically is too old to be considered a rookie by the NHL's definition. Nevertheless, he has two full AHL seasons under his belt and has shown rapidly improving numbers, culminating in 48 points in 58 games last year — second on the team — while adding another eleven during the playoffs.
The Kings have one of the best one-two punches up the middle in Anze Kopitar and Jeff Carter. After that, there's a substantial drop-off, with Trevor Lewis the leading contender for third line center. Given the state of flux on the lower lines, Dowd has a real chance to win the fourth line pivot this year.
Michael Mersch
Michael Mersch is a big-bodied forward who loves to play in front of the net, absorbing punishment while capitalizing on rebound putbacks and other close-in opportunities. I profiled Mersch a few week ago, writing the following about his chances to make the team this year:
The Kings currently have Tanner Pearson and Teddy Purcell slated to play left wing on the top two lines but would love to see Mersch work his way into a steady third line role. His skating needs further development and he could use his size more effectively, but with his style of play, these are surmountable weaknesses.

Will he make anyone forget about Milan Lucic? Not likely. But before the season is over, we may all know who Michael Mersch really is.
Following Milan Lucic's departure to the snowier pastures of Edmonton, the Kings could use a net presence like Mersch to clog the middle and establish a physical tone. Obviously, he's nowhere near the level of Lucic, but he has shown a solid scoring touch, scoring a combined 46 goals over his past two AHL seasons.
As with Forbort, he has nothing left to prove in the minors and appears an odds-on favorite to be one of the rookies making the team out of camp this season.
The Perfect Situation
For Forbort, Dowd, Mersch or any rookie that makes the team, the situation couldn't be better. Unlike franchises that force-feed draft picks into the lineup in the hopes of turning their fortunes around, the Kings haven't had that problem. The team's veteran-heavy roster will provide the appropriate amount of guidance, and furthermore, the roles they will play don't project to include high-stress situations very often.
Will it all work out? Time will tell. As Phyllis Grissim-Theroux once wrote, "Mistakes are the usual bridge between inexperience and wisdom."
Walter McLaughlin is a Los Angeles Kings correspondent for The Hockey Writers. He is an avid sports fan, having followed the Kings since living in L.A. in the mid-1970's, as well as suffering through Seattle sports teams' general futility. He has a Bachelor's degree in Finance and has worked in community banking for over 25 years, specializing in SBA loans. He is married and has two daughters.