At first glance, this seems like a very comfortable reunion.
Here's right wing Radim Vrbata, who has a strong history with the Arizona Coyotes' organization, and general manager John Chayka standing with an obvious need. After a less than productive season a year ago in Vancouver (13 goals, 14 assists in 63 games, minus 30), and free agency upon him, Vrbata took a look back and decided to retrace his steps. In agreement with Chayka and the Coyotes' organization, Vrbata made the decision to return to the desert.
With smiles all around, the 35-year-old native of Mlada Boleslaw, Czech Republic agreed to a one-year contract worth a reported $1 million with incentives.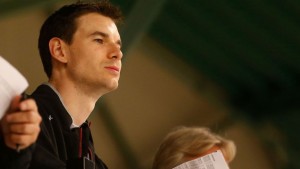 Back with the Coyotes for a third time in his 16-year NHL career, Vrbata has still another opportunity to provide power to a line centered by Martin Hanzal, his long-time friend and fellow countryman.
At the same time, this is an opportunity for Chayka and coach Dave Tippett to transition between a veteran, like Vrbata, and younger players. At this point in the Arizona organization, there is not a great number of forwards with a productive right-handed shot. That's what Vrbata essentially brings to the table, and says he looks forward to being back in familiar territory.
"This seemed like the right fit, and I'm happy to be back," Vrbata said in a conference call with Arizona reporters Tuesday afternoon. "We love living in Arizona and with our third child just born, we wanted to make sure we made the right family decision as well as the right hockey decision."
Decision to Return
Here in mid-August, the hockey clock began to weigh on Vrbata. After the start of free agency in early July, Vrbata said he wanted to wait about five days and see what offers came his way. When nothing of note transpired, the worry meter kicked in, and Vrbata finally settled on coming back to the desert.
During his second period with Coyotes, from 2009 to 2014, he pumped in 110 goals over those five seasons, but also tended to disappear for extended periods of time. Regarded as a hot-and-cold goal scorer, Vrbata has the capability to get hot and stay hot for a period of time. Conversely, and when he gets cold, it's like dropping Vrbata into cold storage.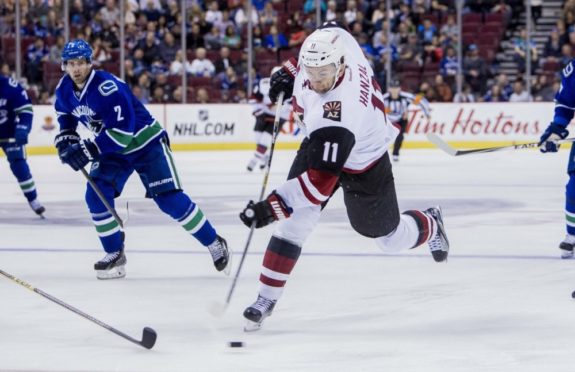 Now, the Coyotes need a right winger to complement captain Shane Doan, who recently signed to a one-year deal. Thin on the depth chart at right wing, it's hoped Vrbata can spark the offense from that side of the rink, and come up with timely goals.
"From the standpoint of bringing in a veteran presence, this is a strategic fit for us," Chayka said Tuesday during a conference call with Arizona reporters. "(Vrbata) gives us flexibility on the right side, and improves value."
Admitting a history between Vrbata and Hanzal exists, Chayka would not go as far as to say the Hanzal-Vrbata pair would be reunited. Yet, that would seem to be a proper and logical direction. Looking for a left wing on that line, one possibility could be Tobias Rieder, who remains unsigned with a month remaining before the opening of training camp.
Vrbata's presence on the right side should aid in overall production. With Doan coming off a 28-goal season, good for 31st best in the NHL and 12 tallies on the power play (eighth-best in the league), Vrbata is expected to assist in turning on the red light. For Tippett, this would be difficult to expect Doan, at 40-years-old by opening night, to duplicate his season of a year ago.
Plus, the Coyotes are thin on the right side. One name which continues to surface is 19-year-old Christian Fischer, a second round pick in 2015. Out of Chicago, Fischer scored 16 times in 41 games for the United States National Development Team Under 18. A jump to the NHL is beyond realistic, so Vrbata is brought in to help mentor younger players as well pop in a few goals.
Given his track record of scorching periods as well as ineffectiveness, Vrbata's signing, for the Coyotes, could be an exercise in feast or famine.