The coming 2016-17 NHL season is ripe with opportunity for a number of Edmonton Oilers players. At forward, Jesse Puljujarvi and Drake Caggiula will be provided with legitimate shots to make the main roster out of training camp, while Darnell Nurse and Adam Larsson, two players of seemingly endless potential, will be provided with substantial playing time in numerous situations on defense.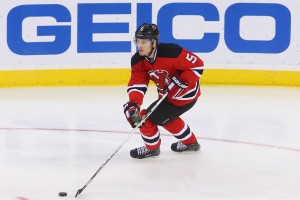 However, there is one Oilers player in particular who, after excelling in his first taste of NHL hockey last season, appears set to break out in a major way this season, and he is none other than defenseman Brandon Davidson.
In his rookie season in the League, Davidson was nothing other than a pleasant surprise, playing in 51 games while scoring four goals and 11 points in the process. His booming shot from the point in combination with his sound defensive game was a welcome addition to an Edmonton blueline which has long been considered to be one of the worst in the entire NHL.
Clearly impressed with his play, Peter Chiarelli extended Davidson a two-year contract extension in February of 2016 – a deal which will pay him $1.425 million over the next two seasons, totaling $2.85 million through the 2017-18 season.
[Related: Brandon Davidson Receives Two-Year Extension]
Yet, despite having amazed and inspired in his injury-shortened rookie campaign, one which earned him a new contract, what can Davidson bring to the Oilers throughout a full NHL season, and perhaps more interestingly, in what role?
Ready for Responsibility? 
The Oilers' 2016-17 season was yet another campaign better off forgotten, as the team failed to reach the Playoffs for a tenth consecutive year. As such, numerous players within Edmonton's organization were afforded opportunities to display their abilities at the NHL level which they otherwise may not have been provided.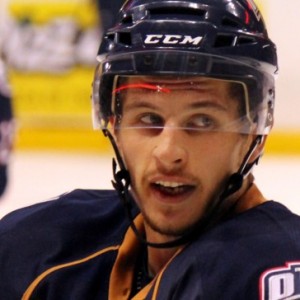 Now, this is not to say that Davidson was not deserving of his time with the Oilers, but rather that he was provided with a considerably greater amount of playing time than he may have otherwise  received with a playoff bound team.
After averaging 18 minutes of ice time over his first 34 games played with the Oilers last season, Davidson's playing time took off, as he recorded, on average, 23 minutes of ice time in his final 17 games with Edmonton prior to suffering a season-ending lower-body injury on March 6.
It was in these 17 games in particular in which Davidson was at his very best, providing an offensive punch from the blueline while also playing a shutdown style of defense. Two of his four goals and six of his 11 points came in these games, where he also recorded a +/- 4 rating.
In short, Davidson excelled under the stress of logging major minutes, yet, having done so over just 17 games provides an extremely small sample size for the young defender, raising the question of not only whether or not he is capable of doing so over a full 82 game season, but simply what role he can and will play with Edmonton in 2016-17.
Top Pairing, or Depth Defenseman?
Given the Oilers' slightly improved blueline, it remains unclear what role Davidson will assume to begin the coming season. In looking at Edmonton's projected defense-core, the Oilers' pairings should look similar to as follows:
| | |
| --- | --- |
| Klefbom | Larsson |
| Davidson | Sekera |
| Nurse | Fayne/Reinhart |
Of course, these pairings are by no means set in stone, meaning there will be plenty of room for change by the time Edmonton's season gets underway on October 12th, as chemistry, ability and overall skill will need to be evaluated before forming the best possible defensive pairs.
However, at the moment, it would appear as though Davidson will begin the season on the Oilers' second pairing, most likely skating alongside either Andrej Sekera or Darnell Nurse, two defenders who each bring different skills to their respective game's.
As the season progresses, however, Edmonton's pairings will undoubtedly change in reflection of the various injuries sure to be suffered by the team, as well as from the potential under-achievements of various players.
"I have two years to prove myself again." @bdavy3 talks new contract, #Oilers additions, @RogersPlace & more.https://t.co/UYRRHShWZ2

— Edmonton Oilers (@EdmontonOilers) August 10, 2016
As such, Davidson, if able to regain his form from late last season, could certainly see time on the Oilers' top pairing. However, if he fails to log major minutes while playing the same sound defensive game he did in 2015-16, Davidson could find himself slotted in the team's bottom pairing, playing alongside either Mark Fayne of Griffin Reinhart.
In a potential top-pairing role, Davidson, alongside either Oscar Klefbom or Larsson, would act as a stabilizing force with offensive upside, traits ideal in a high-quality NHL defenseman. At 6'2″, 210 pounds, Davidson would also be an intimidating presence for opposing forwards. However, with just 63 games of NHL experience under his belt, is Davidson truly ready to play against the League's best on a nightly basis?
The Ideal Role
Given his experience to date, size, and displayed abilities, it would appear as though the ideal role for Davidson to undertake to begin the 2016-17 NHL would be that of a second-pairing defender.
With only 63 games of NHL experience, playing Davidson in the 22-23 minute range on a nightly basis in his sophomore season could stunt his development, shatter his confidence, or, at worst, force him into the AHL level to stay. In a second-pairing role, Davidson would be provided with a steady diet of 18+ minutes per game, play against his opponents' second best line, as well as gain confidence at hockey's highest level, a trait intrinsic to that of consistent, elite level defenseman.
Further, given his size and abilities, placing Davidson on the second-pair would allow him to assert himself naturally, rather than gain the tendency to over-produce offense or over-commit defensively. Skating as a top-two defender on any NHL team is no easy task, and it is one that comes with more than its fair share of pressure. As such, allowing Davidson to gain experience and confidence on the second pairing would be ideal for his development as an individual.
#Oilers d-man Brandon Davidson spending some quality time with the kids at @Rogers Hockey School in Leduc! pic.twitter.com/vemArLbtJl

— Edmonton Oilers (@EdmontonOilers) August 10, 2016
So, with all of this being said, it's time to return to the original question at hand: what can Davidson bring to the Oilers in 2016-17, and in what role?
Well, we have already answered the latter, with the answer being that Davidson would be best served, given his experience and skill set, skating in a second-pairing role. In said role, Davidson's production and potential would be optimized without threatening his long-term development.
Regarding what should be expected of Davidson in terms of his offensive and defense output, the best prediction that can be put forward is exactly that: a prediction.
On offense, if Davidson remains healthy for the entirety of the coming season, production in the neighborhood of ten goals and 25 points would be an optimistic forecast. To put this prediction in context, last season, Davidson was on pace for six goals and 18 points prior to his season-ending injury.
[Related: Brandon Davidson Injured – March 6, 2016]
On the other hand, defensively, Davidson was an Oilers best +/- 7 in 2015-16, with a CF% of 52.1%, a total which ranked seventh best on the Oilers' roster. In 2016-17, if Davidson can remain a positive +/- player while keeping his CF% higher than 50%, he will be providing Edmonton with considerable defensive improvement on the backend. In fact, he was the only Oilers defender to finish the 2015-16 season with a CF% greater than 50%, other than Nikita Nikitin, who only played in 11 games.
As the only Oilers defenseman drafted outside of the first round in the past ten years on the current roster, if Davidson is able to continue his progression at the NHL level, he will no longer be simply a pleasant surprise for Edmonton, but instead, an important and incredibly valuable piece of the Oilers' puzzle.