Few teams fall from grace in a way the Edmonton Oilers have. The Oilers of the mid-80's to 1990 were a dynasty team that looked like they had a chance to win Stanley Cup after Stanley Cup. For a while they did, but instead of continuing the tradition, ownership and management traded piece after piece until all that remained was a shell of its former self. To examine how the Oilers wound up a perennial lottery team, we need to look no further than five specific trades that led the Oilers down and dark and dreary road.
The Wayne Gretzky Trade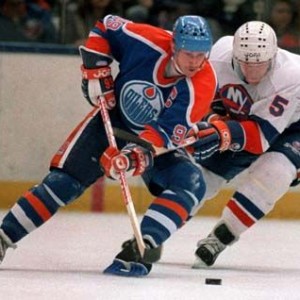 The 28th anniversary of the Gretzky trade just came and went and no matter how many years go by, it still seems to sting Edmontonians that the best player in the history of the NHL wasn't just traded, but sold to the Los Angeles Kings. It was a trade that left fans in shock and disbelief, eventually running an owner out of town. Edmonton would go on in 1990 to win one more cup, but the Gretzky trade is the trade that started it all.
If Edmonton could not only move someone like Gretzky but also do so for what amounted to little more than a pile of cash, anything was possible. It created the phrases "anything is possible in the NHL" and "If Gretzky can get traded, anyone can". In Edmonton, it opened the door for moves like the exit of Mark Messier and others who would follow. It told a city of fans that the team was willing to decrease its chances of winning moving forward if the price was right.
The Mark Messier Trade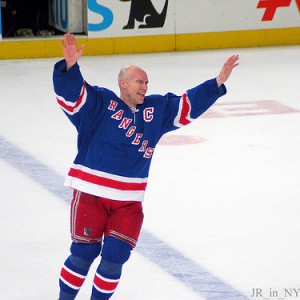 After the Oilers won their final Stanley Cup in 1990, they traded Messier to the New York Rangers over a contract dispute. The return was Bernie Nichols, Steven Rice and Louie Debrusk. It was not a good trade for the Oilers but that wasn't the worst part of it.  If the Gretzky trade cracked open the door to a reality that anything was possible, the Messier trade told fans and the rest of the NHL the floodgates were wide open.
Nichols went on to New Jersey after only two seasons, Rice didn't amount to much in the NHL and Debrusk was never more than a journeyman over a long tenure with the Oilers franchise. Meanwhile, Messier went on to win another Stanley Cup with the Rangers. In many ways, this was the trade that equaled a boxing trainer throwing in the towel for his fighter. The only difference was, Messier still had something left in the tank. It was as if Edmonton had conceded to winning enough times that it became acceptable to pack it in. It was a defining moment of surrender for the franchise.
The Doug Weight Trade
Weight was clearly Edmonton's best player in the post-Messier era. An Oiler for almost a decade, Weight was the closest thing to a superstar since the days of the Boys on the Bus. Seasons of 100, 90, 80, 72 and 70 points were just some of the highlights of his Oiler career. Still, money, like it did with so many before him, became the hurdle both sides couldn't jump and Weight was moved to St. Louis for Marty Reasoner, Jan Horacek and Jochen Hecht.
Moving Weight for such and underwhelming return was basically the icing on a very inexpensively made cake. The Oilers of that era were pieced together out of mostly leftover ingredients with one or two real talents as the faces of the franchise. Saying goodbye to Weight meant saying goodbye to the final superstar Edmonton would have for another four years. The Oilers officially became a well below cap team that was never again going to compete unless the rules regarding player salaries would change to benefit small market teams.
The Mike Comrie Trade
Comrie himself was an excellent player, but he wasn't necessarily a superstar. What makes this trade such a defining moment in Oiler history was that it showed just how low a General Manager would stoop to make a few bucks for a franchise that was all about saving money. It also signified a time that was less about talent and more about swinging a bigger stick.
When Comrie and the Oilers battled over a contract issue, eventually coming to the conclusion that Comrie needed to be traded to the Ducks; then GM Kevin Lowe tried to stick it to Comrie one more time by asking him or the Ducks to pay back signing bonuses out of their own pocket. When that didn't happen and the Anaheim trade fell through, as a result, Edmonton passed up on then prospect Corey Perry and instead moved Comrie to the Flyers. At this point, Lowe had been GM for approximately three years, but this signified the start of an era run by a man ran who not only would have to keep his payroll near the bottom of the league but a man willing to take a lesser return in value in order to prove a point. That combination devastated the team for the foreseeable future. It was one of the biggest blunders Kevin Lowe ever made.
The Chris Pronger Trade
As ugly as it was, some will argue Comrie wasn't Lowe's biggest blunder. That distinction is reserved for the trade that sent Pronger to Anaheim mere moments after the Oilers defied the odds and came within one game of their sixth Stanley Cup in 2006. Pronger was easily Edmonton's biggest acquisition in years and the most valuable player that season. He was a sign of a changing salary cap NHL that would allow smaller market teams like the Oilers a chance to compete on a more level playing field.
19 June 2006 Chris Pronger plays last game in an #Oilers uniform in a #StanleyCup final game 7 loss. Rest is history pic.twitter.com/rv3Won2lV4

— Paul Almeida (@AzorcanGlobal) June 20, 2016
After an amazing playoff run, when the defenseman decided Edmonton was an unplayable destination and unlivable location, he requested a trade. That's not something anyone should blame Kevin Lowe for. What Lowe did wrong after the demand became public was that he let the situation control the outcome and he made a less than poor trade on paper, not filling a giant hole created in defense by Pronger's departure.
Not until the Oilers lucked into the draft lottery right to take Connor McDavid had the Oilers had someone as valuable as Pronger on their roster. With the Pronger trade, Edmonton began depleting its team and spent ten years trying to plug holes and seal leaks when the right move was to start fresh at least two seasons before they finally did. The Oilers stubbornness under Lowe and his minion's management legacy was painful. It meant fans had to watch some of the most torturous hockey where the losses continued to pile up. Sure, the Oilers could compete financially, but it didn't matter because nobody wanted to play for the former dynasty. Edmonton became the NHL's least desirable place to play hockey.
A History of Franchise Damaging Trades
The Oilers have made a lot of trades that would be considered franchise changers for a number of NHL teams. Any team that could trade Grant Fuhr, Glenn Anderson, Paul Coffey, Ryan Smyth and others and have those trades not make the top of the list is a team that has an incredibly glorified and painful history. The trades listed here speak the loudest in terms of a team changing direction and pulling a complete 180-degrees in a negative way. These trades set the Oilers back years and in some cases a decade. The final trade is one that the team still hasn't fully recovered from.
Even more interesting is that over 28 years, managers have come and gone, but franchise changing trades continue. If you need a testimonial from someone who knows anyone can be traded at any time, just ask Taylor Hall. With an Oiler team finally ready to turn a corner and the "McDavid effect" in full gear, it still seems like the Oilers have a ready-made blockbuster deal waiting to happen at any time. Fans are clinging to the hope that a new management regime unconnected to Oiler alumni means this kind of history won't repeat itself, but the Oilers have also proved to be the type of team, who on paper, would be crazy enough to trade a generational talent more than once. Not even the Oilers are that crazy… Are they?