There currently isn't a more polarizing figure on the Arizona Coyotes roster than center Martin Hanzal. Some fans love him because of his solid offensive abilities, his prowess in the faceoff circle, and his willingness to stand at the front of the net to redirect shots and screen goaltenders. Others dislike him because they feel that he does not possess the durability required to play an 82-game schedule and that he takes an excessive amount of penalties. In any case, the time is rapidly approaching for the Coyotes to make their own decision on how they feel about Hanzal, who is entering the final year of a five-year contract with an AAV of $3.1 million; do they sign him to a long-term contract extension, or do they attempt to trade him before he becomes an unrestricted free agent on July 1?
A Decade in the Desert
Hanzal, who was drafted #17 overall by the Coyotes in 2005 and made his NHL debut in 2007, has played in Arizona for nine seasons and is currently the second-longest tenured Coyote behind only the Captain Shane Doan. He has served alongside Doan as an alternate captain since the 2011-12 season and has racked up 287 points in 557 career games. The 29-year-old enters his contract year fresh off of a solid 2015-16 season in which he set new career highs in assists and points while also winning 56% of his faceoffs.
At the conclusion of last season, then-general manager Don Maloney stated that signing Hanzal would be one of his top priorities of the summer. However, it doesn't appear as if new GM John Chayka feels the same way:
Coyotes seem comfortable with possible Martin Hanzal contract year. That would be interesting to follow – https://t.co/IbsMuTEQNh

— NBC ProHockeyTalk (@ProHockeyTalk) August 12, 2016
To the outside observer, it would appear as if the Coyotes would make it their number one priority to get Hanzal signed to an extension before the season starts; there isn't an abundance of skilled 6'6″ centermen in the NHL, and one would think that teams who possess such a player would prefer to retain him rather than lose him in free agency. However, there are some other factors at play which may influence Arizona's decision-making process.
Crowded up the Middle
Although Hanzal has been a mainstay in Arizona for nearly a decade, there are quite a few centermen in the organization rising up the ranks behind him; highly-touted prospects Dylan Strome and Christian Dvorak both appear to be locks to make the opening night roster, and both could potentially develop into franchise centers. Strome finished the season with 111 points in 56 games with the Erie Otters, while Dvorak led the OHL in goals with 52 as he helped the London Knights to a Memorial Cup championship. It appears as if both players are ready to make a significant impact in the NHL this season just as Max Domi and Anthony Duclair did last season.
Coyotes prospects Dylan Strome, Christian Dvorak on verge of NHL leap https://t.co/4O4dQoCjM7

— Arizona Sports (@AZSports) July 8, 2016
In addition, other prospects such as Clayton Keller and Ryan MacInnis are on their way as well. Keller, who has been compared to fellow USA National Development Program graduate Patrick Kane, will play for Boston University this season, while MacInnis, who stands at 6'4″, will likely start the year in the AHL after finishing his junior career with 81 points in Kitchener last season.
Clayton Keller is 1 of 3 players in US nat'l team history w/more than 100 points in a season. The others: Auston Matthews and Patrick Kane.

— Shane Dale (@ShaneDaleABC15) June 25, 2016
This abundance of prospects at the center position was the likely reason for the buyout of Antoine Vermette, and it certainly raises questions about Hanzal's job security as well. If Strome and Dvorak emerge as top-six NHL centers this season, they could help ease some of Arizona's concerns about the potential loss of Hanzal.
High-Risk, High-Reward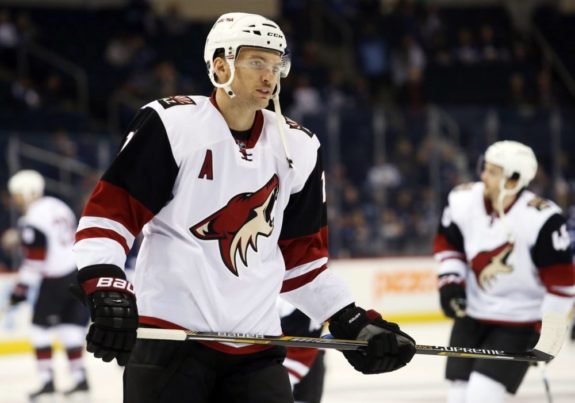 In addition to Arizona's depth at the center position, Hanzal's age and injury history could impact his leverage in contract negotiations as well; he'll be on the wrong side of 30 when a potential contract extension would kick in, and he's already been plagued by injuries for the majority of his career. Hanzal has played 75 or more games just once in his nine NHL campaigns and has participated in just 166 out of 246 possible contests over the past three seasons. These numbers are concerning and aren't what Chayka would like to see from his potential long-term first-line centerman.
On the other hand, Hanzal is a consistent scorer when healthy; he's averaged .63 points per game over the past three seasons and ranks ahead of multiple other centers such as Ryan Kesler, Nazem Kadri, and Brayden Schenn in that category. In addition, he's also been a force in the circle; since the start of the 2013-14 season, Hanzal ranks in the top-20 in the NHL with a faceoff winning percentage of 55.5%. There's no doubting the fact that Hanzal is a difference maker when he's on the ice. However, is he on the ice often enough to warrant a long-term investment?
Hanzal's performance in 2016-17 likely will go a long way toward determining his value as a free agent next summer. If he's able to get through the season relatively injury-free, his value will skyrocket and the Coyotes may not be able to afford to retain him. However, if Hanzal suffers through another season in which he misses 20 or more games due to injury, his value may diminish to the point where Arizona may be able to get him on another team-friendly contract. If the Coyotes ultimately decide not to re-sign Hanzal, they could attempt to trade him. In fact, Chayka has already asked Hanzal for a list of teams that he would accept a trade to, so it appears as if the Coyotes are already taking steps toward dealing their long-time alternate captain.
Overall, Hanzal is a solid player when healthy, but he's in the press box far too often to command much more than the $3.5 million he'll earn in 2016-17. If he's willing to sign in Arizona for around $4 million per season, then it's likely that the Coyotes will jump at the opportunity to retain him. However, if Hanzal is seeking a long-term contract that will give him a significant raise, it's likely that the Coyotes will be forced to say goodbye to their veteran center.
A lifelong Phoenix resident, Louis has been following hockey since 2010, has covered the Arizona Coyotes since 2015, and has been playing hockey since 2020. So far, Louis has visited eight NHL cities, and one of his personal goals is to eventually make it to all 31 NHL arenas. For any questions or concerns, contact the writer via Twitter @LouisPannone.