It's a good thing that after two championships and five playoff appearances in his first eight seasons as general manager of the Los Angeles Kings, Dean Lombardi amassed a huge amount of equity. Over the past two, he's spent a fair amount of it.
The 2014-15 campaign saw his team miss the playoffs for the first time since 2008-09. To add insult to injury, Lombardi ceded their 2016 first round draft pick to the Carolina Hurricanes in the Andrej Sekera deadline deal. Last season, Lombardi was aggressive again, giving up backup-turned-top-ten-goaltender Martin Jones and another first round pick for power forward Milan Lucic before the season began, and he traded second rounder Valentin Zykov for rental Kris Versteeg at the trade deadline. In case you missed it, Lucic left for Edmonton while Versteeg signed a one-year deal with SC Bern.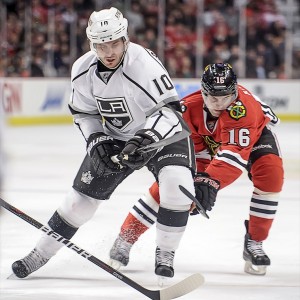 Two seasons, one playoff berth, zero playoff series wins and four key long-term assets lost for no significant gain. Add in the Mike Richards debacle and it's been a rough couple of years for unquestionably the best general manager in franchise history.
To be fair, no general manager "wins" on every deal, and although high-profile assets aren't always parlayed successfully, diamonds in the rough can help balance the scales. The Kings hope left winger Michael Mersch fits that description this season.
Mersch Profile
Drafted in the fourth round (#110 overall) of the 2011 entry draft, Mersch has the prototypical size (6'2″, 218 pounds) that the Kings covet. He isn't particularly physical, but he possesses one key trait that has the Kings' brass taking note: an uncanny net presence.
Said assistant general manager Rob Blake about Mersch:
He's as good as anybody in the American [Hockey] League level, and I don't know if there's any better at the National Hockey League level in front of the net. He'll stay in there, stay in the battle, and he's got a touch [for] scoring. You saw that during the [2014-15] season, and it increased at the end of the season, and he was very dominant throughout the playoffs.
After finishing his college career with the University of Wisconsin in 2014 — leading the squad in goals scored in each of his last two years — Mersch joined the Manchester Monarchs (the Kings top affiliate) for a cup of coffee during the final seven games of the 2013-14 regular season plus the playoffs. The next season, Mersch settled in nicely, scoring 22 goals and 45 points in 76 games, along with 22 points in 20 postseason contests. Last year, Mersch continued his rapid progression, potting 24 goals and dishing out 19 assists in 52 games.
Ontario Reign head coach Mike Stothers was duly impressed:
I know exactly what he can do. Nothing really surprises me with him. His contributions, both offensively and defensively—he's a guy, when you look at the game, and you're making some for the rest of the team to watch, he's in quite a few of the highlights, and for all the right reasons.
Promotions to Los Angeles
Mersch was called up to the Kings on December 9th and again on February 19th, spending a total of 17 games with the Kings and recording one goal and two assists.
Kings call up Michael Mersch, the Ontario Reign's leading goal scorer – Inland Valley Daily Bulletin: Kings ca… https://t.co/YoxVETNSKM

— Chino News (@Chino_CA_News) February 20, 2016
While not exactly setting the league on fire early on, he more than made his mark. Said Blake:
He does a lot of things that are hard to find in the [NHL]—puck possession down low, and the way he creates things in front of the net. You see it time and time again in the games we've watched him. He's very good. He's set his mind on the bigger prize here, and he's going to develop at this level here.
Putting up numbers isn't unusual in the AHL, and plenty of prospects can't make the adjustment to the NHL. While it remains to be seen whether or not Mersch can do it, the early results are more than encouraging.
Mersch Is an Early Favorite to End Up in L.A.
The loss of Lucic stings, but it opens up a big opportunity for the 23-year old left winger from Park Ridge, Illinos to earn a spot with the Kings during training camp. Blake thinks he's ready for the next level.
[Mersch is ready for the NHL], for sure. I think what he does now is that he hones his game at this level, so when the opportunity comes, it's not just a given opportunity. He's ready to make that step, and he doesn't look back after that.
The Kings currently have Tanner Pearson and Teddy Purcell slated to play left wing on the top two lines but would love to see Mersch work his way into a steady third line role. His skating needs further development and he could use his size more effectively, but with his style of play, these are surmountable weaknesses.
We'll go out on a limb and predict that Michael Mersch will stick with the Kings this year. Not only that, but he'll have himself a decent first full season in Los Angeles while he's at it.
Will he make anyone forget about Milan Lucic? Not likely. But before the season is over, we may all know who Michael Mersch really is.
Walter McLaughlin is a Los Angeles Kings correspondent for The Hockey Writers. He is an avid sports fan, having followed the Kings since living in L.A. in the mid-1970's, as well as suffering through Seattle sports teams' general futility. He has a Bachelor's degree in Finance and has worked in community banking for over 25 years, specializing in SBA loans. He is married and has two daughters.