Diagram an ideal Cup-contending team (for convenience, we'll throw last season into the dumpster) and what you'll tend to get is something that looks eerily like the 2015-16 Los Angeles Kings:
– A franchise center (Anze Kopitar)
– A franchise defenseman (Drew Doughty)
– A franchise goaltender (Jonathan Quick)
– A couple of snipers (Marian Gaborik, Tyler Toffoli)
– Strength up the middle (Kopitar, Jeff Carter)
– A "heart and soul" captain (Dustin Brown)
– A deep defense (Doughty, Jake Muzzin, Christian Ehrhoff, et al)
– A proven head coach (Darryl Sutter)
With the positives, there are the associated creeping negatives:
– Cap concerns
– A few bad contracts
– A no-longer-youthful core
It adds up to a franchise smack dab in the middle of its prime. Last year will be viewed as merely an aberration; these Kings are poised to resume their heavy, aggressive playoff style that makes them a nightmare matchup for any team. It hardly matters what seed: as fellow THW writer Devin Slawson reminds us, the 2011-12 Los Angeles Kings were the first eighth seed to win the Stanley Cup.
To keep rolling along, youth has to step up to replace aging veterans at the right time. Tyler Toffoli did that last year, setting career highs in goals (26) and points (49). Who will be this year's breakout player?
Enter Tanner Pearson
Still just 23, Pearson has played in 67 NHL games (15 goals, 8 assists) over parts of three seasons, and yet he's an already-recognizable name for many fans across the league due to being one-third of the celebrated 'That 70s Line'. Coined due to their jersey numbers all being in the 70s, the line became a minor cultural phenomenon thanks to their on-ice electricity.
I wrote about it last year: after a strong late run the season before, the line of Pearson, Jeff Carter and Tyler Toffoli had put up 16 points in just five games to start the year, displaying outstanding chemistry in the process.
Pearson eventually cooled off, and then broke his leg in January, missing the remainder of the season.
Pearson signed to a two-year extension
Seeing the potential lurking just below the surface, the Kings wisely inked Pearson to a two-year, $2.9 million contract extension this past April.
It was a quiet, yet significant signing. Granted, he was set to be a restricted free agent, so no matter what, the Kings controlled his rights. However, as a 2012 first-round pick whose natural position is left wing, Pearson's development is a huge piece of the puzzle for Los Angeles. How so?
The Kings are perhaps the most vulnerable at left wing
While center and right wing have to be considered positions of strength, the Kings have just one bona fide scorer from the left side (Milan Lucic), and he's coming off a down year. Dustin Brown can play both wings (as can Gaborik for that matter), but following two bad seasons offensively and after turning 30, the odds of him returning to previous form are getting long. There isn't any other obvious top-six candidate for left wing on the roster if either falter or lose significant time to injury — except Pearson.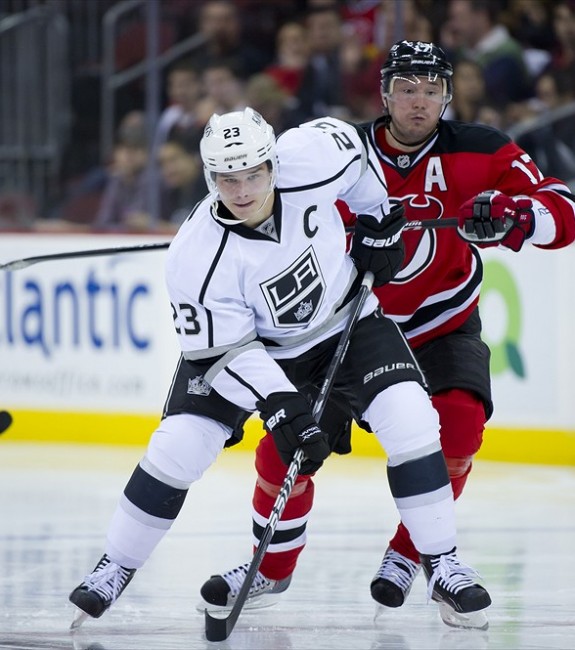 Pearson has loads of potential and has displayed a scorer's touch out on the ice, but he's hardly a proven commodity. Likely to begin the new season playing mostly on a reunited 'That 70s Line', the hope is that he locks in and becomes the all-around consistent player the Kings expected when they drafted him.
The 2015-16 season
Ever the optimist, I believe Lucic will have a solid year. Still just 27, he's playing for a new contract and has a 30-goal pedigree in his past. I also expect Dustin Brown to rebound somewhat as well. Reports are that he's in great shape and there is little question he's on a mission to prove that rumors of his demise are greatly exaggerated.
Even if both do happen, the importance of the emergence of Person cannot be overstated. Lucic isn't guaranteed to return after this season, and pending the resolution of the Slava Voynov situation, the Mike Richards contract dispute and Anze Kopitar's contract extension, the Kings may not have the requisite cap room to find a replacement in the free agent market. Like Toffoli's leap last season (which allowed the team to cut ties with Justin Williams), a similar jump by Pearson would give the Kings the insurance they need to keep the band playing for the foreseeable future.
With big names like Kopitar, Carter, Doughty and Quick in the mix, there won't be many that will call Tanner Pearson a key to the 2015-16 (and beyond) season. I'll stick my neck out and be one of them.
What are your thoughts? Will Pearson play at a consistent top-six level this year? Leave your thoughts below, or message me @McLaughlinWalt.
Walter McLaughlin is a Los Angeles Kings correspondent for The Hockey Writers. He is an avid sports fan, having followed the Kings since living in L.A. in the mid-1970's, as well as suffering through Seattle sports teams' general futility. He has a Bachelor's degree in Finance and has worked in community banking for over 25 years, specializing in SBA loans. He is married and has two daughters.