While drafting Mitch Marner and William Nylander is enough to make even the most casual of Leafs fans excited, most of the people who seem to know what they're talking about feel that neither player will be in the NHL this year.
As a fan, facing the prospect of a 50+ loss season while the two most exciting players in our system play in the minors, it's sort of disappointing. But from a team-building, long-term perspective, I get it. Sure, the upcoming season would be a lot more palatable if we got to watch even one of them suit up for the Leafs, but it makes sense to use this upcoming season as a stop-gap on the way to eventual success – the team basically has a free pass to suck* and it makes sense to use it. This means singing players to short-term deals so that they can be converted into draft picks or other future assets at the trade deadline. It means preserving the entry-level contracts of prized rookies and not exposing them to a potentially rough season.
The 2015-16 Leafs have me excited, but really, it's more about the prospects,  process and eventual payoff than the current roster. I like the management's approach to asset management and statistical analysis, I like that they got the most coveted coach in the league and brought in not one, but two legendary advisers.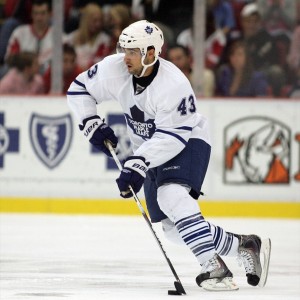 That doesn't exactly leave a lot to be pumped up about this season though. Sure, Kadri, Rielly and Gardiner are always fun to watch, but the team still has a lot of holdovers from last season who clearly are not in the long-term picture. The part of me that embraces the excitement of a fresh starts can't wait to see them gone, either. I get that you can't just make four trades in one day and call your rebuild complete, that negations at the NHL level are so much more complex than we writers occasionally make them out to be, and that the team has no real rush to do anything, (refer once again to the *) but still, it seems to me – not only from the fan's perspective who just wants new players to cheer for – but from a team-building perspective as well, that having players who aren't in the plans playing different / reduced roles can't be very good for the team.
As it stands, the Leafs look like their bound to be a pretty bad team. I think too much would have to break their way in order for them not to lose 50 games, that it seems improbable they'll do much better.
And this isn't a problem, really. The best thing that can happen to the Leafs this season is that they finish near the bottom of the league. Adding another blue-chip high-end prospect to their stores is exactly what they need to ice a team talented enough to one day be an annual cup contender, but man is it ever easier to get up for a losing season when the guys you're watching might still be with the team one day, and we can't really say that for anyone on the roster but Kadri, Gardiner, Rielly and Bernier.
On the positive side, they have three very, very good prospects to go along with those four guys, another half dozen or so pretty decent prospects and they have two picks in the 2016 first round, and hopefully they'll add another one before all is said and done.
Considering this team was hoping to compete with its then-current roster just a little less than eight months ago with, I'd say that is one hell of a start to the rebuilding process.
But what I am hoping for is a little roster movement between now and opening night. I know the team has no reason to rush things, but remember, the sooner you get rid of Bozak, Polak, Robidas and Lupul, the sooner you can see what players like Leivo and Percy have at the NHL level.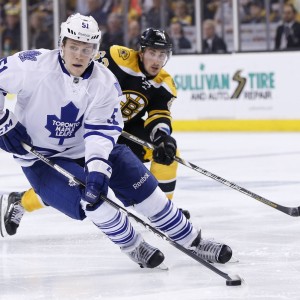 What I'd Like to See
The first thing I think the Leafs should do is move JVR. He's a good player, but the Leafs would be much better served to convert him into a future asset. That way, they win later with their new and younger asset and they get worse this season, meaning they subsequently draft higher and win again later.  Trading JVR is a no-brainer, actually. If you put your emotions aside, there is no reason to keep him when a contending team with cap room would probably pay through the nose for his skill, size and value-laden contract.
Second, Lupul and Bozak have to go. Even if you move them out for a low return, you can play other players in their positions and make up for it. It also helps lessen the stink of last year and to  turn the roster over. The rebuild needs  to give everyone a fresh start and I think that's impossible while there is still so much of the former "core" left over.
I don't buy this stuff about Babcock needing to see these guys in action. No one needs to see Lupul or Bozak in action to know that their time as Leafs is done, and that it is just a matter of time before they are moved.
Third, Polak can't be taking ice-time away from Harrington, Percy or Marincin. Waiting to move him just costs the team in terms of learning what they have in their prospects.
Fourth, T.J Brennen should have a full time NHL job. His stats in 46 career NHL games suggest an overlooked, late-bloomer. He might be a massive asset and I'd give him top-four minutes to see what he has. This can't happen with Polak, Robidas and Phaneuf taking up too many minutes.
Which leads me to item number five: Trade Dion. Look, the guy is one of my favorite players and I'd love to see him stay. However, objectively, having him here really seems to prevent a new and fresh approach. He will also take ice-time away from younger players and help the team finish higher in the standings.
If the Leafs can move out some (or hopefully all) of these players, the advantage is that they will be starting fresh, they'll be able to test out some young players and they'll be able to play the guys they signed this past summer in more prominent roles, thus increasing their later value.
The fans can be patient. A rebuild is something most of us will embrace. But please don't make us watch the same players we saw last year. Bozak taking one second of Holland's ice time is unacceptable to me, as is Lupul taking Panik's.
Let's get these guys out of here so we can move on and fully embrace the rebuild.
Give me more T.J Brennan and less Polak.
Thanks.  `
*What I mean by this is that they can go 0-82 and no one is going to call for the coach or GM to be fired, and the best player has already been run out of town. For a city like Toronto, you pretty much need a perfect storm of conditions to get this "free-pass" and that is about all the last regime was able to achieve.
Covering the Leafs for the Hockey Writers.