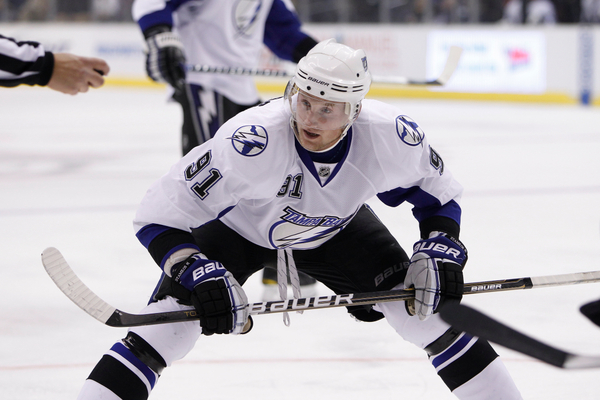 As the labor discussions drag on through the summer NHL fans are starting to deal with the possibility of a lockout followed by a shortened or, in a worst case scenario, a cancelled season. If that was to happen Lightning fans, and hockey fans in general, would be denied seeing the continued evolution of Steven Stamkos.
In his first four seasons he's already put together quite a resume racking up two Rocket Richard trophies and scoring 179 goals. Coming off a spectacular season that saw him score 60 goals (the first player to reach that magic number since Alex Ovechkin scored 65 in 2007-08) the future seems wide open for the 22-year-old Markham, Ontario native. He's definitely positioned himself well in the "best player in the league" discussion.
Stamkos has done everything possible to live up the hype of an overall number one pick. Without a doubt the entire league has "Seen Stamkos". The numbers he has put up dwarf his fellow 2008 draftmates. He has 127 more goals than anyone else drafted in the same year (Jordan Eberle's 52 are a distant second) and points-wise he has doubled his closest competitor (329 to Drew Doughty's 162).
While in hindsight the 2008 draft might not be the strongest offensive draft (three of the top four point leaders from that draft are defensemen) the numbers Stamkos is piling up is staggering (only Patrick Kane from the 2007 draft and Nick Backstrom from 2006 draft have more points), and there isn't any indication that he will be slowing down anytime soon.
It's not just his draft class that he's dominating. He is the only player in the NHL to score 90+ points in each of the last three seasons. His 179 goals are more than anyone else in the league (Ovechkin's 176 is a close second). Pittsburgh fans might grumble that if Sidney Crosby had stayed healthy it would be a different story, but the fact is Crosby's injuries have hurt his on-ice production. Part of Stamkos' dominance is due to his ability to stay on the ice.
He is entering what should be his prime playing years, has a solid supporting cast around him, a coach that knows how to use him and no contract worries (at least for four more seasons). So what kind of year can the NHL expect from Steven Stamkos?
In a word – better.
Better doesn't necessarily mean more goals. It does mean becoming a more complete hockey player. While he has proven to be an offensive force, there is still some work that needs to be done. He has admitted that he needs to improve on face-offs as his 45.5% isn't good enough for an elite talent in the league. By the same token improving his work in the defensive zone could evolve to the next level as well as gains more experience in the league.
That being said, fans don't fill the seats at the Tampa Bay Times Forum to watch Stamkos win face-offs or backcheck. They are there to see him score goals and put up points. While it might be a stretch to see him achieve 60 goals again, there is a good chance that he will break 100 points for the first time in his career. While he's been close (95 points in 2009-10 and 97 in 2011-12) he hasn't been able to jump over that hurdle quite yet. Luckily for him several factors point to him being able to hit the magic number in the upcoming season:
1. He's durable. Stamkos hasn't missed a game since his rookie season. He also has averaged over 20 minutes a game in each of his last three seasons. If he is near his 2011-12 average of 22 minutes a game he will have plenty of chances to accumulate points.
2. A stable line. While Coach Boucher likes to tinker with his lines throughout the game, Stamkos should be flanked by Marty St. Louis and Teddy Purcell for the majority of the season. Both players have a knack for finding the back of the net and spending a full season with them will help boost his assist total.
3. St. Louis – The 36-year-old had a bit of a down season in 2011-12 as he registered his lowest point total since 2005-06. While some of that might be attributed to age, he did spend much of last season focused on setting up his linemates instead of shooting the puck. Look for him to take more shots this season as he finds himself open while the focus is on Stamkos.
4. The power play – As much talent as the Lightning possess, it's inconceivable that they will be worse than last season's 15.24% with the man advantage. Stamkos is a big part of the special teams unit and scored more than a handful of goals by banging in rebounds in front of the net. If Ryan Malone stays healthy, he will take that spot over and allow Stamkos to roam free where he is more dangerous.
5. Evolution – Throughout his career, Stamkos has shown that he is smart enough to know that his game has to change for him to be effective. He knew he had to get stronger so he worked with former teammate and conditioning fanatic Gary Roberts to do that. He knew that teams would try to take away his one-timer from the circle so he started going to the net and scoring garbage goals on rebounds and deflections. Now teams are going to shut him down completely which means other teammates will be left open. Stamkos will recognize that and dish the puck off more.
Stamkos isn't going to turn into the next Adam Oates next season. Frankly, his goal-scoring skills are too good for that to ever happen. When a player has a shot as special as Stamkos' one-timer they should never be expected to use it as a second option. His is, however, good enough that he can remain a shoot-first player and still increase his assist total. Which in the end, will make the Lightning a more dangerous team to play next season, should there be a season.