Russia versus Canada has become a rival hockey matchup that guarantees a thrilling competition filled with tremendous passion and talent. As mentioned in my previous article Canada, Russia Rivalry Remains Strong, the Canada-Russia Challenge was put in place to honour the historic 1972 Summit Series that left its mark in hockey's history books and continues to serve as a monumental event for both participating countries. The Canada-Russia Challenge has been a great way for these two nations to honour the 44 players and coaches that lost their lives in the horrific 2011 plane crash of the Lokomotiv Yaroslavl KHL club.
As Canada and Russia invited and assembled two competitive squads filled with future hockey stars it was a well-constructed recipe for an entertaining series that did not disappoint. While this exhibition series was formed for reasons other than strictly competitiveness, it was clear from the opening puck drop that these young hockey stars were playing for keeps. The fact that Canada and Russia split this series two games apiece and required an extra period of overtime play remains no surprise given their historical close matchups. This series was destined for the dramatics from the start.
Plenty of NHL personnel with an invested interest in these players were on hand to watch their "prospects" along with a number of scouts and, make no mistake, evaluations were in full force. Below is a breakdown of players who left a lasting impression at the 2012 Canada-Russia Challenge.
Top 10 Canadian Players: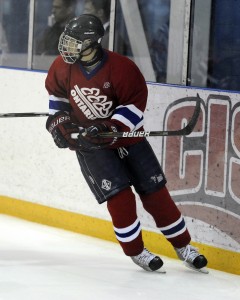 1. Sean Monahan (2013 draft-eligible) – Canada's youngest player was also one of its most productive impressing every scout in attendance to observe this future 2013 Top 10 pick. Monahan used his size, speed and skill to pester the Russian team offensively in each game but was also trusted by Coach Steve Spott to play important minutes on the defensive end as well. Naturally a centerman, Monahan adapted nicely to play the wing for Canada – a difficult task for most hockey players.
Stat Line: 2G 2A
2. Charles Hudon (Montreal Canadiens, 121st in 2012) – The biggest eye-opener of the series, Charles Hudon was a pleasant surprise to all Canadians…even the Canadiens of Montreal. Not overly big, Hudon showed that he was capable of handling larger opponents with his exceptional body and puck positioning utilizing his crafty puck handling along the way. Hudon was buzzing on almost every shift and seemed to create opportunities for Canada because of his tenacity and high end hockey intelligence. It's clear that his skating has improved but he will need to continue to progress in that area as he still lacks that separation gear.
Stat Line: 1G 2A
3. Ryan Murphy (Caroline Hurricanes, 12th in 2011) – For a defenseman that makes the defensive lapses that Ryan Murphy often does, it's easy to cringe but those slips in concentration can be overlooked when a defenseman possesses the rare offensive talents that the Carolina prospect does. Murphy is virtually unstoppable when in possession of the puck with his swift elusive skating style that appears to "part the seas". His knack for finding open lanes in the offensive zone and get his shots on net are scarce for a defenseman of his age. Offensively, Ryan Murphy is a treat to watch and his production will never dry up as long as he continues to play to his strengths. As per usual internationally, Ryan Murphy was Canada's leading scorer (tied with Ty Rattie/Jonathan Huberdeau) in the Canada-Russia Challenge scoring five points and a team leading four assists (shared with Mark Scheifele).
Stat Line: 1G 4A
4. Morgan Rielly (Toronto Maple Leafs, 5th in 2011) – After a shortened WHL season due to injury, Morgan Rielly donned the red and white to prove that his talents were worthy of a lottery pick and that's exactly what he did. As with most young defensemen, Rielly will continue to work on his defensive game but at this point he shows that he's capable and at least being on-par with his peers in that area. On the attack, Rielly dazzled with his rare ability to find open ice as his confidence with the puck allows for him to hold onto the puck long enough to open up lanes for attacking. His skating was his most impressive asset and that's reassuring for a player that experienced a serious ACL injury. Morgan Rielly will be one of Canada's top defensemen at the upcoming 2013 World Junior Championships as he's a lock for this team.
Stat Line: 1G 3A
5. Mark Scheifele (Winnipeg Jets, 7th in 2011) – The Jets' first round selection in 2011 was a favourite throughout the four-game series as when he wasn't producing offensively, Scheifele was winning countless face-offs and agitating the Russians with his constant physical play and verbal chirping. Since last season, Scheifele's improvement in strength and confidence are quite noticeable. The Jets surprised many when they took Scheifele 7th overall but his power finesse game showed in the final game when he notched three powerplay helpers en route to a Canadian win. Scheifele's availability for the WJC remains questionable as he stands a chance at making the Winnipeg Jets this season.
Stat Line: 0G 4A
6. Malcolm Subban (Boston Bruins, 23rd in 2012) – Two Subban starts for Canada resulted in the country's only two wins. Malcolm Subban was tremendous in the opening game for Canada and was the difference maker in the win. Not surprisingly, Coach Spott went back to Subban after two poor starts from Legace and Brossoit and the Boston Bruins prospect delivered in a big way defeating his fellow 2012 1st round selection Andrei Vasilevski (Tampa Bay Lightning) for the second straight game. Subban showed the poise and confidence that Canada expects in their starting netminder and is the clear-cut favourite for the starting role at the 2013 World Junior Championships in Ufa, Russia.
Stat Line: 2 GP – 2 W – 4 GA – 2.00 GAA – .918 SV%
7. Jonathan Huberdeau (Florida Panthers, 3rd in 2011) – Huberdeau struggled to find his game in the early stages of the series committing uncharacteristic turnovers from overplaying the puck but when the game and series was on the line, Team Canada's captain stepped up in a huge way. Come December when Canada reassembles for the World Junior Championship, there is a strong possibility that Huberdeau will not be available as he's expected to make the Florida Panthers this season. Huberdeau was unstoppable in game four as he showed a relentless attack creating time and space with his gifted puck handling abilities as he scored and added two assists and was on the ice for each of Canada's four regulation goals. Look for Huberdeau to be a dangerous offensive player throughout his NHL career as long as he's playing his skilled game smartly.
Stat Line: 2G 3A
8. Ty Rattie (St. Louis Blues, 32nd in 2011) – Ty Rattie was a factor in game four as he scored two powerplay goals to put Canada ahead in the series for the first time since the opening game in Yaroslav. Rattie was a net presence throughout the series and his three goals and two assists are exactly the reason the St. Louis Blues were thrilled to nab this WHL scoring star in the second round. Beyond his offensive production, Rattie showed willingness to battle for loose pucks and his quick set of hands are lethal inside the offensive blue line. Come December, Ty Rattie should be a lock for one of Canada's scoring lines at the 2013 WJC in Ufa after leading the team in scoring with three tallies.
Stat Line: 3G 2A
9. Ryan Strome (New York Islanders, 5th in 2011) – Much like Paul Henderson 40 years ago, Ryan Strome played the role of overtime hero scoring the series winner minutes into the extra frame. Strome's overall play throughout the series was an interesting development as the young Islanders prospect struggled a bit in the opening game. However, as the series unfolded Strome's game grew stronger. Iniitially, Strome was attempting to do things by himself a little too much and turnovers were evident because of his individualistic ways. Strome improved over the final three games as his soft hands and hard puck pursuit were better used to retrieve pucks and find open teammates. Strome is an exceptional puck handler and he is at his best when he's playing creatively but it's essential that he picks his spots to implement it. That was the case in game four when Strome showed patience and strong decision making eventually playing the role of hero for Canada scoring the winner on the skill that warranted his high draft selection just two years ago. If available, Strome will be Canada's go-to offensive player at the 2013 WJC.
Stat Line: 2G 2A
10. Lucas Lessio (Phoenix Coyotes, 56th in 2011) – Despite an underwhelming offensive stat line, Lucas Lessio showed extremely well in the four game series as Coach Spott leaned on this big winger in every situation. Lessio's top-end speed and ability to drive the net were on display in every game and although he had difficulties finishing, Lucas had plenty of opportunities because of his persistent effort. The Coyotes prospect will be among Oshawa's go-to players this upcoming season and it will be interesting to see if Lessio uses the momentum from this series to vault himself into the OHL's leading scorers.
Stat Line: 1G 0A
Quick Hits on Remaining Canadian Players:
Mathew Dumba (Minnesota Wild, 7th in 2012) – Dumba was solid throughout the three games he suited up for as he showed that he can reel-in his sometimes erratic play to become a contributor both offensively and defensively.
Cody Ceci (Ottawa Senators, 15th in 2012) – Ceci was used sparingly in just two games as he was the odd-man out on Canada's deep defensive core. During action, Ceci's play was "okay" but it did look as though he was nervous as he scrambled a bit defensively. Ceci will play a bigger role if Canada learns that Ryan Murphy, Dougie Hamilton and/or Ryan Murray are unavailable for the 2013 WJC.
Dougie Hamilton (Boston Bruins, 9th in 2011) – The CHL Defenseman of the Year had an up-and-down series for Canada as there were times when the big rearguard looked a little pedestrian. In saying that, Hamilton also showed why people are excited about his upside as there were times when Dougie showed flashes of brilliance on both sides of the puck. It wasn't a disappointing showing but Hamilton certainly has shown to play more consistent in the past and that shouldn't be a problem going forward.
Scott Harrington (Pittsburgh Penguins, 54th in 2011) – Scott Harrington served the defensive defenseman role as he should have but there were times when he made some uncharacteristic mistakes. Harrington was able to contribute offensively as he potted a goal in the opening game.
Griffin Reinhart (New York Islanders, 4th in 2012) – Bothered by an upper body injury, Griffin Reinhart suited up for only one game and was used very sparingly during that contest. Not much to report here. Reinhart should see much more opportunity on the 2013 WJC Canadian team.
Xavier Ouellet (Detroit Red Wings, 48th in 2011) – Ouellet was successful in playing the role that was expected of him as he was a two-way presence playing mistake-free hockey alongside, usually, one of Canada's more offensive defensemen. Ouellet factored in on Strome's overtime winner making a strong play to keep the puck in the offensive zone.
Ryan Murray (Columbus Blue Jackets, 2nd in 2012) – The smooth skating Ryan Murray had his strongest game alongside Ryan Murphy on the powerplay in Game 3 scoring a goal and an assist. Columbus certainly has a well-rounded defenseman to build around and he should become a valuable top-four defenseman for years to come.
Adam Pelech (New York Islanders, 65th in 2012) – Usually a defensive stalwart, Pelech wasn't the steady-Eddy that he normally is. Pelech struggled a bit defensively and was caught out of position several times so he can certainly improve upon his showing in this series.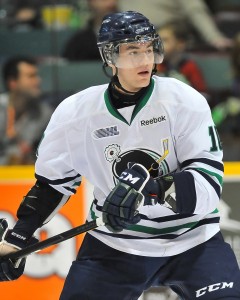 Phil Di Giuseppe (Carolina Hurricanes, 38th in 2012) – Suiting up in two games, Di Giuseppe received limited ice time especially in game four after injuring his finger a few days prior. The Canes' prospect is an excellent puck pursuit player and when in possession of the puck shows that craftiness is one of his skills.
Hunter Shinkaruk (2013 draft-eligible) – As the series wound down, Shinkaruk didn't receive the ice time that his fellow 2013-draft counterpart did but there were times that the young WHL scoring star (49 goals) showed why he is considered a top 10 pick. Shinkaruk will need to add strength so that he can become more successful at driving the net and better handle the larger opposition.
Tom Wilson (Washington Capitals, 16th in 2012) – Wilson was a train on skates as he threw his big frame around all over the ice. Guilty of being too aggressive at times, Wilson needs to contain his aggressive play at times as he does occasionally miss offensive opportunities as he attempts to make punishing checks – which are always entertaining. Coaches seem to love Wilson and his real test will be how he progresses with more ice time in Plymouth this season leading up to the 2013 WJC event. Wilson must show that he won't be a liability in order to make the 2013 WJC Canadian squad.
Kevin Roy (Anaheim Ducks, 97th in 2012) – Canada wanted to see what this USHL scoring star could do against stronger competition but Kevin Roy wasn't able to earn enough ice time to make an impact. For a player that thrives on the man-advantage, Roy had too much competition ahead of him and that was a little disappointing from a scouting perspective as he lost ice time to players who might not be available for the 2013 WJC anyways. Roy has the skill, he just needed an opportunity and that wasn't available in this contest.
Phillip Danault (Chicago Blackhawks, 26th in 2011) – Danault was effective in his role as a shutdown forward used to agitate the opposition with a relentless forecheck. He showed good hand-eye but it appears his overall skill package is best suited as a 3rd line player at this point. It would be great to see Danault add a little more offense to his game this season.
Boone Jenner (Columbus Blue Jackets, 37th in 2011) – Jenner had an up-and-down series as he struggled to play within the rules with his aggressive puck pursuit game. Canada clearly values his leadership and work ethic attributes and he's likely assured a top-nine spot on the 2013 WJC squad. Jenner is an intelligent player and his powerful net drive is valuable in opening up space and creating scoring opportunities.
Lukas Sutter (Winnipeg Jets, 39th in 2012) – Scratched in the final game, Lukas Sutter was utilized in shorthanded situations and because of the endless Canadian penalties, Sutter was able to show his PK skills nicely. As an aggressive player, Sutter will need to learn to straddle that fine line drawn by referees as he earned some penalties that proved to be costly for this Canadian team.
Brendan Leipsic (Nashville Predators, 89th in 2012) – Leipsic was a strange addition to this Canadian roster as he seemed misplaced. He's a feisty energy player with scoring potential but as an undersized competitor, Leipsic seemed to be a bit redundant on a team that already featured similar players in Phillip Danault and Lukas Sutter. Leipsic wasn't really given a fair shot because of this team's depth and as a result he just didn't leave much of an impression.
Maxime Legacé (Dallas Stars, free agent) and Laurent Brossoit (Calgary Flames, 164th in 2011) – Neither goaltender had a memorable showing during this Canada-Russia Challenge but Legacé was certainly the better of the two. Legacé was able to keep Canada close making some early timely saves in game two but there were certainly a few goals that he would want back.  Brossoit looked extremely uncomfortable in his start as every shot on net looked as if it could find the back of the net. In his post-game interview, Brossoit admitted that Canada needed a goaltender to win and he wasn't there to provide them with that in game three.
Top 5 Russian Players:
1. Anton Slepyshev (undrafted) – Not very often do you witness a player with first round talents go undrafted…well, that is unless his birth certificate reads, "Russian". At the 2012 NHL Entry Draft, Anton Slepyshev was passed over by all thirty teams after it was rumoured that he would not make up his decision about coming to North American until he was 22-years-old. Slepyshev dominated play at times for Russia in this series as he showed the strength, size and puck skills that should have warranted a first round selection on him. With NHL teams required to sign their drafted players within a few years, Slepyshev being passed over because he wouldn't commit makes more sense. However, this Russian forward was among the top players in this four-game series. Slepyshev will be an offensive star on the 2013 WJC team especially without Yakupov and potentially Grigorenko.
Stat Line: 2G 1A
2. Kirill Kapustin (undrafted) – After his hat trick effort in game two, Kapustin immediately turned heads in North America with his ability to be in the right place at the right time. Kapustin has been passed over in the last two NHL drafts but after notching three goals and three assists to lead Russia in scoring, this well-built Russian might be receiving some calls from North America.
Stat Line: 3G 3A
3. Andrei Sigarev (undrafted) – Russia's most dangerous forward was Andrei Sigarev, a gifted skater with a knack for jumping on loose pucks. Sigarev was the thorn in Canada's side all series long as he was able to put the Russians ahead on several occasions, factoring in on the opening goals in games two, three and four. Sigarev showed that he has the offensive skills to compete and his strong showing this past week should interest a few NHL teams.
Stat Line: 3G 1A
4. Nail Yakupov (Edmonton Oilers, 1st in 2012) – Hockey fans were certainly tuned in to watch the top pick of 2012 and Nail Yakupov certainly had his moments. Faced off against Canada's best checkers, Nail Yakupov showed his unique ability to adapt from a game-breaking scorer to a lightning quick playmaker. Yakupov has shown over the past year that he reads the ice quicker than his opponents and that is evident when he picks up a pass and quickly fires it to an open teammate. Yakupov had some dominant shifts placing the Canadians on their heels but offensively, he wasn't able to put on a star-studded show. Yakupov is an opportunist winger and Canada did a good job limiting his opportunities.
Stat Line: 1G 2A
5. Artyom Sergeyev (Tampa Bay Lightning, signed) – Steve Yzerman has done a superb job at recruiting and drafting controversial Russian talent and signing Artyom Sergeyev last year could pay huge dividends for the Lightning's future defence core. Sergeyev is a mobile defenseman that shows excellent puck moving abilities. He was Russia's go-to quarterback on the powerplay and always seemed to find a way to get his shot or pass through.
Stat Line: 0G 2A
Quick Hits on Notable Russian Players:
Andrei Vasilevski (Tampa Bay Lightning, 19th in 2012) – Despite winning a game for Russia in his two starts, Vasilevski's play was excellent as he turned away a total of 66 of Canada's 73 shots. In the final game, Russia was outshot considerably and it was the play of Vasilevski that kept the game within reach.
Stat Line: 2GP – 0W – 66 SVS – 2.50 GAA – .904 SV%
Mikhail Grigorenko (Buffalo Sabres, 12th in 2012) – Russia's Grigorenko certainly did not shake the critics with is wildly inconsistent play. Skating alongside Nail Yakupov and Penguins' prospect Anton Zlobin, Grigorenko and company were expected to lead this team offensively. The line was matched up against Canada's top shutdown line but Grigorenko, once again, failed to elevate his game when it mattered the most as he was virtually invisible in the critical game four. Grigorenko certainly showed that he is extremely gifted with his ability to create offense using elite vision and power puck distribution game but inconsistency continues to overshadow his unique talents. Unless Grigorenko finds another gear at Sabres' camp, Mikhail will be available for Russia's 2013 WJC team and look to be counted upon to "step up".
Stat Line: 0G 1A
Andrey Makarov (undrafted) – The undrafted Andrey Makarov continues to prove that he is an elite goaltender prospect. Despite coming to Canada to chase his NHL dream and succeeding in the WHL, Andrey Makarov was passed over by thirty NHL teams for the second time in as many years. Internationally, Makarov has owned Canada and that was clear once again as Russia won both games with Makarov as the starter. He's a netminder that shows great poise and with his strong positioning he is difficult to beat on the first shot.
Stat Line: 2GP – 2W – 74 SVS – 4.00 GAA – .902 SV%
The 2012 Canada-Russia Challenge was a great platform to commemorate the historic 1972 Summit Series, honour the members of the Lokomotiv Yaroslavl KHL club and showcase the remarkable talents of Canada and Russia's top hockey prospects. As always, the rivalry that was front-and-center during the 1972 Summit Series between Canadian and Russian hockey players remains as strong as ever presenting great entertainment every time these two nations converge to compete internationally.