The Predators turned a lot of heads last season and raised eyebrows and headlines with their off-season moves. Nashville will continue that trend this season, assuming we have one.
The biggest push for Nashville won't be Shea Weber. Yes, he is a big, strong defensemen who can put the puck in the net and lead his team. And that's exactly what he'll be expected to do every night. But to look at what Nashville is going to accomplish, everyone has to look past Weber.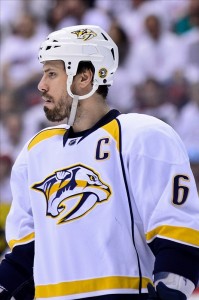 The Preds play in the Central Division, arguably the strongest in the NHL, and has been for years. However, they have been able to climb to the top of the power play charts and finish last season with the league's best power play percentage at 21.6 percent.
Often overlooked, the power play is going to be clutch for Nashville.
Playing in the Central Division gives the Preds an advantage as Chicago and Columbus, division rivals, have two of the lowest penalty kill percentages in the league and though both teams want to change that, neither has made strong moves in the off-season to address the issue.
Chicago still has Jamal Mayers who had close to 100 penalty minutes alone last season and Daniel Carcillo who is no stranger to the penalty box. Columbus still retains Derek Dorsett who racked up over 230 penalty minutes alone.
The Predators will also see Chicago and Columbus six different times on the schedule this season.
And yes, fine, we can't ignore the fact that Weber was able to hang a dozen power play goals on opponents last season, and with more riding on his shoulder pads, we can expect he'll be gunning to top that number this year.
Speaking of big defensemen, Detroit will also be looking at a hole this season with hall-of-fame shoe-in Nicklas Lindstrom off the roster. Certainly Detroit's penalty-killing percentage will drop this season with him gone.
The biggest threats to Nashville will be St. Louis and Minnesota. St. Louis is set to repeat as Central Division leaders again this year and will have a solid chance at it with Brian Elliott and Jaraslov Halak in net. With Ken Hitchcock holding the reins of the talented young players, who just signed multi-year contract extensions and thus will have years of loyalty left, the Blues will be in the playoffs this year and will be looking to advance several rounds.
On paper, it looks like the Wild will make this year the year that will start their snowball rolling down the hill. With the acquisition of Zach Parise and former Predator blueliner Ryan Suter, the Wild made the biggest moves in the off-season to address their weaknesses. Parise and Suter will join Mikko Koivu, Devin Setoguchi and Dany Heatley.
But with the exception of Parise and Suter, the Wild's roster hasn't changed enough to give Minnesota a strong playoff push. Not this year.
Behind St. Louis, Nashville will find a second place spot in the Central Division and can land a playoff spot if they hold their confidence. While most teams will be looking at Weber to be the strongest support for Nashville, the rest of the Predators' roster will have to step up. When they do, look for Nashville to surprise a lot of people and end up as serious playoff contenders.